Marlink's Maritime President Discusses the Future of Communication
By Greg Trauthwein
In maritime satellite communications, an industry sector defined by change, Tore Morten Olsen, President Marlink Maritime is a rock: a model of continuity and a wealth of knowledge. He has 22 years of experience in the satellite communications sector, starting out as a technical product manager in 1994 and moving on to hold several senior management positions with Telenor, Marlink and Astrium Services / Airbus Defense and Space and now Marlink again.
While various sectors of the marine industry are suffering, communication providers are buffered to an extent in that their collective services are helping to drive many of maritime's efficiency initiatives.
"This year has been by far the largest (in terms of number of vessels) that have ordered from us," said Olsen. "It has been fantastic. We have booked in the first five months of this year the total amount booked for the full year in 2015, a 30 to 40 percent acceleration in the number of companies ordering VSAT solutions."
He said there are several drivers, including the business end of transferring information to and from ships, as well as the personnel end in helping to keep crew connected. "Without connectivity you are nowhere."
Olsen, like his colleagues, competitors and customers, are fully engaged in talk of 'Big Data' and the increasing use of information to make ships at sea more efficient.
But he admits that change is slow to come. "There are many that have come to terms with the need for connectivity, but they haven't taken the next step, which is creating a digital strategy to discover how they will maximize the benefits of connectivity for their own purpose, and for their clients," he said. To that end, Marlink itself is changing to better partner with vessel owners and operators, extending its offering and seeking to partner.
"We realized that providing connectivity alone is not delivering enough value to the customer," said Olsen. "So we are moving more to the IT side on the ship.
We acquired Palantir which delivers and manages IT networks onboard; we are trying to be the party that helps collect the data and deliver it in a safe, efficient and secure manner back to shore."
Palantir provides IT managers on shore with access to individual vessels or entire fleets for remote support and management of on board IT networks. Prior to its acquisition by Marlink the companies already collaborated through a strategic partnership agreement started in September 2014, which has enabled Marlink to deliver integrated IT management services to its Sealink multi-band communications service customers, including Stolt Tankers and CMA CGM.
The Palantir acquisition and the overall move toward IT partner could pay bigger dividends as the industry moves increasingly toward remote control of assets and potentially autonomous operations.
A Complex Market
The global maritime industry continues to be one that endures hard economic cycles in both directions, rarely floating at equilibrium maintaining balance between supply of ships and demand for cargos. "If you think about the shipping market there certainly is a need for consolidation, as scale brings benefits," said Olsen. In particular, some of the smaller players increasingly find it difficult to keep up with regulatory mandate, as well as technological advances that allow bigger carriers to leverage efficiencies across a global and diverst fleet.
"If you look at the drivers in the market, when we started it was crew welfare driving demand on connectivity. Now it is more often operational efficiency for the ship owner, but also service delivery to their clients," said Olsen. "But on all three of those points … from crew welfare to vessel efficiency to service to shipping clients … I don't think any of them have come close to reaching their potential. So I think we are still in the beginning. Telecom is a constant evolution, and will continue to change and adapt, and continue to grow." One sector that is particularly interesting for all of the communication sector is the global cruise industry, embarked on a historic growth spurt including everything from the world's largest oceangoing ships to the luxury yacht cruise sector to the inland river cruising sector. A common denominator among all is the need to provide strong connectivity for the cruising public, provide same or close speed and access to land-based connections. "The sky is the limit in cruise, as people are demanding connectivity when they are onboard, particularly passengers," said Olsen. " They are used to having tremendous internet access in their homes, and they expect the same when they come onboard. More importantly, I think some of the cruise lines are beginning to realize that the quality of their internet connection is becoming a key competitive element."
Digging deeper, the connectivity issue onboard cruise ships is potentially a big win in marketing for the cruise lines, as customers post images and video online, sharing the good times with those on land and providing the cruise lines with a tremendous marketing channel at the same time.
Watch the Video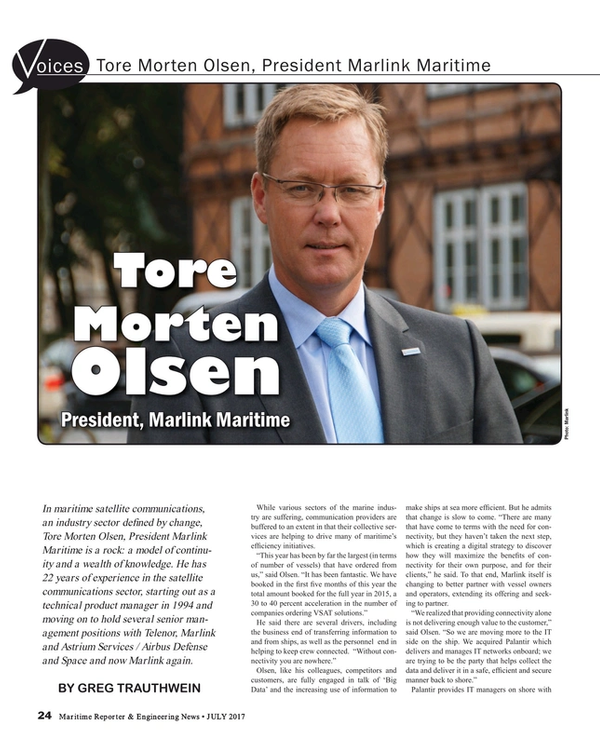 Read Marlink's Maritime President Discusses the Future of Communication in Pdf, Flash or Html5 edition of July 2017 Maritime Reporter
Other stories from July 2017 issue
Content