DNV GL's Tørstad Talks Energy Trends
By Greg Trauthwein
When Elisabeth Tørstad took the helm as CEO of DNV GL - Oil & Gas in late 2013, the price of a barrel of NYMEX (WTI) crude oil was more than $100. Today, that price has been halved, and the 40-month period between her ascension to the top post and our meeting with her in Houston in May 2017 has been arguably the most tumultuous in the oil industry's history. Tørstad shares with Maritime Reporter & Engineering News her insights on the market going forward.
With the energy slump entering its fourth year, Elisabeth Tørstad succinctly summarizes this latest trough: "The downturn was steeper than we were prepared for, it came on faster and lasted longer than we expected." DNV GL has arguably weathered the storm well compared to others, owed in part to the fact that just before the downturn started DNV GL was coming through the merger of DNV and GL, meaning that the collective organization had already thoroughly examined its combined customer and service portfolio to eliminate redundancies.
But as every storm cloud has a proverbial silver lining, DNV GL took the astute business approach of looking at the collective energy market – past its traditional role and heavy involvement in the upstream market – with fresh eyes, evaluating how it could leverage its core expertise in new areas.
"We all tend to focus on the upstream market and the oil majors, which take up a lot of space," said Tørstad. "On the other hand, low prices have resulted in a surplus of oil and gas on the market, so that all the mid-stream and downstream markets have been able to produce at a low price and have therefore been busy. So, the part of our business that helps mid-stream to get products out to market has done well." In particular, she notes that the Asian downstream sector has been strong as countries in the region continue adding gas to their energy portfolios.
Think Global, Act Local
The future pace and direction of energy markets is fodder for daily debate, and some of the brightest minds in the sector continue to wrestle to read the combination of demand drivers, geo-political impacts and the impact of 'new' energy, including renewable and shale oil and gas. "The energy market has shifted quite dramatically, and going forward I think the oil and gas market will be more regional," said Tørstad. "You see many of the oil majors contracting back to North America ― there is now less of a global environment and there are fewer global projects. More projects are happening onshore, where there are fewer global regulations and more national regulations."
As the market emerges from this watershed moment, it is worthy to note that the strategy that Tørstad and DNV GL put in place when she took the helm in 2013 is still valid, with its focus on cost-efficiency and digitization, in both its own company and the industry. "We are moving along quite quickly in digitalizing our services and offerings to the market. At the same time, we are helping our customers in their development toward digitalization," said Tørstad.
A Digital Future
DNV GL has been on the cutting edge in driving the digitization revolution in maritime and energy sectors, and today Tørstad sees companies in the energy sector embracing digital solution as a means to reduce costs. "There is an emphasis on cost reductions; companies still keep many projects on the drawing board, but are finding digitalization as one of the key ways to drive the costs down," she said.
With rapidly increasing amounts of data available, turning mountains of date in to actionable intelligence is no easy trick. Tørstad said that one of the key things happening now is an increase in technology that enables systems to speak to one another.
"Where there used to be different sets of data unable to work together, there are now more possibilities to combine data, which offers completely new opportunities," she said. "We see a lot of activity in the digitization of onshore assets, optimizing the performance of wells and specific support elements like safety management."
Creating system and data harmony can go a long way toward closing cyber security holes as well, and in tandem DNV GL today offers a complete toolbox of risk assessment tools to help identify and mitigate vulnerabilities. Looking at the digitization trend in its practical form, Tørstad discusses how DNV GL uses digitization to assist its clients conduct and maintain risk assessments for the life of a project or asset.
"First, it is not magic," said Tørstad. "We all do quantitative risk assessments or safety cases to evaluate a project's risks up front. That's part of the design phase, and what usually happens in these industries is that the evaluations are produced for the design stage as a paper report and put on the shelf."
With digitization, though, this static report and collector of dust can take on a dynamic and useful purpose, updated and deployed to change as the project changes.
"When you come into the operational stage and need to modify your asset and have to do the same thing all over again. With myQRA you take the risk assessment and work directly on digital models, importing data and building a model of an asset, doing all the risk assessments on that model, and making all the analytics fully traceable. When completed, we hand this over to our customer as a digital asset, or we continue to host the model and our customer can continue to work on it."
In short, when a project becomes operational, the owner can make direct modifications and see how these changes impact risk, making the model a powerful operational tool. "It transforms the stack of paper report into a digital tool that enables you to manage your risks real-time," said Tørstad.
In stressing the importance of this digital revolution, Tørstad said that digitization is one of the most transformative technologies that she has seen in her career, but was quick to add that "digitization is a tool."
"What (digitization) really does is make information more available and removes barriers between sources of information," she said. "For example, the aging workforce in the maritime and energy industries – all of the competence that goes out the door when people retire (is an ongoing industry issue). Digitization is a core element that will help to better manage the loss of experienced workers going forward. It keeps information, knowledge and experience available to a larger audience. Digitization coupled with domain knowledge is essential in helping to manage the information overload and make sense of the data."
The Future Energy Mix
As important as knowing where energy will be produced and consumed is knowing what types of energy will be produced and consumed. To this end, DNV GL will publish an Energy Transitions Outlook later this year. The report will provide an independent forecast of the energy future through to 2050, looking at energy demand and supply, as well as implications of the energy transition for each of the key industries DNV GL serve: Maritime, Oil & Gas and Power (incl. renewables). DNV GL has been a pioneer of sorts in touting LNG as fuel in the maritime sector, discussing likely market drivers and scenarios years before the notion to use LNG as marine fuel became more of a mainstream thought.
"One thing that we see, if you go back to gas and the uptake of gas in the past few years, gas contracts used to be for longer periods, with large shipments and big trades over decades," said Tørstad. "We are now back to a market where gas is traded in small volumes. That is interesting and might enable a larger, faster uptake."
Much of the energy discussion traditionally revolves around oil, and while she said oil will be the standard for the short and mid-term, its long-term future is less clear. "I think there is a lot of uncertainty about the future of oil. In the near- or mid-term, oil is certainly not going to simply go away as there is a big need for it globally, but the outlook for oil in the transport sector is a big uncertainty."
A final driver that will power the fuel debate is the amounts and types of goods that shippers actually ship around the world. "Transporting bulk material for manufacturing is a good thing versus shipping finished products, where you are basically shipping a lot of air around the world," said Tørstad. "This will impact the need for fuel and, therefore, the amount of oil needed."
World Energy at a Glance
When asked to identify world regions that are most vibrant today, Elisabeth Tørstad, CEO, DNV GL - Oil & Gas, said:
North America has great potential. You have a competent and experienced workforce; you have the availability of drilling rigs and steel; and you have the resources to pursue the conventional and unconventional plays.
Norway continues to be an offshore upstream player.
There is still a big question mark about the European Union's gas strategy. The EU has a huge potential to have a very cost-efficient energy system with a combination of renewables and gas. However, right now, they are a bit back and forth on their gas strategy.
In Asia, there is big potential for the expansion of gas as a fuel but, however the progress is slow. As a result, you see the continued use of, and investment in, coal.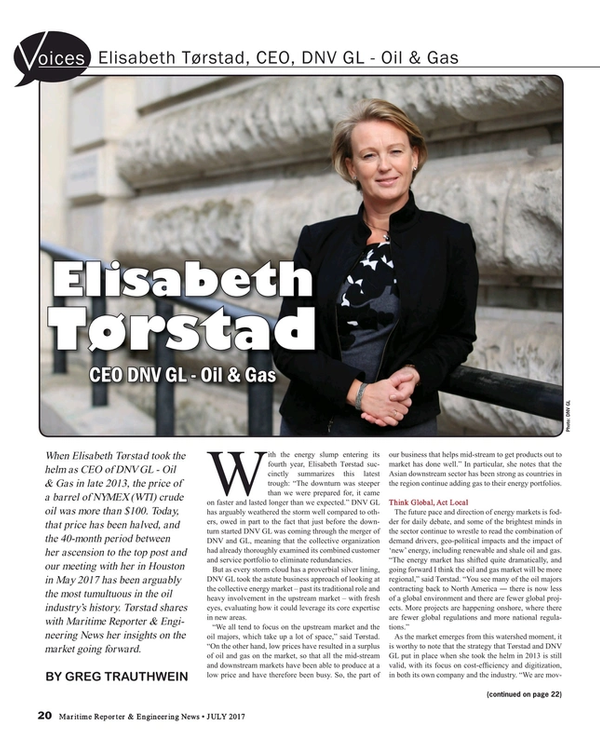 Read DNV GL's Tørstad Talks Energy Trends in Pdf, Flash or Html5 edition of July 2017 Maritime Reporter
Other stories from July 2017 issue
Content