Software Solutions: Monitor & Track
By Greg Trauthwein
As the maritime industry embraces the digital revolution, companies like GateHouse are poised to prosper. GateHouse in developing software solutions to support optimization, flexibility and mission critical operations for vehicle and vessel tracking, monitoring and satellite communications. We caught up with Michael Bondo Andersen, CEO and founder of GateHouse, for insights on his strategy moving the company forward.
Looking at your maritime unit, Big Data is having a transformational impact on global maritime. Please detail your offering.
Big Data often leads to information overflow if not thoughtfully and competently curated. However, when delivering the right information, at the right time, in a user-friendly format, Big Data can deliver groundbreaking competitive advantages. Managing Big Data lies at the heart of the GateHouse and a main value proposition includes the delivery of open and scalable solutions compliant with the newest standards and built upon the latest technology. These solutions are cost effective and interoperable platform-based, eliminating "silo-solutions" and providing users with the appropriate information to aid in fact-based decision making.
In your experience, what is the key to achieving this result?
The foundation for delivering this value lies in the design of a temporal-spatial database structure and use of Geographic Information System (GIS) database tools to facilitate data integration and information extraction to meet the needs of our clients. Tracking and storing vessel data for more than 200,000 targets per day and fusing data from different sources, provides the basis for continual development of algorithms to identify patterns in data and to provide the analytic results via standardized web services. Through our advanced toolsets, we strive to deliver the required information to clients automatically through standardized web services. These data services can provide all the information required for a client to make an informed business decision, or integrated with another operational system in support of business activities.
Given that, can you describe the actual GateHouse Maritime product or service … the deliverable?
GateHouse offers solutions to maritime authorities (commercial and military), port operators, offshore and subsea asset owners/operators and vessel operators. To meet the needs of this diverse range of maritime users, GateHouse offers the ghMaritime suite of products and services. These include ghMaritime Monitor, ghMaritime Port, ghMaritime Arrival, ghMaritime Analytics, ghMaritime Offshore and ghMaritime Intelligence. The functionalities delivered by the ghMaritime suite include:
Tracking, monitoring and control of maritime traffic
Real-time arrival notifications for vessels and trucks (supply chain logistics)
Advanced statistical analysis and reports, including risk management tools
Event detection and WatchDogs in support of asset monitoring and protection
Routing and Estimated Time of Arrival predictions and notifications
AIS message creation and management in support of e-Navigation
We understand that AIS data serves as the base source for much of your data. AIS data is free; what value/analytics does Gatehouse bring to the equation?
Yes, AIS data can be received by an entity free of charge. However, there are issues. First is geographic coverage. An AIS receiver usually receives messages from vessels, base stations or Aids to Navigation at a maximum range of 20-25 Nm (depending on the environment). If there is a need for vessel data outside of the range of a terrestrial AIS receiver or network of receivers, satellite AIS is most likely needed. GateHouse can offer this worldwide AIS data coverage in near real-time and has many years of historical data online used for analytics and statistics generation.
GateHouse's expertise is in the management and structuring of this data, so that information can be extracted from it, and this information delivered to the client in an automated fashion. The delivery of timely, appropriate and accurate information is necessary to drive client's decision making processes. GateHouse removes the analysis burden from the client and delivers the required information.
Looking at maritime, who are your customers, and how, primarily, do they use your services?
GateHouse Maritime's customer base is diverse, including coast guards, navies, taxation agencies, environmental agencies, ports, pilots, pipeline and subsea cable owners, power companies and shipping companies. The way that our customers utilize our products and services is also diverse. Here are few examples.
The Danish Maritime Authority (DMA) has a complete GateHouse server system including AIS base station networking, data management, multiple source data integration with target display and vessel monitoring toolsets.
The Marine Exchange of Alaska (MXAK) has also deployed a GateHouse server system in support of 133 AIS receiver stations on the Alaskan coach. The MXAK utilizes our analytics and reporting tools in the provision of services that aid safe, secure, efficient and environmentally responsible maritime operations. MXAK has deployed GateHouse data management tools to supply AIS data streams to its clients so that they can monitor their vessels. The data feed is also provided to the USCG in support of the nationwide AIS program.
The Danish Pilots (DanPilot) was established to safeguard this traffic against accidents, which could have devastating consequences for the transportation by sea and the Danish marine environment. DanPilot utilized GateHouse analytical services to optimize a Pilot's time at sea. (Please see case study above).
Maersk Oil and GAS (MOG) uses the AIS system to monitor all the traffic in the area of its oil and gas rigs in the North Sea. The system includes an automatic watchdog that will monitor all ships approaching any given oil rig in multiple concentric circles. In case a ship is approaching the outer area a notification (e-mail and SMS) is sent to the staff. If the ship approaches the next circle an AIS warning message is sent to the ship and if this doesn't divert the ship and it approaches the inner zone, then an alarm is triggered to activate safety precautions onboard the rig.
DONG Energy uses the GateHouse system to monitor vessel traffic in the vicinity of their oil pipelines. The system included an automatic watchdog that detects when vessels are slowing and drifting near the pipelines. This may indicate that a vessel is about to drop anchor, potentially damaging the pipeline. If the watchdog is triggered a notification is sent via e-mail and SMS to the DONG operations center which in turn triggers their response.
The Port of Aarhus has been using the GateHouse AIS Port Solutions for over a decade. At the core of the solution is GateHouse's Estimated Time of Arrival (ETA) calculator. Using the automatic ETA calculator, port management receives alerts if vessels planned for berths are delayed, and the port management can communicate information about the delay to all the terminal operators and shore side services in the port. The port operators can visually monitor the berthing allocation several days in advance to allow for optimal resource allocation also in terms of port staff required where and when. The AIS system is integrated into the other parts of the port management system using a simple web service.
We understand that you are looking to North America to expand your business. Why here, why now?
We see opportunities with the maritime authorities in both the United States and Canada. In the past six months, it has become apparent that opportunities exist in the management of large volumes of data, analytics and reporting tools within several government departments. Developing areas include the data services in support of River Information Systems and the support of e-Navigation initiatives. Data aggregation in support of supply chain logistics is a great opportunity for GateHouse in North America, with a focus on the maritime/land interface (ports).
Generally speaking, when you look at the world by region or business niche, where do you see opportunities today?
In areas of the world where vessel monitoring and surveillance systems are in their infancy or yet to be adopted, we see opportunities to provide basic data management and monitoring toolsets. Elsewhere we see the opportunities in data services with focus on supplying ETA data supporting supply chain logistics, analytics for security purposes (e.g. anomaly detection) and asset protection.
Worldwide it appears there is a growing acceptance of data sharing and the value that can be extracted from large, secure data repositories. Our maritime business is transitioning from delivering complete data management and display systems to providing data services focused on niche information requirements.
Case Study: DanPilot & Optimized ETA
Danish Pilots (DanPilot) has often experienced imprecise and practically unusable ETA calculations. This has meant many hours spent on checking and double-checking the ETAs and unnecessary waiting time due to the imprecise data. Pilots often had to sail further than necessary with a customer ship, because DanPilot lacked precise information on ETAs for manually defined points at sea. Another challenge DanPilot had was how to optimize sailing routes and thereby their time at sea. With limited data on historical tracks, and no statistics on these data, optimizing sailing routes was based on manual calculations. This made planning of sailing routes a time-consuming task. By automatically calculating ETAs for defined points at sea, DanPilot is now able to optimize the pilots' time at sea. They spend less time checking the ships for updated ETAs and the reliability of the ETAs simply enable them to service more ships in less time than before. Use of the near-miss functionality, which identifies pilot vessel boarding instances, enables DanPilot to produce detailed documentation of their daily operations. By having statistics, such as historical data of sailing routes, planning of routes is no longer based on manual operations. Historical tracks and visual statistics enable easy planning and optimization of routes.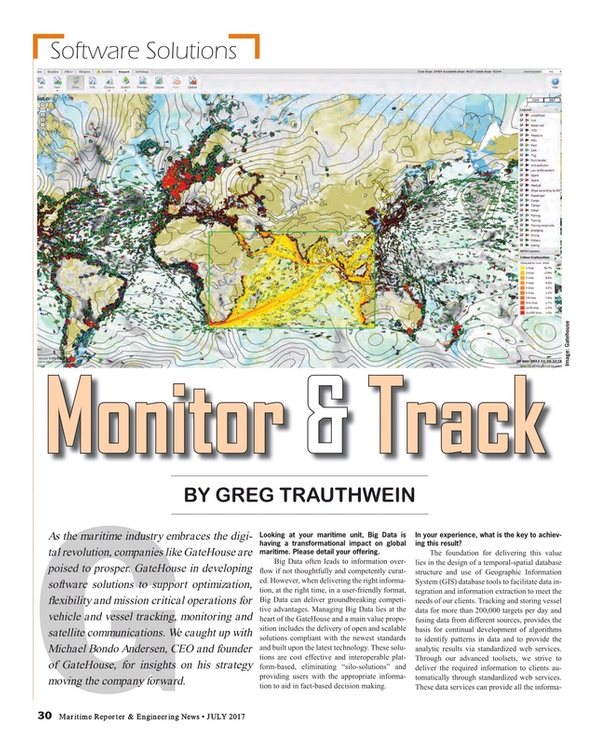 Read Software Solutions: Monitor & Track in Pdf, Flash or Html5 edition of July 2017 Maritime Reporter
Other stories from July 2017 issue
Content