Oil Spill Response: USCG Testing Evolves
By Kurt Hansen
Coast Guard R&D Center's JMTF is a big part of the nation's environmental research efforts.
In 1972, the U.S. Coast Guard Research and Development Center (RDC) established the Fire and Safety Test Detachment (FSTD), which later became the Joint Maritime Test Facility (JMTF), at Coast Guard Sector Mobile in Mobile, Alabama. As part of the unit's establishment, test facilities were also built on nearby Little Sand Island in Mobile Bay. Since its inception, multiple retired commercial vessels were used as test platforms ending with the State of Maine, which was removed in 2010. These tests included evaluation of vessel and shipping container construction and the use of water for fire sprinkler systems.
In parallel, the Naval Research Laboratory (NRL) moored the ex-USS Shadwell at the island to perform fire research for combat ships. In 1990, RDC built a 50-foot by 50-foot shallow burn pan in collaboration with the National Institute of Standards and Testing (NIST) and several other Federal and International organizations to research in-situ burning (ISB) of oil spills. The pan enabled JMTF to collect burn testing data, including emissions (soot and smoke) and of the properties of remaining residue for crude oil and diesel.
The next facility improvement phase was the building of a larger pan (100 feet by 30 feet test section) mounted with a wave paddle. This test apparatus was used to develop a standard test to evaluate fire-resistant booms and was used for three years to test nine potential boom designs. Using the results from the test, the final American Society of Testing and Materials (ASTM) F2152, Standard Guide for In-Situ Burning of Spilled Oil: Fire-Resistant Boom, was developed. The boom design and ASTM standard proved effective during the Deepwater Horizon (DWH) Response which observed burns lasting over 11 hours. In 2005, the pan apparatus and supporting burn pan infrastructure was damaged during Hurricane Katrina making the system inoperable.
After the Deepwater Horizon Response, work groups were formed by the American Petroleum Institute (API) that were composed of industry, Federal, and state partners. These groups used lessons learned from DWH to develop a number of documents that included operations manuals, personnel qualifications, and guidance to industrial hygienists and safety personnel. These can be found on the API internet site: http://www.oilspillprevention.org/oil-spill-research-and-development-cente. Upon review, the RDC and the Bureau of Safety and Environmental Enforcement (BSEE) recognized that the equipment recommendations following DWH had not been addressed. These recommendations included using ISB in harsher environments (higher waves and wind), developing alternative igniters, and better burn efficiency in order to reduce the smoke plume and the amount of burn residue.
In 2015, RDC repaired the large pan, installed fuel delivery and monitoring systems, and conducted an initial test burn to verify system operations and test procedures. In 2016 and 2017, a series of test burns were conducted to support BSEE-sponsored research to address the outstanding in situ burn efficiency issues. In 2016, RDC hired a contractor to design and fabricate a new wave maker system to support testing in accordance with ASTM Standard 2152. The contractor installed a hydraulic power unit and drive cylinder, lengthened the original paddle, and installed a wave-dampening beach. The initial installation was completed on May 5 of this year; however, some final work still needs to be completed on the system.
Today, the facility is close to returning to its full capability, thanks to RDC partners, BSEE and NRL; and will be open for external researchers later in 2017. At this time, RDC does not have a supply of crude oil, but may be able to obtain diesel fuel for some tests. The RDC expects the need for a burn pan with a wave making ability to continue into the foreseeable future, if government regulations reflect the use of ISB or future research requires this unique capability. Interested parties can contact the Coast Guard Research and Development Center for additional information on the use of this burn pan.
The Author
Kurt Hansen has worked at the U.S. Coast Guard Research and Development Center in New London since 1993, working on projects dealing with oil spill prevention and response since 1998.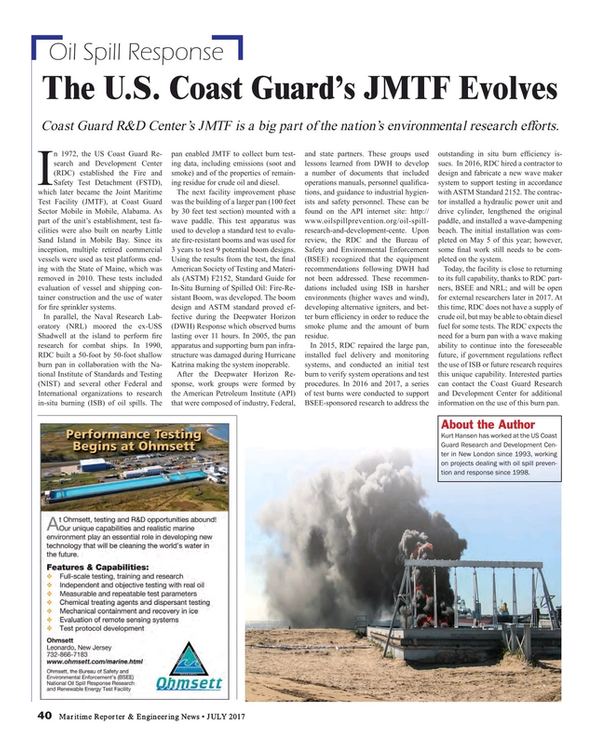 Read Oil Spill Response: USCG Testing Evolves in Pdf, Flash or Html5 edition of July 2017 Maritime Reporter
Other stories from July 2017 issue
Content