U.S. Flag Vessel Safety
By Jon Waldron & Stefanos Roulakis
Congressional and Agency Actions to Implement Changes to U.S.-Flag Vessel Safety Requirements Three Years after the M/V El Faro Incident

October 1, 2018 marked three years since the tragic sinking of the M/V El Faro – ranking as one of the worst maritime disasters in U.S. history and resulting in the highest death toll for a U.S. commercial vessel sinking in almost 40 years. Following this incident, both the National Transportation Safety Board (NTSB) and U.S. Coast Guard spent considerable effort to investigate this incident. The NTSB released its final report on December 12, 2017 – with more than 70 safety recommendations – and the Commandant's final agency action ("Commandant's Action") – published with 31 safety recommendations – was published shortly thereafter on December 19, 2017. The Commandant's Action can be found at: https://media.defense.gov/2017/Dec/21/2001859858/-1/-1/0/EL%20FARO%20 FINAL%20ACTION%20MEMO.pdf. Shortly after the release of these reports, questions immediately arose as to what action the Coast Guard and Congress would take to implement changes and how long it would take. To the Coast Guard's credit they immediately took steps to implement many of the safety recommendations emanating from the Commandant's Action. Congress did not move quite as fast but recently enacted legislation in the form of the Hamm Alert Safety Alert of 2018 (the "Act"), named after the wife of a M/V El Faro crewmember who initiated a petition urging Congress to take immediate action to ensure safety changes are made to prevent such an occurrence from happening again.
Coast Guard Action
RADM John Nedeau, Assistant Command for Prevention Policy, released a statement on the Coast Guard Blog for Maritime Professional exactly three years after the incident noting that the Commandant urged industry to move with a sense of urgency as a result of lessons learned. In this regard, RADM Nedeau outlined four lines of action taken by the Coast Guard, as follows.
1. Examination of U.S.-flag Vessels in the Alternative Compliance Program ("ACP") – In October 2017 the Coast initiated a review of U.S.-flag vessels enrolled in ACP and similar programs. While finding that that there were some improvements in the fleet the Coast Guard found numerous fundamental safety deficiencies resulting in removing inspection certificates for five vessels. The Coast Guard plans to continue to conduct risk-based, targeted oversight and increase its evaluation and scrutiny of the U.S.-flag fleet.
2. Third Party Oversight Review Team (T-PORT) – The Coast Guard initiated its roll-out of this program in January 2018. It is directed at improving its oversight system for classification societies that perform delegated work. Among other things, this program has developed more rigorous procedures and detailed policy for both third parties and local Coast Guard marine inspectors, started work towards a single U.S. Supplement to the classification society rules and Safety of Life at Sea Convention ("SOLAS"), and created a new oversight of third parties office. It expects to complete its policy changes by the end of 2018.
3. Marine Inspector Improvements – In 2018 the Coast Guard initiated actions to substantially improve its marine inspector training program including to prioritize the filling of vacant marine inspector positions.
4. Updated Safety Standards – In 2018 the Coast Guard initiated action to propose safety changes to International Maritime Organization ("IMO") which will be followed by improvements to U.S. safety regulations.
A full copy of RADM Nedeau's statement can be found at http://mariners.coastguard.dodlive.mil/2018/10/01/10-1-2018-remembering-el-faro/
Congressional Action
On October 11, 2018 President Trump signed the Save our Seas Act of 2018 into law. https://www.gpo.gov/fdsys/pkg/BILLS-115s3508enr/pdf/BILLS-115s3508enr.pdf. Title II of this law contained the Act which focuses solely on marine safety and implementing changes in light of the M/V El Faro incident. The Act adopts many of the recommendations contained in the Commandant's final agency action. However, while the Act codifies many of the corrective actions undertaken by the Coast Guard, it is more complementary in nature to the actions taken by the Coast Guard to date as discussed above, and does not impose many new major obligations on the Coast Guard or industry that were not already underway. The following are the key provisions of the legislation.
• No later than 60 days after enactment, publish flag-state detention rates of each type of inspected vessel and identify any recognized classification society that inspected or surveyed a vessel that was subject to a major control action attributable to a major nonconformity.
• Direct the General Accounting Office to conduct an audit of the Coast Guard's oversight and enforcement of safety management plans required under the International Safety Management Code, and report to Congress in 18 months on the program's effectiveness and provide recommendations.
• Require that all inspected freight vessels carry enhanced distress signals and location technology, and require companies to maintain records of all incremental weight changes made to inspected freight vessels.
• Direct the Coast Guard to work with IMO to require a high-water alarm sensor in each cargo hold of a freight vessel, and amend SOLAS to require that all voyage data recorders be installed in a float-free arrangement and contain an integrated Emergency Position Indicating Radio Beacon.
• Direct the Coast Guard, subject to the availability of appropriations, to identify and procure equipment to provide search-and-rescue units with the ability to attach a radio or Automatic Identification System strobe or beacon to an object that is not immediately retrievable.
• Require the Commandant of the Coast Guard to establish enhanced training programs for Coast Guard marine inspectors, and take other actions to improve the marine inspection program of the Coast Guard.
• Direct the Coast Guard to review its policies and procedures for making major conversion determinations, the effectiveness of certain international and domestic vessel safety requirements, and the reliability of self-locating datum marker buoys.
• Direct the Commandant of the Coast Guard to (1) conduct an assessment of its oversight of recognized (third-party) organizations and the impact on compliance by and safety of vessels inspected by such organizations, (2) establish within the Coast Guard an office to conduct comprehensive and targeted oversight of all such recognized organizations, and (3) review its procedures for delegating to recognized organizations to ensure that these authorities are being conducted in a manner that ensures safe maritime transportation.
• Create a single United States Supplement to rules of recognized classification societies for classification and inspection of vessels.
•Task the Commandant with working with the IMO to ensure that vessels receive timely and graphical weather forecasts.
•No later than December 19, 2018, and every two years thereafter, direct the Commandant to report to Congress on the Coast Guard's implementation of each action outlined in the Commandant's final action memo dated December 19, 2017.
In conclusion, both the Coast Guard and Congress should be commended for taking action relatively quickly following release of the NTSB report and Commandant's Action in order to enhance the safety of the U.S.-flag fleet and both the Coast Guard and third party oversight programs. It is also clear that there will be increased scrutiny by both the Coast Guard and third party auditors during inspections and examinations of the U.S.-flag fleet. Owners, operators, and third party auditors should take heed of these developments and take appropriate action to ensure compliance with applicable requirements. It is important that all industry stakeholders learn from this tragic incident to do whatever we can to prevent a similar accident occurring in the future.
About the Authors
Jon Waldron is a partner in the Firm's Washington, D.C., office who concentrates his practice in maritime, international and environmental law, including maritime security. He served in the U.S. Coast Guard for 20 years, attaining the rank of commander, and was senior counsel to the marine Spill Response Corporation.
Stefanos Roulakis is an associate in the Firm's Washington, D.C., office in the maritime group. He focuses his practice on regulatory matters, international maritime issues, environmental work, and has taken a proactive approach with his clients using maritime compliance through audits and trainings.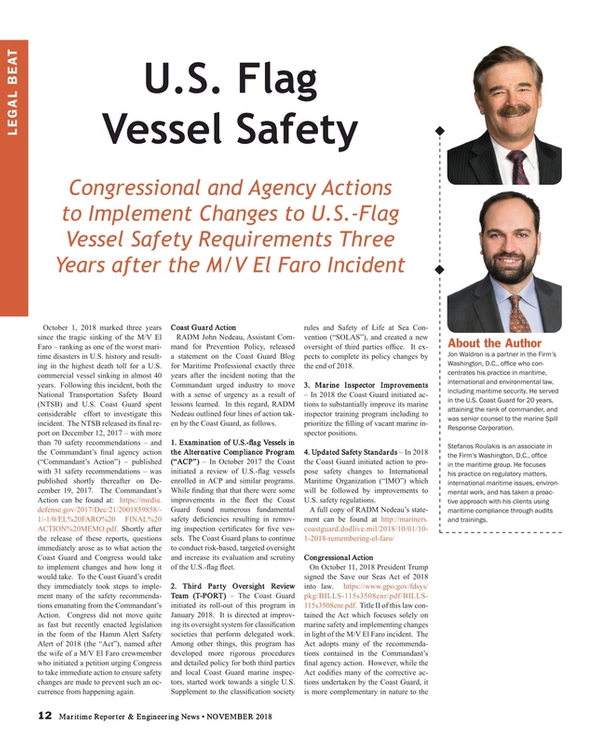 Read U.S. Flag Vessel Safety in Pdf, Flash or Html5 edition of November 2018 Maritime Reporter
Other stories from November 2018 issue
Content