Interview: Admiral Karl Schultz, Commandant, United States Coast Guard
By Greg Trauthwein
Maritime Reporter & Engineering News was offered the opportunity to interview Admiral Karl Schultz, the 26th Commandant in the history of the United States Coast Guard, in his office in Washington, DC. Just five months into his tenure, his plate is predictably full with a number of challenges, including: Attracting and retaining future U.S. Coast Guard personnel; addressing a number of assymetric threats, including cyber attacks; and ensuring captial and operating budgets are adequate to safely and efficiently carry out a global mission envelope, to name but a few. But while the job ahead is complex, Admiral Schultz sees success in fulfilling his "Three R's" to ensure that this United States Coast Guard is Ready, Relevant and Responsive.
I understand you have three guiding principles, the '3 R's'. Can you explain?
I will tell you this, Greg, coming into this transition, it was an advantageous position. I was well-led on my predecessor's senior leadership team, so there were not any big, major course changes. So the guiding principles are in the three basic premises I talk about at Coast Guard, that is Ready, Relevant and Responsive.
The first "R" is Ready, meaning that the Coast Guard is ready to serve the national security and the interests of the nation.
The second "R" is Relevant. The Coast Guard is one of the five armed services. We are a law enforcer, we are a commonsense regulatory agency, we are a first responder. (A role that has been prominent in the last three years with multiple responses in the aftermath of ever strong hurricanes.)
And then the third "R" is Responsive; which I think is our hallmark trait 228 years into our service history. We bring responsiveness to all mission execution, whether it is law enforcement and stopping close to 500,000 pounds of illegal drugs coming to American streets, or whether it is the regulatory role
That to me was a common framework where I could articulate what this Coast Guard is all about, moving forward.

Attracting and retaining quality people is a perpetual problem for this industry. Is it an issue for the Coast Guard, too?
With unemployment below 4 percent, it is a very competitive space. The Coast Guard has to be an employer of choice. When I talk about a "ready" organization, that's a commitment with the men and the women of the Coast Guard, too. I expect them to come to work ready to do the nation's work on the maritime front lines.
What do they expect from their Coast Guard? They expect a rewarding experience and a trusted organization. (With healthcare, retirement system and opportunity) we've got to be attractive to folks – we've got to be investing in technology. These are bright young men and women; the caliber (of the people) is not a problem as we are getting great men and women, and we are meeting our recruiting goals. But it is competitive. We've got to make sure we've got a brand that people want to be part of. I've got to figure out a way to train and retain them and that all comes down to the quality of the experience.

That sounds like a solid plan. What about diversity in your ranks?

We absolutely need to be a Coast Guard that is more representative of the society that we represent. We've got some good news stories, like at the Coast Guard Academy, the cadet corps is made up of about 40 percent female cadets. That's a great news story there. If you look across our officer ranks, there's 20 percent females across the entire 7,000 plus officer community. So as women come out and get their commissions, we have to figure out how to retain them in our ranks, and we have a women's retention study that will be coming out in the new calendar year.
And then with African American cadets, we just graduated the largest number in the academy's history – 18 – last year, class of 2018. But we have to keep moving forward. That whole cadet core is more and more comprised of underrepresented minorities and reflective of the society we serve. In fact, the class that will graduate four years from now is about 38% under-represented minorities. So that's encouraging, but we've got work to do there. I'm committed to that – the senior leadership team is committed to building our diversity. And that's really all about inclusivity.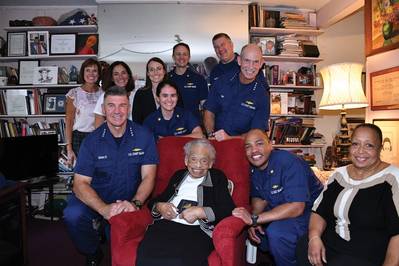 Coast Guard Commandant Adm. Karl Schultz and Vice Commandant Charles Ray visit with Dr. Olivia Hooker in White Plains, New York, Oct. 5, 2018. In February 1945, during World War II, Hooker became the first African-American female admitted into the Coast Guard. Coast Guard photo by Petty Officer 1st Class Jetta Disco.Excellent. Let's move from people to technology, as today is a transcendent time in the maritime world because you have an amalgamation of regulation, particularly when it comes to emissions, and technology, particularly when it comes to autonomy and the use of digital information and the way that people run their ships from Point A to Point B. With that as a backdrop, what do you see – what are the defining drivers that will most significantly impact the Coast Guard during your tenure and in the future?
I think there are two components to that: a complexity piece and a capacity piece. On the complexity piece, clearly, you can't enter that conversation without talking about cyber. All the shipboard operations, ships themselves, are much more computer based in their applications. Look at the NotPetya cyber attack on Maersk, and domestically the Port of LA/LB where they had a malware intrusion. That can shut shipping down.
We have a role in that space, and we're building out cyber capabilities with our Coast Guard Cyber Command here. We have to have the cyber professionals with the knowledge, so we just cut the ribbon on a cyber lab up at the (U.S. Coast Guard) Academy, a $1.5 million cyber lab with more than 30 kids in the new cyber major, so we're growing some of our own. But there's going to be a lot of demand, and I think there's a national or global shortage of cyber professionals. So even as we train these young kids, industry is going to be looking to pick them off because they're bright, talented folks.
And then there's the capacity piece. Just look at the size of the ships: it used to be a container ship would come into Savannah and offload all of its cargo. That same ship comes to Savannah today, offloads some of the cargo, bounces up to Port of Virginia, bounces up to New York and then it sets sail back across the Atlantic or back down through the Panama Canal. Ships are bigger.
We just brought onboard 5,000 Sub-chapter M-regulated towing vessels, so there's a capacity piece there. Third party compliance, third party oversight and alternative compliance programs: that's the way all the flag states are going, including the United States.
That's great, but I think we learned some lessons from El Faro that we need to oversee those third party organizations.
We need to still issue the certificates, but at the end of the day, the Coast Guard has to rise to that occasion from the training standpoint, from the size of our workforce and from a skill set. We've also had (separate) conversations looking at autonomous ships.
What does that mean from a regulatory standpoint? (Autonomous ships) are light years different but it's exponentially accelerated. We have to be in that space. The nation looks to its Coast Guard; I think globally the maritime community looks to the United States Coast Guard for leadership there. That will challenge us.

As far as addressing those challenges, is there anything specifically that you see a need to address these increasing technological challenges?
I would say budgetarily. We have made good progress on our recapitalization side of our budget, but the operations and support side – which is the people side – has been flat-lined since the Budget Control Act of 2011, we've lost 10 percent purchasing power over much of the last decade.
And when I talk about a marine science technician, a prevention workforce, that's a people business. If you're not investing in your people – either in the number of people, the training for those people, the advanced school for those people – it gets challenging. So I think what I've talked about is a little different than the previous leadership. When I talk readiness I talk people – people are part of the readiness conversation, and readiness is my number one priority. That eroding fiscal operating budget has put us at a point where we need to be paying attention to readiness.

Can you discuss how the Coast Guard is evolving to facilitate the flow of commerce on the waterways, in the ports, in the harbors?
Yes, and your timing is interesting because we just rolled out a new Maritime Commerce Strategic Outlook. As you know, Greg, in your familiarity with the industry over decades like myself, it is about a $4.6 trillion of revenue-generated activity annually that happens on America's waterways. So that's your 361 ports, it's your 25 thousand miles of navigable channels, your 95 thousand linear miles of coastline, and 23 million jobs. There is a lot of activity in that space.
And at the end of the day we are focused on three lines of effort: Facilitating lawful travel and transportation on secure waterways, so there's a homeland piece of the secure waterway, there's the economic piece there, and then there's a modernizing piece. You know, we have 50,000 aids to navigation out there, a constellation of aids to navigation that enable water movement up through the heartland waterways. We are moving into things like electronic aids to navigation, but we're dealing with a regulated community that has an appetite for how quickly you can change. So we've got to modernize the aids to navigation system, we've got to look at marine information systems and modernize that. And then it's partnerships – we do none of this work alone.
So I think we play a pivotal role on enabling that giant economic engine. I think it aligns well with the President's focus on infrastructure and prosperity, so we're trying to communicate that a bit through our new Maritime Commerce Strategic Outlook.

Budget struggles are ubiquitous as we discussed earlier. Can you update our readers on how you see the budgeting process today?
I mentioned previously that we've had some good, steady progress on the capital budget, (and in fact) 2018 was a banner year – the biggest budget we ever had, around a $2.6- billion line for acquisitions. I think for us to be continually successful on the acquisition side, we have to be at about $2 billion a year.
The proposed '19 budget has us a little bit below that, but if we can maintain that trajectory, then we can keep the momentum. Important also is that operating budget. We have been flat-lined for eight-plus years. The President, in his first Presidential Decision Memo, talked about strengthening the support for DOD, for the military forces, the armed forces. We are one of the armed forces, even though we don't sit in DOD (and I don't think we should sit in DOD), but we would love to benefit from that injection of resources.
So DOD in '17-'18, as I understand it, got about a 12% push in their operating expense budgets, while we received about a 4% in that same period. In the '19 budget, that increment is less than 2%. The Coast Guard needs about a steady 5% rate increase annually in our operating assistance support money. That gives you a healthy Coast Guard; that keeps me from losing sleep over the readiness of the organization.

I know there are multiple ship, boat and air wing capital expenditure programs, but one program I wanted you to drill down a bit more on was the icebreakers. There's obvious intense interest among my readers on the status of the icebreakers, recently renamed the Polar Security Cutter?
We have not built an icebreaker domestically in more than 40 plus years. We are running the nation's sole, heavy ice breaker, the Polar Star, a 42 year old ship. She makes an annual sojourn down to McMurdo Station (Antarctica) to break the ice, bring in the replenishments so they can get through to the next winter. That's a strategically important place for the United States. The rest of the year, that ship gets back home and we basically send it to a shipyard for multiple months. She just sailed here in the last 48 hours on her way back to Seattle. The crew will have a little bit of time to turn the ship around and she'll be sailing sometime in November for her annual trip to McMurdo. So that ship is gone from its home port last year, somewhere north of 250 days. We are stretching the life of that ship out until we get the first of these Polar Security Cutters – the heavy icebreakers – down at the waterfront.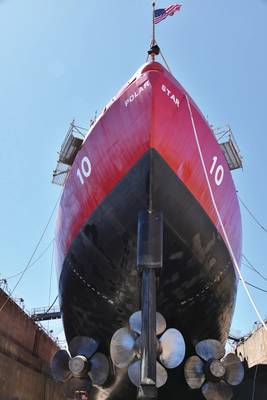 Coast Guard Commandant Karl Schultz tours the Coast Guard Cutter Polar Star while in maintenance and repair at a dry dock facility in Vallejo, Calif., Aug. 2, 2018. The Seattle-based Polar Star is the Coast Guard's only remaining operational heavy icebreaker. Coast Guard photo by Petty Officer 1st Class Jetta Disco.
We are hoping to do an award for detail design and construction in 2019. Polar Security Cutter I think is a more apt name. As we are an operating agency in the Department of Homeland Security – there's not a lot of other thinking in the Department of Homeland Security that thinks about heavy icebreaking in the Arctic. But when you think about the security of the nation – the national interests up there – presence equals influence.
We have Russia with a fleet of approaching 50 icebreakers there, and I believe they are deriving 20 plus percent of their economy out of the Arctic. They're going back to military bases they haven't been in years; they are very focused there. The Chinese have been up in what I'll call the North Slope every year since 2016 and on-and-off since 2009, paying attention to what we're doing up here. (We're not up there much). We also have the Healy – which is our medium icebreaker here – doing research there and supporting a couple customers such as the National Science Foundation and NOAA.
The Arctic, in my mind, is a competitive space, with many untapped natural resources, and we need to assert our sovereign right there. That's a presence piece, and right now, we're not there.
My philosophy – my strategy – is talk about a "6-3-1 Approach". We need a minimum of six icebreakers – that's consistent with my predecessors – that's based on the high latitude study of 2012. Within that 6-3-1, a minimum of three heavy, or Polar Security Cutters, and then the one is we need one now. If we don't start awarding a contract soon, I'm not so sure we can bridge the life span of the Polar Star much beyond a handful of years. The nation really needs to pay attention up there, and the Coast Guard's the right agency on that.

Who inside or outside the Coast Guard do you consider the greatest influence on your leadership style?
As I think back, I had access to about six different commandants over an extended period of time, different leaderships teams, you know, during my time in and out of Washington. I derived a lot from being around that many different senior leaders here in Washington, its vice commandants, the commandants. In terms of personal leadership – what makes me tick – my dad probably a little bit. He was a school teacher and he's an active guy in his community. He would go to work every day as a teacher, a coach, and try to make a difference in young people's lives. I think I've always enjoyed the people side of the Coast Guard. The thing that really gets me most excited is when I get a note from somebody that says, "Hey, remember me? I was a seaman on this ship you commanded. I'm now an officer in charge of station so-and-so. If you hadn't helped me work across that rough spot in my career I wouldn't be here." Those are the things that I derive the most personal satisfaction: the ability to push some next-generation of leaders through and help shape their careers.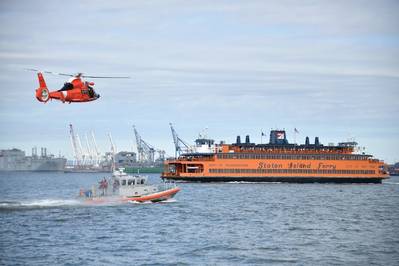 A crew of a Coast Guard MH-65 Dolphin helicopter from Air Station Atlantic City, N.J., lower a rescue swimmer onto a 45-foot Response Boat-Medium from Station New York, in New York Harbor Oct. 5, 2018. U.S. Coast Guard photo by Petty Officer 1st Class Jetta Disco.One more question and I'll let you get to your important business. From the time you entered the Coast Guard to today, how's the Coast Guard most the same? How's the Coast Guard most different?
It's the same in that we are not a whole lot bigger. Also unchanged: we don't look that much more like the America we represent. So that's why the conversation about a more diverse Coast Guard, a Coast Guard more representative of the society we serve – is important to me. We are a better Coast Guard with diversity – cultural diversity, educational diversity, geographic diversity, gender diversity – I think all that contributes to the best ideas surfacing. And folks that come in the Coast Guard want to look up in their respective enlisted rating. As an officer, they want to see folks that look like them that are rising to the upper echelons of Coast Guard leadership. That's going to take us some time, but I'm committed to that and we need to put a foot on the gas on that one.
What's different is I think our brand, our national brand is stronger than it was when I entered the Coast Guard. I think the brand of the Coast Guard today is the highest I ever remember. I think the work we do is more valued, it's better understood today than before. We have always had good quality folks, but the men and women joining the Coast Guard today are motivated. I had the privilege of mentoring a couple boot camp sessions at Cape May, and the last time there were 99 recruits. When we went around and talked to those 99 kids, there were 99 compelling reasons why they wanted to serve their nation in the United States Coast Guard. I said to myself, "Man, these kids want to serve." So my challenge is to make the Coast Guard a rewarding experience for them.



Extending the "Coast" Guard
When talk turns to the United States Coast Guard, to those not in the know the assumption is activities are confined to water and air patrol in and around the physical coastlines of the United States. But as Admiral Karl Schultz, Commandant of the U.S. Coast Guard, explains, the modern United States Coast Guard is mobile and global, a part of the Department of Homeland Security tasked to work around the world to help intercept potential threats before they show up on the doorstep of the country.
"The appetite for Coast Guard services in that space is unprecedented – which is a good problem to have as a Commandant – but we have to translate that into resource dollars," said Admiral Schultz. "We are supporting the combatant commanders on a daily basis. I think we are best positioned where we are in DHS, I think that's a good fit and we are 15 years into that relationship. But there's a high demand for our services there." He explains.
•North: We are the face of the U.S. government in the Arctic, which is an increasing accessible and competitive space. We conduct presidential security in the Capital region, with a National Capital Region Air Defense Mission, that keeps the air bubble for low, slow flyers around the Capitol region on a daily; that's 24/7/365 zero-fail mission. We support detention operation in Guantanamo with a port security unit. We support military war efforts abroad.
•South: In the south it's the drug enforcement, counter narcotics missions. It's humanitarian assistance and disaster response in the Caribbean basin, and paying a lot of attention to maritime migration.
•Pacific: Here the Coast Guard does a lot of international maritime training with the Indonesians, the Malaysians and the Philippines, which are building their coast guards (to, in part address an) "assertive China."
•The Middle East: "In the CentComm area I've got 250 Coast Guardsmen that work for the NavCen commander – that's the Fifth Fleet under US Central Commander – and there on the Arabian Gulf, six patrol boats. We've got an international training element there, the MET: Maritime Engagement Team – that trains the coalition partners in the region. We've got a high end tactical, what we call Advance Interdiction team, that is interchangeable with Navy SEALS.
"Your Coast Guard under that national defense umbrella is globally deployed every day supporting the geographic combatant commanders, supporting the secretary from border security, pushing the borders out," said Admiral Schultz. "When you look at the conversations we as a nation about the Southwest border, the work that the Coast Guard does 1500 miles from the United States off the north coast of Columbia, the coast of Ecuador, and the deep Caribbean basin, it's those drugs that arrive in the Central American quarter, and Mexico to an increasing degree, that have the corrosive effect on the local governments. They create instability that drives the violence that forces folks like ourselves with kids to send them off as smugglers who try to get to the United States. If we can stem the flow of those drugs here, that's a place that's less political, there's no violence – we take a thousand kilograms of drug off the water, hundreds of miles out near the Galapagos, you've sort of broke that chain of the violence and instability. So I think that part of our work is very important to that conversation. Sometimes you don't hear that, but to me that's the push factor – that's the away game – and I think the Coast Guard is absolutely a key part of the Department of Homeland Security's efforts there." Read Interview: Admiral Karl Schultz, Commandant, United States Coast Guard in Pdf, Flash or Html5 edition of November 2018 Maritime Reporter
Other stories from November 2018 issue
Content