Castrol Secures Environmental Acceptance
Marine News
Less than six months before the U.S. Vessel General Permit takes effect, Castrol Marine is working with owners to ensure they are truly compliant within definitions set out for 'Environmentally Acceptable Lubricant' in U.S. waters. From December 2013, new requirements come into effect covering the substances deemed acceptable for discharge by ships in US waters. Few operators, perhaps, will be fully aware of what the revised 'Vessel General Permit' (VGP) means when it identifies "Environmentally Acceptable Lubricants" (EAL).

Eliminating Gray Areas
Unless deemed 'technically infeasible', EALs must be used in order for a VGP to be valid. Failure by a vessel to produce a valid permit means The United States Coast Guard can issue written warnings and, ultimately, mount civil and criminal action including potential penalties ranging up to $25,000.
EALs as defined in the 2013 VGP mean lubricants that are "biodegradable", "minimally toxic," and "not bioaccumulative".
These definitions do not qualify lubricants developed for other applications (for example, those developed for industrial applications) to be brought in to the maritime sector without considering the challenging conditions they will face. The permit's definitions draw explicit attention in their labeling requirements to other standards on lubricant environmental responsibility – OSPAR (Convention for the Protection of the Marine Environment of the North-East Atlantic), Blue Angel, European Ecolabel, Nordic Swan and Swedish Standard SS 155470 and 155434.
"Claims for 'environmentally responsible' products are made widely but can sometimes be misleading," says Susannah Linington, Castrol Marine Environmental Specialist. "It is a great step forward having defined criteria for determining the environmental performance of marine lubricants. This means that environmental claims can be backed up by relevant scientific testing."
"OSPAR requires testing the individual chemicals in a product in seawater as this is the environment they will ultimately end up in," she says. "Although seawater testing can be harder to pass than freshwater or soil testing, this is the regime we have adopted at Castrol for developing our BioRange of products. This ensures that we can supply documentary evidence why our products meet the environmental standards laid out in the VGP".
Castrol BioStat and BioBar ranges are registered under OSPAR and therefore meet the criteria for being EALs under the VGP. Owners will also need to be assured that the products they select meet acceptable standards in terms of performance. Here, Linington explains, Castrol Marine has spent the four years since the revised VGP was first raised securing Original Equipment Manufacturer approvals for BioRange products in the marine context.

Environmentally Acceptable Lubricants
As of January 2014, all non-recreational vessels (apart from armed forces vessels) of over 79ft length that enter US waters must use an EAL in all oil-to-sea interfaces, unless an EAL is deemed 'technically infeasible'.
Each VGP is valid for five years. For vessels of 300 gross tons and above, there is also a requirement to submit a notice of intent at least 7 days (electronically), or 30 days (paper version) before calling USA waters.
EALs are required for applications at risk of operational leaks into US waters. This means all equipment in contact with the sea including:- controllable pitch propellers; thrusters; paddle wheels; stern tubes; stabilizers; rudder bearings; propulsion pods; wire rope; and any other mechanical equipment subject to immersion.
Furthermore, EALs must be used for any equipment on deck which has contact with water and in all two stroke inboard diesel engines. If, for any reason, a vessel is unable to use an EAL, the reasons why must be documented, and owners must report the use of a non-EAL to the EPA in their Annual Report.
A Question of Performance
Castrol Marine believes that developing an entire range of marine grade lubricants based on an unfolding legislative program, and at the same time securing OEM approvals ahead of time, represents an original methodology. But it also believes its coordinated efforts to share regulatory knowledge with customers will not be sufficient; only by working with customers to forecast the size and location centers of demand for its EAL compliant range can it claim to offer a truly market responsive approach.
According to Linington, Castrol's first principle for BioRange was to offer drop-in replacements for lubricants based on conventional mineral oils. A good example of this approach is Castrol's BioStat, suited for applications such as stern tubes, reduction gear, thrusters, spurs, helical and planetary gear units, couplings, and rolling and sliding bearings. "BioStat fluids contain selected additives ensuring good oxidation stability, good anti-corrosion and anti-wear properties and reduced environmental impact in comparison with conventional mineral oil based products," Ms Linington explains.
Castrol Marine is currently working with customers to analyze vessels using its lubricants calling US waters and the machinery in scope in their fleet, and to advise on what equipment is or is not in scope for VGP compliance. In doing so, the company is also mindful of the narrowness of the 'technical infeasibility' provisions within the VGP. She points out what technical infeasibility actually means according to the revised permit scheme:
No EAL products are approved for use in a given application.
Products which come pre-lubricated (e.g., wire ropes lubricated for life during manufacture), with no EAL available during manufacture.
EALs meeting manufacturers' specifications are not available in any port at which the vessel calls.
Change over and use of an EAL must wait until the vessel's next dry-docking.

Areas of Responsibility
If all this appears routine, the responsibility of knowing what is or is not technically infeasible rests with the owner. It is the owner who must document whether the EALs are registered under a labeling program. If a vessel is subjected to a spot check, and an EAL is not being used because it is deemed technically infeasible, recordkeeping must include documentation as to the reason.
Ms Linington also points out that the VGP uses more sophisticated criteria than the so-called 'sheen rule' to determine compliance. "Even lubricants that do not create a film or sheen on the water surface can have very poor marine environmental performance resulting in persistent, bioaccumulative and toxic chemicals entering the sea," she says.
"Choosing a lubricant that does not sheen, but has the potential to create a film or discoloration on the water or a sludge or emulsion in the water may leave a vessel operator open to charges of failure to report a spill should a discharge take place that is not reported as required. Choosing a lubricant that sheens also has the benefit of alerting operators to the fact that a piece of equipment may have malfunctioned and require repair."
Castrol Marine's advice is that compliance with the VGP on lubricant requires product-specific attention. It will rely on shipowners being sure that the environmental claims made for the lubricants they choose stand up to the scrutiny required for EALs by regulators with a marine environment-specific agenda.

(As published in the August 2013 edition of Marine News - www.marinelink.com)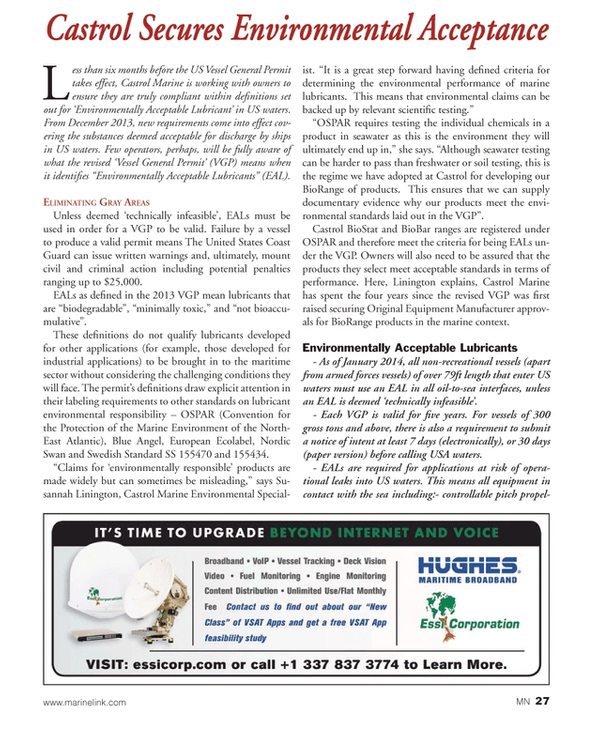 Read Castrol Secures Environmental Acceptance in Pdf, Flash or Html5 edition of August 2013 Marine News
Other stories from August 2013 issue
Content