Insights: Joseph Farrell, Jr. President & CEO, RESOLVE Marine Group, Inc.
Marine News
Joe Farrell needs no introduction to the marine salvage community or, for that matter, MarineNews readers. Originally from the Boston, Mass., area, he began by enlisting in the United States Coast Guard, eventually attending the U.S. Navy diver school, becoming a ship's diver. After two years at sea and diving in Arctic waters, he volunteered for service and became an explosives advisor, offloading ammunition ships in Vietnam. Eventually, Farrell became a civilian diver at the U.S. Navy's AUTEC base in the Bahamas, where he spent four years jumping out of helicopters in full SCUBA gear and recovering U.S. military torpedoes. Following that, he became Chief Engineer of a 158-foot salvage ship, ultimately assuming the role of Captain/Owner. From these roots, Farrell founded RESOLVE Marine, and under his guidance, RESOLVE has become one of the world's most well-known and respected marine salvage, emergency response and maritime training companies. Farrell and his team have accomplished some of the most unique and challenging operations in U.S. salvage industry history. Today, Farrell continues to lead his global RESOLVE team as they respond to vessel casualties, and provide salvage and firefighting response for approximately 40% of oil tankers that trade in U.S. waters. Follow along as he weighs in on all things "salvage" for MarineNews readers:

Your immediate family has been involved in RESOLVE's formation, development and indeed, its future. Tell us about that.
It had been at about that same time I decided to form Resolve that I met my wife to be Mary Beth. Mary Beth would actually be aboard the salvage tug "Resolve" during rescue tows and salvage jobs. In the course of time my son, Joe III was almost born aboard the salvage tug during a salvage job off an island in Puerto Rico. Our first shoreside US mainland office was in a spare bedroom in our house in Ft. Lauderdale. Mary Beth would have three young kids about her when sending and receiving telexes. We never pushed our children to be part of Resolve. On the contrary, because of the stress especially in owning and operating a salvage company, I did not care to share this with them. It seemed as they matured they saw and realized what Resolve was and the opportunities that it provides. It is also nice to be working in a business where you get to help people, protect our environment and sometimes make a sound living. Today, all three of our children; Joe III, Lana and Summer work in the company.

Describe the Resolve organization today. Clearly, it is much more than just a salvage outfit:
You are correct. Resolve has grown into a much more diverse organization from its initial roots. Resolve has a unique industry business model by thinking outside the proverbial box. We are now a global emergency responder, a salvor and a major wreck removal company. Additionally, we have established one of the leading maritime training centers in the world where we train both officers and crew in all maritime aspects from vessel bridge operations to shipboard firefighting and damage control. And, we determined that by building a shipboard fire fighting school to train mariners we could not only develop a qualified fire fighting team from our school instructor base but we could also have all our employees maintain the highest training standards at our own in-house school. We currently have ongoing salvage and wreck removal projects in Africa, New Zealand, Mexico, Alaska, Singapore the Gulf of Mexico as well as pending bids in another number of global locations. Additionally, we have developed one of the largest OSRO's (Oil Spill Response Organizations) in China with our base of operations in Shanghai, where we are very active. For the second year in a row, we have also been awarded the ETV, Emergency Towing contract for India. This year's contract is now for both the East and West Coasts of India. Our organization is made up of some of the most experienced, committed and qualified individuals that an organization such as ours can have. We have approximately 200 full time employees worldwide. When we have a major project, as we did during the Deepwater Horizon incident, we can spool up to over three times that amount and readily do so. The key to this is the strong leadership and management practices. Our core floating assets are our salvage tugs, crane barges and heavy lift barges. Although only a handful of each, they are strategically located around the world. We are ever expanding these as well. We have a number of offices and warehouse depots in the U.S., U.K., Singapore, India, China, New Zealand and plans for expanding into Africa and Holland. Additionally, Resolve builds all its own in-house salvage equipment and fire fighting pumps. We find this is the only reliable way to have equipment that you can truly count on when needed. Additionally we own all our assets and most of all our facilities with only rentals for overseas facilities. Therefore, when we have slow periods, we are able to weather these times with no risk of staff reductions.
The Resolve Fire Academy is an asset not only to your organization but to the greater maritime industry at large. Tell us about it.
Yes, we do know that our training division helps to save lives. The training arm of Resolve Marine Group, Inc. has been expanded and rebranded as Resolve Maritime Academy which encompasses our initial fire training component (Fire School) and now includes a Simulator Group which is comprised of a full mission bridge and engine room simulator, mini bridges and ECDIS classrooms. Within the Fire School, we have trained approximately 21,000 professional mariners and port fire fighters. The initial focus for the new expanded simulation and vessel officer training program has been with the cruise ship industry. We have signed a training agreement to be the exclusive provider of simulation training for Royal Caribbean International to train officers for Royal Caribbean, Celebrity, Azamara and their other fleets. Additional cruise lines are now taking our courses. This market was already at our doorstep, given our location in Fort Lauderdale and the port of Miami. Although this expansion was in the works for a number of years, the timing of our grand opening was somewhat uncanny since it basically coincided with Costa Concordia casualty and spotlighted the industry's needs. We are currently rolling out one of the only real-time combined Bridge and Engine Room Resource Management courses on the planet. This course allows both Bridge and Engineering Officers to train together during crisis and non-crisis scenarios and each in their respective full mission simulators. Further, we are now developing courses and classes for the Offshore Oil & Gas industries beginning with Dynamic Positioning, Anchor Handling, STS (Ship to Ship) and right down to offshore crane operator courses.

Many organizations consider the responder liability issue to be the most pressing matter on the plates of U.S. salvors today. Do you agree?
Without a doubt responder liability is a major shared industry concern. It has taken my family and team over 30 years to get where we are and this life's endeavor can be lost in one calamity. Resolve is an active co-sponsor of the ASA's effort to pass responder immunity legislation in the USA. Without reasonable provisions to protect professionals willing to take often time critical actions in the heat of a battle to control a developing marine emergency, who might be willing to step forward? Also, there seems to be a growing lack of enthusiasm for rewarding salvors in ways that resemble the traditional concept of encouraging experienced people to be ready and willing to take voluntary action in an emergency. We are frequently asked to quote lump sum prices before be able to evaluate the casualty circumstances and to disavow any right to make a claim for salvage. The two issues are related. The sea can be an extremely challenging, if not unforgiving environment. The ports and coastlines are home to myriad private and public interests. Why should a salvor take on a poorly defined or deteriorating situation at the risk of being penalized after the fact if the response does not turn out to be perfectly successful in the eyes of all parties that may claim to have been affected? Nobody in any industry bats 'a thousand' even when there is a well defined situation and time to develop and implement a fully conceived plan. It makes even less sense if you risk being liable to third parties for actions earnestly taken on behalf a client shipowner. If successful salvage does not make for an ample reward, it is difficult to justify putting anything let alone everything on the line.

Joe Farrell's Resolve Marine has, over the years, been defined over the years as an environmentally focused firm. What drives that focus for you?
We have always been and continue to be extremely conscious of the environment in which we work and make a living in. It has reflected in all our jobs over the years. This was before the environmentalist took note of seafloor damages or the lawyers found a new source of income, which is suing vessel owners and or their responders. We have always taken the time necessary in connecting up to stranded vessels laying on sensitive sea floors as well as finding extraction paths that will do the least seafloor damage during vessel removals. What drives this focus is simple: It is the right thing to do. Resolve's stated goal is "to Leave The World a Better Place." We are only on this earth for a fairly short period of time, therefore if we do good to others and our environment, who knows but maybe we get to stay here a little longer.

Salvage, by its very nature, involves expensive assets and considerable overhead. What else does Resolve do to keep its assets busy when not engaged in an emergency situation?
This is something which many, including our clients, do not usually see or consider. In our varying business entities we try to utilize our assets, but it is a challenge and frankly we seldom are able to use the task specific assets in other applications. We therefore must just stand at the ready with no offsetting income streams. The equipment maintenance is another real burden. One Resolve team travels full time just to maintain our equipment, which in the US alone is located in over 20 locations. Actually, it is our people who are our main assets. There are highs and lows, feast or famine in salvage and maintaining response staff is even more critical. At Resolve we are blessed with some the best multi talented and committed people who can wear numerous hats. This has and continues to be the key to Resolve's success.

Tell us about your favorite restoration projects.
My favorite projects have been creating artificial reefs. This endeavor came about by a set of strange and tragic events in January 1986, when at the time I lost my only salvage barge. It sank 18 miles off the coast of Cape Canaveral. I purchased the 350 foot long ocean hopper barge in Trinidad, converted it into a salvage barge, equipped it with a crawler crane and loaded it with salvage equipment. I used the barge for commercial aggregate transportation between salvage operations since it could also carry 7,000 tons. The short story is that my tug Resolve was off line with a main engine issue and I had to charter a tug to tow the loaded barge. This chartered tug lost power in a major winter storm. The drifting barge was wallowing in seas in excess of 25 feet that simply battered her hatch covers loose and sank it. The following day I was able to locate it from the air by a surface oil slick and we could see the miles of floating polypropylene salvage hawser tangled from her. On the second day, I was able to get offshore and dive on her in the still heavy sea. Although it was 18 miles offshore, the water was only 80 feet deep. I had hoped that I would be able to salvage it by pumping the granite gravel off it; then patch, dewater and refloat. As it turned out on the dive I found that the barge had broken in the middle. We switched to plan "B", which was to recover the crane, Clyde winch plus all my salvage equipment. The weather worsened again. The following day the temperatures plummeted and the space shuttle, Challenger, exploded just after its launch above the barge. The area where the barge sank was then locked down since the Challenger debris was all around my barge. Although I had insurance, the loss of my major salvage asset put me in a small boat tying up Crowley CCT Ships in Port Everglades and delivering potable water with a small 100 ton barge and old push tug. I bought the tug with what I had left on a credit card for $7,500.00. After about 18 months, when the ocean area was once again opened, my European insurers agreed that we needed to lower the underwater profile of the wreck and they agreed to pay my cost to roll my now destroyed crane off her deck. I did this and recovered the winch and some of equipment, but the most astounding aspect was my realization of the underwater habitat that was created by this one vessel. To this day I still remember this day's dive. The wreck was on a sand seafloor which extended 18 miles west or shoreward and hundreds of miles north, east and south but on and around the barge there were so many fish of every species that most of the time at the 50 feet clear water depth level of the barge's main deck, there was not even enough light to take pictures. This was due to the amount of fish between the wreck and the surface. Since then we have intentionally sunk more vessels than (probably) anyone else in the world. This includes a two-year project of cleaning and then sinking of a US Navy aircraft carrier that we did with and for the Navy. This vessel created the largest artificial reef in the world.

(As published in the August 2013 edition of Marine News - www.marinelink.com)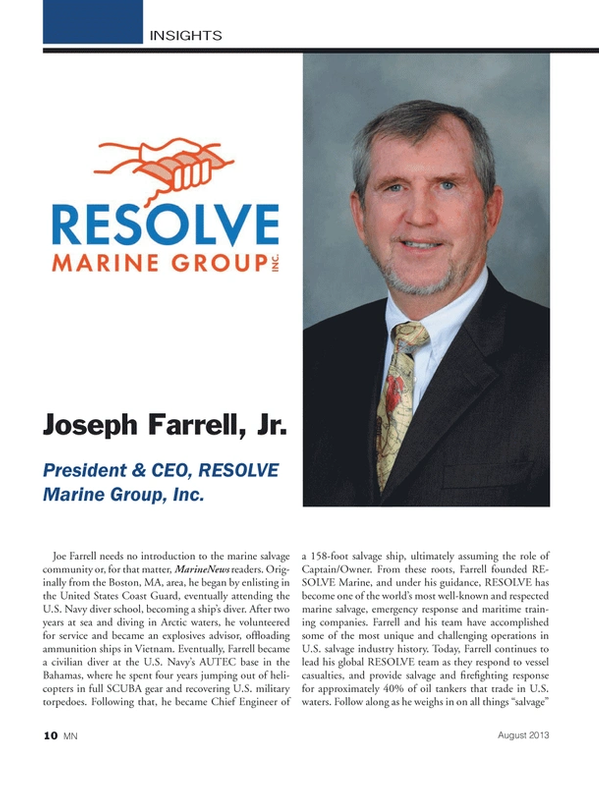 Read Insights: Joseph Farrell, Jr. President & CEO, RESOLVE Marine Group, Inc. in Pdf, Flash or Html5 edition of August 2013 Marine News
Other stories from August 2013 issue
Content