Naval Architecture Students Target Safety and Innovation
By Joe Hudspeth, Vice President of Business Development, All American Marine, Inc.
Marine Engineering and naval architecture students provide a fresh perspective on design, safety and innovation, too.
When most of us board a passenger ferry, thinking about the safety and stability of the vessel will rarely cross our minds. Typically, those thoughts are obscured by other "more important" things, along with the distractions of electronic devices that keep us so pre-occupied that we even tune out the essential safety briefing that occurs during departure. While the record of U.S. Coast Guard inspected passenger vessels is outstanding and evidentiary of why we take safety for granted, the loss of even a single life is one too many. Unfortunately, given the condition of the design, construction, and maintenance for many passenger ferries in underdeveloped countries, passengers often jeopardize their lives upon boarding.
The tragic headlines regarding passenger vessels are surprisingly frequent and tend to extend far from home, but the problem still lies in the backyard of our global industry. The solution to ensuring safety on passenger vessels can be found in a simple two-pronged approach. First, the vessel needs to be of sound construction and, of course, the crew needs to be properly trained to implement safety procedures. The World Ferry Safety Association recently sought after a fresh perspective to tackle the foremost issue by initiating an international design competition for students studying naval architecture and marine engineering. While the scenario for the design competition was focused on providing solutions for the ferry service in Bangladesh, the overall premise was to develop a safe and affordable passenger ferry design.
The competition isolated the onerous influences of bureaucratic red tape and kept the focus on safety, functionality, and affordability and in the end yielded innovative yet practical designs. The competition elicited entries from seven student teams hailing from universities in India, Germany, Turkey, Greece, Canada, and the United states. I was pleased to serve in the panel of judges that also had representation spanning the globe.

The Competition
Initiated in February, the Worldwide Ferry Safety Association (WFSA)'s annual student competition for the design of safe affordable ferries to serve developing nations called for ferries to be designed according to specifications of a particular developing and emerging market nation. This year, the country was Bangladesh. A top prize of $5,000 was offered with additional prizes of $3,000 and $1,000, with winners invited to an award ceremony at the annual SNAME conference.
Launched in response to the tragic record of ferry fatalities in parts of the developing world, the competition builds on a ferry safety project initiated by Interferry – a professional organization, in partnership with the International Maritime Organization (IMO). IMO also organized Ferry Safety Information-Sharing Forums in South East Asia and the South Pacific. These experiences indicated that one of the most difficult problems to address was the lack of safe affordable ferries. WFSA's Executive Director, Dr. Roberta Weisbrod, explained, "We decided to emulate design studios addressing other developing world problems and thereby unleash innovation for all. In addition to generating new designs, another goal is to let the maritime community know about the opportunities in emerging markets."
The 2013 competition called for an innovative concept for a ferry prepared to basic design detail. The terms of reference are for a ferry able to transport 500 passengers along Bangladesh's inland river system, between Dhaka, the capital (and a major commercial center) and Barisal, a region 250 km to the south. The ferry had to be safe to operate in the conditions of the waterway and weather, and meet required passenger capacity guidelines. Additionally, the ferry must be affordable to construct, acquire, operate, maintain, and repair. Upon registration, full specifications will be provided. Student teams were encouraged to collaborate among disciplines and across national boundaries.
Ultimately, the WFSA top prize was awarded to the student team from the University of British Columbia, Canada. The team designed a monohull vessel that had exceptional stability characteristics. The entry was very complete in terms of design features and cost and fuel analysis. Features include CNG fueled engines, modular cabins, and handicapped access. The second prize was awarded to a team from Tolani Maritime Institute, Pune, India, and two third prizes were awarded to teams from Istanbul Technical University, Istanbul, Turkey and University of Applied Sciences, Bremen, Germany.
Tolani Maritime Institute team also designed a monohull vessel that was extremely stable with good under-keel clearance, made allowances for upstream and shallow water effects, with redundancy built in with twin screws and diesel engines. Istanbul Technical University students' submission had good overall design appropriate to the route characteristics and was clearly designed for the comfort of passengers and tourists. The University of Applied Sciences of Bremen students designed a vessel that was stable, with double sides and double bottoms, with redundancy in engine rooms and twin screws, and with bow thrusters for docking.
The Worldwide Ferry Safety Association is dedicated to improving ferry safety in developing nations. WFSA is a not-for-profit Delaware corporation initially founded in 2004, presently waiting IRS notification of reactivation of tax-deductible status.

When Pigs Sail:
In Bangladesh, overloading and poor stability characteristics do not bode well for vessels that venture out into the turbulent waters and aggressive storms that are common to the region. Perhaps you may be able to relate to an uncomfortable elevator or subway experience, but the concept of vessel overcrowding is typically unfamiliar to most Americans. In countries like Bangladesh, little is done to regulate the number of passengers when operating subsidies do not exist and owners rely solely on any revenue that can be generated through tickets sold. Tabulating the vessel load prior to sailing is complicated by frequent stowaways and is further compounded when contending with the boarding of livestock and an abundance of other extraneous cargo. A simple, well-marked load line may provide the best precautionary indicator as long as operators are required to keep it above water.

Pupil Perspective:
In general, the student teams focused on developing unique aspects of their design offering through consideration of various hull shapes, propulsion systems, and stability factors. Each team intentionally embraced the desire to place equal importance on safety, functionality, and affordability. In the real world, however, buyers often foolishly put their top priority on price, followed by functionality, and any consideration of safety is either taken for granted or ignored altogether. The submissions included a tri-hull, catamaran, and varying shallow draft monohull designs. The proposed propulsion systems ranged from twin screw applications with conventional propulsion, to redundant diesel-electric prime movers, to the top prize winning proposal that featured a single screw, compressed natural gas (CNG) propulsion system. The students also proposed creative solutions to limit overcrowding through restrictive points of embarkation and clearly defined passenger areas – with an emphasis on suitable evacuation routes and survival craft.
The winning entry, submitted by the student team from the University of British Columbia, Canada was comprehensive and viable. The design featured a conventional monohull shape that was optimized for stability with the consideration of a 70% overcrowding factor. The structure was presented in a way that demonstrates ease of construction without the requirement for specialized tools or a highly skilled workforce. Starting with a well structured hull goes a long way, but the UBC students were also able to successfully implement a plan for managing passengers once they boarded.
It was impressive to see innovation that included responsive anti-healing systems, specialized navigation monitoring systems, and even the use of deployable floatation fenders (air bags) that will counteract the heeling moment. In this case, the key is to incorporate advanced technology where it makes sense, while still holding close to the goal of making an affordable design. Actions to implement a safer design are contingent upon a tangible cost. It is unlikely that passengers will be restricted or that that the weather can be tamed, therefore building better boats will have the greatest impact on safer transportation.

Hope on the Horizon
Circling back, vessel safety should never be taken for granted no matter where in the world you board. For example, and only after two tragic and deadly incidents in the United States, policy makers decided to take a closer look at stability. It was only 2 years ago that the U.S. Coast Guard took bold measures to change the way passenger weight was factored for stability calculations from 160 pounds per person to now 185 pounds. Beyond the issue of safety and stability, the move correctly accounted for today's bigger – and heavier – average American. Sure, the new calculation may limit passenger capacity in certain applications, but is simply changing the equation accurate enough? Naval architects now have access to advanced software and computing power to perform damage stability modeling whereby accurate cause-and-effect scenarios can be run to model the flooding impacts of various compartments. Similar software programs are available to model the dynamics of an onboard fire or even illustrate plausible evacuation scenarios.
Looking ahead, and according to the Worldwide Ferry Safety Association, the next student Safe Affordable Ferry design competition will involve the design of an inter-island ferry for challenging waters of the South Pacific, where there have been several major ferry accidents in recent years. Ferries there are generally purchased secondhand and funds for new builds are scarce.
Engineering solutions into a new design is expensive, but value of the investment is much greater than the cost of a lesson learned. The safety factor for vessels cannot be revolutionized overnight and surely one design will not be suitable for the global market. Change can happen and there is hope that organizations like the World Ferry Safety Association increase the potential for improvements in all facets of boat design; one design competition at a time.

(As published in the December 2013 edition of Marine News - www.marinelink.com)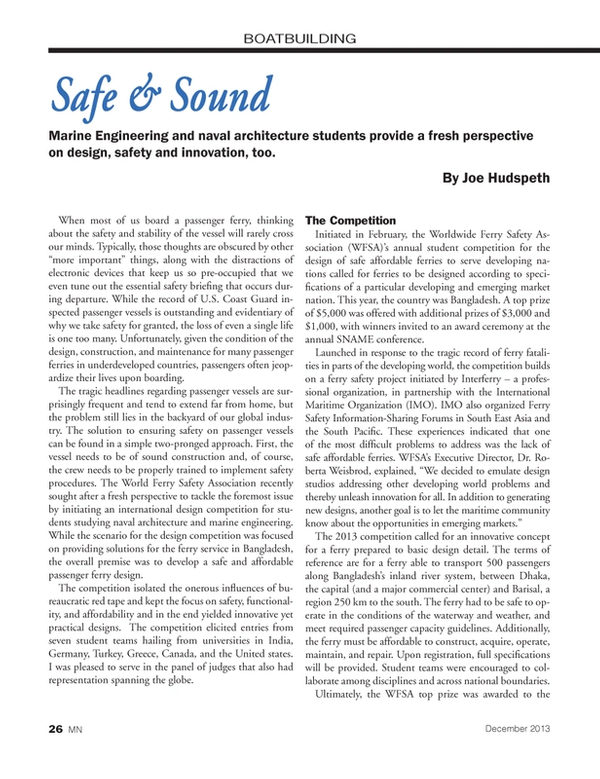 Read Naval Architecture Students Target Safety and Innovation in Pdf, Flash or Html5 edition of December 2013 Marine News
Other stories from December 2013 issue
Content