We Need to Save Our Ships
By Matt Paxton
The United States of America's Navy is arguably the most powerful in the world, and the most immediate threat it faces may not be from China, Russia or Iran, but U.S. Congress. The use of sequestration as a budget reduction tool has resulted in a clumsy cost-cutting approach that will continue to have disastrous effects into the next year and beyond, as the nation's naval fleet will not be able to be maintained or repaired. The ultimate hypocrisy of this Congressional budget technique is that deferred maintenance on ships costs a lot more when it does not get done and will actually shorten vessel lifespan and cost the taxpayer much more in the coming, as these ships must leave service and need to be replaced prematurely.
Our nation's leaders must immediately address the disastrous effects of indiscriminately cutting core shipbuilding and repair functions that keep this country safe and secure. This critical maintenance is not only vital to national security, but it supports thousands of jobs and local economies. This is why the Shipbuilders Council of America (SCA) is issuing an "SOS" to Congressional budget conferees, led by Representative Paul Ryan and Senator Patty Murray, to "Save Our Ships."
The United States Navy plays a critical role around the world by providing a stabilizing presence to keep the seas free and open, which in turn allows global commerce to thrive. But the fleet relies on regular maintenance and repairs by the nation's shipyards to extend the life of these strategic and costly assets. Sequestration's funding cuts will force the Navy to reduce its vessel maintenance periods by fifty percent in fiscal year 2014 and threaten the health of America's shipyard facilities that perform this critical maintenance. This drastic reduction in scheduled service calls will force the industry into a critical juncture and push it toward potentially massive layoffs. The loss of these jobs will ripple across the country because America's shipbuilding and repair industry is made up of a network of parts and equipment suppliers from across all 50 states.
These layoffs will leave America with a lost generation of skilled workers while stifling innovation from reduced research and development spending. Workforce reductions will also mean higher prices for new assets like naval vessels because of forced consolidation in the defense industry and reduced competition. A shipyard or supplier that closes because of program cancellations will not be there when the Navy is ready to build new ships again.
Sequestration will not only damage our nation's shipbuilding and repair industry, it will cripple America's naval fleet. Deferral of one maintenance period at the 10-year point in a vessel's lifespan will shorten its overall service by about five years. As these vessels are retired early without ready replacements, the fleet will shrink by 30 to 40 ships over the next 30 years, leaving our nation with a decreased global presence. This poses a dire threat to the future of U.S. naval operations because a smaller fleet will hobble America's ability to respond to critical global missions and crises. A weakened U.S. naval presence abroad makes delivering humanitarian aid more difficult while also increasing the potential length and cost, in dollars and lives, of future conflicts. Recent events in Syria, Libya and the Philippines underscore the need and importance of a stabilizing American naval presence around the world.
The Navy's surge capacity has already been significantly diminished because of sequestration according to the Chief of Naval Operations, and the situation will only get worse. Because of current budget cuts, the Service is no longer able to deploy multiple aircraft carrier strike groups simultaneously around the world. Previously, it had multiple strike groups with the ability to respond just days after being called up, where now it currently has only one. The last time the Navy's vessel numbers were this low was in 1916, before World War I. The Navy has said it will take years to recover from the current budget cuts required by sequester, without taking into account the next round happening in January.
These proposed cuts must be immediately replaced with targeted reductions before sequestration damages our nation's ship repair industry beyond recovery, shortens the overall life span of the vessels in our sea services, and leaves America without a robust and vibrant naval fleet. Maintaining these vessels, and retaining a capable and experienced U.S. workforce is vital to America's national and economic security. We must show the world, both our enemies and our allies, that our Navy and its ships will continue to have a positive influence abroad and provide a stabilizing presence on the seas wherever it is needed.

(As published in the 4Q 2013 edition of Maritime Professional - www.maritimeprofessional.com)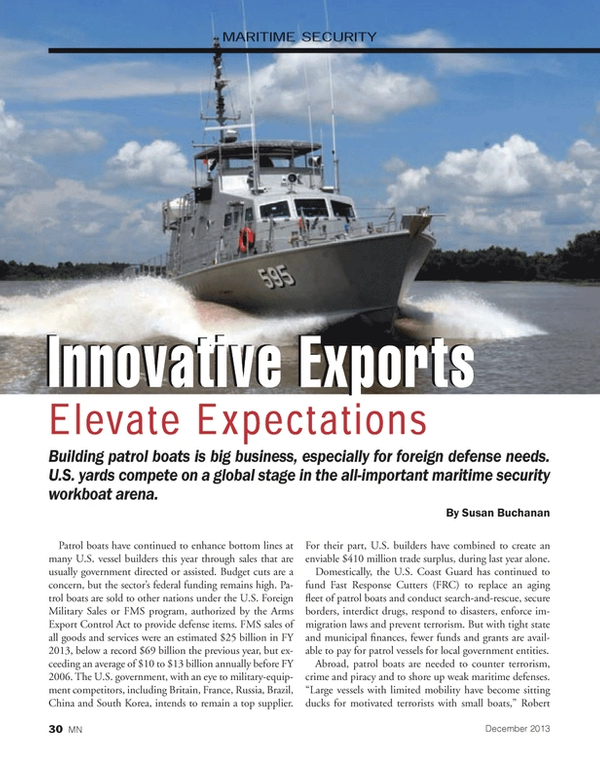 Read We Need to Save Our Ships in Pdf, Flash or Html5 edition of December 2013 Marine News
Other stories from December 2013 issue
Content