2013 in Review: LNG, the Arctic, Infrastructure and Beyond
Joseph Keefe
The month of December is typically when we look back to see what went right, what didn't and how our prognostications for the previous 11 months look, all roiled together in our muddy wake.
In the interests of transparency, I looked back on this very same column, penned exactly one year ago. Unbelievably, some things didn't happen as I envisioned. That said; some predictions held true, and then some. Why that happened is probably more important, and another topic altogether.
LNG, offshore wind and the Arctic: I predicted big things for all three sectors. With the benefit of 20/20 hindsight, it is clear that offshore wind, at least on this side of the pond, is still deeply mired in red tape. MarineNews contributor Joe Hudspeth's September column entitled, "Waiting for the Windfall," surely described it much better than I ever could. We think it has to come, eventually, but often, we're not aware of what we don't know. I think that adage aptly describes the prospects for offshore wind in American waters today.
LNG? It roared early into our collective worlds and today, it continues to plow forward on all fronts, with the proverbial bone in its teeth. As for the Arctic, what seemed like a sure bet quickly faded to a back page footnote, despite the long awaited unveiling of the Coast Guard's Arctic Strategy document in May. In January, we'll revisit the Arctic (again) to see what went wrong, why, and where we might go next. Its future as an energy hub, in the face of a red hot boom in the lower 48, remains in doubt. The hiatus in action perhaps gives the regulatory and response community just a little more time to get into better position for what could come next.
The other big story for 2013, especially in terms of the inland commerce picture, had to be the intense focus on the rapidly deteriorating infrastructure of our waterways. Appropriately then, we finish with a marine construction story that gives clarity to an otherwise obscure, but critically important sector of our marine industry. It begins on page 44 of this edition. As 2013 winds to a close, the Water Resources Reform and Development Act WRD(D)A bill inches its way through the halls of Congress, hopefully to someday yield many similar success stories.
Circling back to present day, this edition also highlights innovation in the market place in any number of sectors – cutting edge maritime security solutions, better methods of delivering products and services and a raft of other interesting and high tech entries to the marine marketplace. So, if 2013 disappointed some in the offshore wind and Arctic frontiers, it certainly made up for it terms of the numbers and quality of innovative technologies introduced to the domestic waterfront.
The final edition of the year is also a time to look ahead. And, right about now you are probably looking for my predictions for the coming 12 months. That'll come in January. See you then.

(As published in the December 2013 edition of Marine News - www.marinelink.com)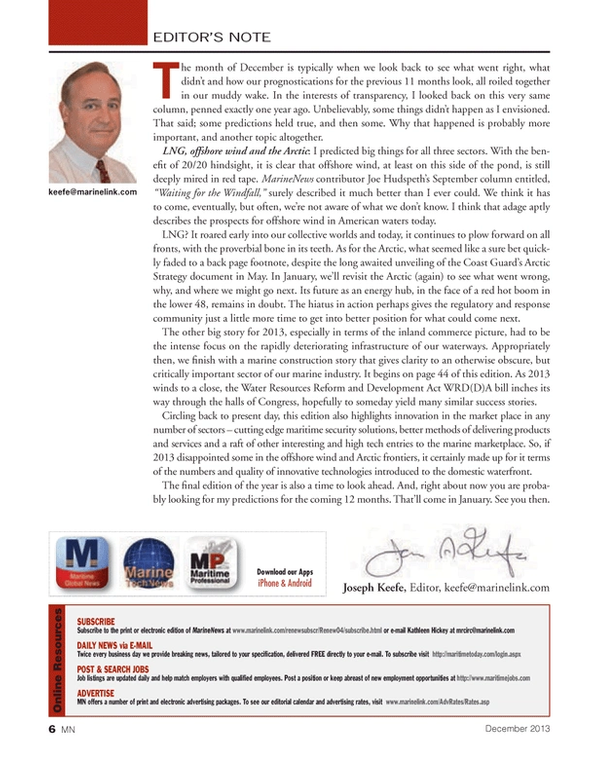 Read 2013 in Review: LNG, the Arctic, Infrastructure and Beyond in Pdf, Flash or Html5 edition of December 2013 Marine News
Other stories from December 2013 issue
Content