Converting for the Oil Market
By Robert Kunkel
Deepwater Offshore Presents New Opportunities for Accommodation Vessels.
The U.S. Gulf of Mexico, offshore Brazil and West Africa have recently been tagged as the "Golden Triangle" of deepwater oil exploration. An interesting label, considering a triangular definition of success, prosperity and influence was last associated with Southeast Asia's opium and heroin trade. But, oil can (perhaps) be described as industry's opiate and with that said, this addiction proves interesting with new geopolitical and economic patterns deepwater exploration and production is developing. No doubt, oil as we once knew it, is changing.

The Changing Landscape
Nigeria and Angola are leading African offshore and also developing a reputation as the continent's oil, gas exploration and production hub since the first explorations in the Congo Basin in 1994. Deepwater oil exploration in offshore West Africa has boomed, and the region has become one of the important areas in the world due to a collection of discoveries in recent years showing production growth from 58.9% in 2001 to 78.3% through 2011 when compared to worldwide fields. Nigeria's oil reserves were estimated to be approximately 37.2 billion barrels as of 2010, while proven natural gas reserves reached 185.3 trillion cubic feet during the same year.
Understanding both Nigeria and Angola have been OPEC members since the seventies, deepwater offshore development in this leg of the triangle can have a long lasting impact on the market, particularly in the Middle East. That success has one caveat: dealing with the "political" landscape of West Africa and its lack of qualified labor. And that issue may determine if the "Golden Triangle" is indeed isosceles when looking to balance the deepwater boom between the three geographic areas.
Any analysis of the new "Golden Triangle" is not complete without a mention of natural gas and oil being produced out of the shale fields in the United States. Though these new discoveries are not "offshore," they will have significant impact on the deepwater oil market in the U.S. Gulf and the country's ability to become energy independent. CNG prices have dropped 40% in the last year due to excess supply of the fuel and an inability to export the commodity from the United States. Reports are circulating of reduced costs of chemical manufacturing, industrial manufacturing and energy production as this new source is developed and Deepwater offshore will continue to grow to support those onshore discoveries. That growth brings increased requirements for support vessels, equipment and labor capable of remaining on station further offshore. The current support system for shallow water operation – where workers are housed on shore and transported by crew boat and helicopter to the rigs – has reached its operational limits. You need to look no further than the flurry of OSV vessels being constructed for this trade that also put a premium on bed space and have, as a result, increased the size of these vessels measurably.

New Requirements Call for New Solutions
While the United States wrestles with the concept of short sea shipping and its myriad of vessel types capable of supporting that market sector – RoPax, RoRo and Feeder containerships – Europe has found a new market to sell off their first and second generations of these so-called Roll-on, Roll-off passenger vessels into the Offshore oil fields. The ships are converted to provide DP2 and DP3 positioning systems, cabins and facilities for 400 plus men and equipment for transferring that maintenance labor back and forth from the rigs on a daily basis.
The accommodation vessel market experienced a period of significant stress following the global financial crisis and Macondo Blowout which significantly impacted offshore developments and their associated oil companies. However, the market has begun a recovery due to buoyant oil prices which in turn restore market confidence and a corresponding increase in deep offshore activity in new locations. As a result, vessel demand is expected to show strong and consecutive growth through 2017, with vessel utilization increasing by 32% compared to the periods working through 2008-2012.

The Conversion
The offshore accommodation mono-hull conversion is not an easy task and is affected by the regional dynamic of the vessel market; water depth and environmental conditions. Regulatory factors such as vessel age, cabin habitability and cabotage requirements are also a consideration. Sponsons are installed to meet two compartment damage and stability and also to soften motion. Offshore cranes ranging from 50 to 200 metric ton lift capability are added to allow delivery and transfer of equipment. Heave compensated telescopic gangways are installed to deliver the maintenance labor from ship to rig. Most important is the development of the Dynamic Positioning (DP) plot and the required bow and stern thruster power needed to meet the environmental conditions of the location. In that market, Kongsberg Maritime is a regular player.
The European locations in the North Sea are generally considered to require the most advanced DP systems in the world due to harsh weather and water conditions. On the other hand, North America and Latin America have historically required a large supply of low specification accommodation barges focused on shallow water and limited dynamic positioning. High specification assets for the growing deep and ultra-deepwater market have moved towards semi-submersible rigs with several new construction projects being developed in Singapore and China. The large gap between high and low specification location requirements has therefore created the market that the monohull conversions look to fill with reduced capital and operational expense.
Laurtizen Offshore A/S was first to deliver the Dan Swift, a 150 meter European RoPax converted to an accommodation support vessel with cabins for 256 offshore workers and 11,000 kW of thruster power designed to maintain position on location. Edda Accommodation followed with the delivery of the Edda Fide in 2011, capable of handling over 600 men offshore and stationkeeping capability powered with five Voith propellers of 12,500 kW and two 1450 kW bow thrusters forward. Highclere Ltd, the new owners of the Bluefort, has recently completed continued conversion upgrades to their 141 meter, 450 man vessel in Naples, Italy with the help of Alternative Marine Technologies (Amtech). Kongsberg Maritime attended to make recommendations to improve the vessel's DP Plot. U.S. Outfitters of Jacksonville, Florida attended to renew and upgrade 70 plus cabins and Rolls Royce and MAN attended for continued overhauls and repairs to the thruster and propulsion engines.

Up Next
The next generation Offshore Accommodation Vessel (OAV) with examples designed by Salt Ship Design, are 155 meters long and will have a total accommodation capacity exceeding 800 persons, all housed in one or two man cabins. The vessel standard now requires a living space of "executive standard" and includes office space as well as recreation areas, such as a modern gym, sauna, two swimming pools, conference rooms and an auditorium. Existing vessels will likely need to continue to upgrade their conversions to meet or exceed these standards. These vessels will provide construction support and additional living quarters for support personnel during commissioning, maintenance and decommissioning of offshore installations worldwide and are now being designed for operating in the Arctic.
In a case where the market defined the demand, vessel conversions are meeting the growing needs of a burgeoning offshore market. And this can include a variety of requirements. In the United States, for example, not one offshore wind farm – in stark contrast to the dozens in and around Europe – has yet to be constructed. That said, when the first one does go into construction, the speedy completion of the project will be paramount. That might mean the need to keep labor on site for extended periods of time. Regardless of the reason for an offshore labor presence, the day of the OAV has arrived. Converted or fit for purpose, the advantages are many and the drawbacks, few.

(As published in the 4Q 2013 edition of Maritime Professional - www.maritimeprofessional.com)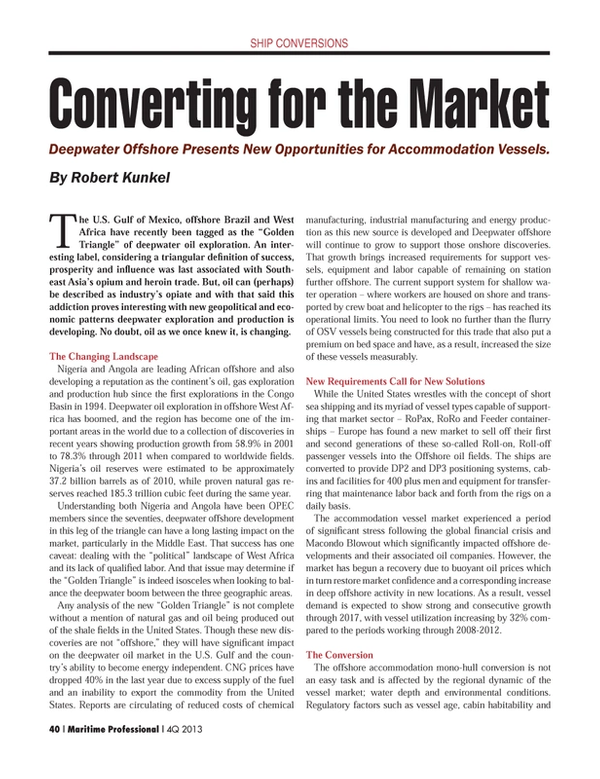 Read Converting for the Oil Market in Pdf, Flash or Html5 edition of Q4 2013 Maritime Logistics Professional
Other stories from Q4 2013 issue
Content