Beyond Shipbuilding: Training and Recruitment
By Joseph Keefe
Domestic shipyards get creative in its approach to finding, training and keeping qualified shipfitters.
The domestic, U.S. shipbuilding boom is here: blue water, brown water, offshore support, inland, and export maritime security platforms, too. The robust comeback has just about everyone on this side of the pond very happy; unless of course, you are in the 'human resources' department and find yourself scrambling on a daily basis to recruit, train and retain qualified help to competently build all those orders on your fat backlog. That said; these are good problems to have.
According to the Shipbuilders Council of America (SCA), private shipyards in the United States support 402,000 jobs and 36 Billion in GDP. Even with those staggering numbers the shipyards are still faced with a severe skilled worker shortage. Issues facing the industry include an aging workforce, lack of individuals entering the trades, a dearth of training opportunities and the rapidly rising cost of recruiting, hiring, testing, and training. There are answers out there. You just have to know where to look. Many shipyards have done just that.

Resources for Human Resources Professionals
For starters, the National Maritime Education Council (NMEC) is a Gulf Coast-based group seeking to standardize and improve craft training within the maritime industry. As the spearhead for efforts to standardize and provide credentials for shipyard workers, backed by a coalition of 20+ industry trade groups and companies, what the NMEC does next could well be the template for industry human resources development that we have been thirsting for.
The NMEC is funded by its members and a financial commitment is involved based on a company's headcount. There are five investment levels in addition to an annual membership fee. There are also membership levels for academic institutions and affiliate organizations such as equipment manufacturers, suppliers, trade associations, etc. The funds collected are utilized to develop industry driven, modularized, craft specific standardized curriculum and assessments to meet the demands of the industry.
Through NCCER, the NMEC has programs that can be utilized to recruit and enhance the image of the shipbuilding and repair industry and generate national exposure. NCCER is a not-for-profit 501 (c)(3) education foundation created by the construction industry to develop standardized curriculum with portable credentials and to help address the skilled construction workforce shortage. NCCER is recognized by the industry as the training, assessment, certification, and career development standard for the construction and maintenance craft professional. And now, those standards are coming to the waterfront.
Another equally attractive way for shipyards to reach the Promised Land is contract with a group such as Tradesmen International. Tradesmen is recognized for their ability to supply contingent labor, but it is their consultative services – particularly Labor Productivity Consulting – that has gotten notice by construction businesses. That tried-and-true formula, using a contractor's historical labor data, enables companies to determine what their optimal permanent or core workforce total should be, and is also being applied to help the national shipyard industry. In essence, clients are ultimately able to run their businesses with a leaner permanent payroll and, through close interaction with Tradesmen, are capable of supplementing their core employees with Tradesmen's high-caliber craftsmen only as workload warrants it. The goal is two-pronged: substantially increase workforce productivity and project profit margins. This bottom line gain gets put back into growing the business, providing enhanced benefits for their employees and keeping up with technology.
Tradesmen: National Coverage & a Skilled, Diverse Workforce
According to Matt McClone, Tradesmen International Vice President Workforce Development, the key advantages of engaging Tradesmen as a staffing partner is rooted in their ability to meet the distinct trade requirements of shipyards, beginning with their national team of shipyard coordinators: former mariners, merchant captains, shipbuilding professionals, naval officers, and enlisted men. "With these insights, they have the unique ability to understand the unique and dynamic needs of the shipyard industry. That, along with our national reach including a permanent presence in 36 port cities allows us to access a very large pool of skilled marine craftsmen and provide uniform service in all shipyard locations."
Tradesmen International's screening process is stringent: a minimum of two interviews; skill-testing using MOCode tests and available hands-on testing; verification of a minimum three years of experience; reference checks with a minimum of three employers; background checks that meet client standards; drug testing as required by the client; E-Verification to prove U.S. Citizenship; a valid driver's license and reliable transportation verification and confirmation of PPE and appropriate tools-of-the trade ownership. Not just anyone gets to work under the Tradesmen umbrella.
Arguably the ideal fit for a cyclical industry such as shipbuilding, Tradesmen's biggest challenge is often just educating the clients to understand the benefits and importance of choosing the right staffing firm. McClone Adds, "With the severe shortage of skilled craft professionals weighing on the industry's shipyards, the emphasis is not on convincing shipyards to include a variable labor partner into their staffing solution; the recession did a good job of explaining that to the shipyards. The recession certainly opened the door for our business model but it also flooded the market place with staffing firms, temp agencies, and similar companies. It's important that shipyards choose the right firm researching the company's history, treatment of employees, standards of business and overall ethical standards. Can the firm do what they say they will and stand behind their employees? We can, and do."
Today, Tradesmen International's strong suits include shipyard and yacht trades; both repair and new construction. The firm prides itself on its ability to staff all size marine projects ranging from extremely specialized mega yacht construction projects that may only require a handful of niche craftsmen to large repair jobs that require several hundred craftsmen in a short amount of time. McClone calls it "local presence and national reach."

Bollinger Believes
According to Bollinger Shipyard Human Resources Manager Jerome Eymard, Bollinger's primary reason for becoming involved with NMEC was to actively support an association whose initiative is to address a major concern of the shipbuilding and repair industry; namely, workforce development. Eymard told MarPro in November, "Bollinger has been a member of Gulf States Shipbuilders Consortium (GSSC) since 2008 and we were involved in the GSSC's creation of the NMEC to address industry workforce development issues on a national level, so we were a member of the NMEC from its inception in 2012."
The NMEC/NCCER curriculum models offers flexibility with training. For example, member organizations can takes steps through the NCCER to become an approved accredited training sponsor and/or assessment center. With these options, companies can rate their current workers through assessments in order to identify areas for skill improvement. The assessments in turn determine what modules workers would need to complete in order to attain a higher classification. Also, companies can utilize their NCCER accredited local technical and community colleges to train their existing workers and extend the training to high schools to generate new skilled workers for the industry.
Bollinger's Eymard explains further, "Overall, we will use the NMEC program to supplement our existing training programs. With the availability of a nationally recognized maritime curriculum, we can recruit new workers into our company that will be well-rounded and knowledgeable in the work we perform. These individuals can aggressively move quicker with on the job programs in addition to advancing their skill levels with after-hour NMEC courses."
Today, Bollinger's greatest need is for pipe fitters and ship fitters. Eymard adds, "Overall, we will need all crafts ranging from welders, fitters, marine electricians, operators, etc. in order to build the next generation of skilled workers for the industry." And, he says, "We are also actively participating in supplying subject matter experts for the creation of new curriculum and we are communicating with regional industry associations, informing them of the NMEC's initiatives in order to generate interest among other shipbuilders/repairers."

National Maritime Education Council (NMEC): A Template for Success
John Lotshaw is the Gulf Coast Director of Training and Workforce Development at Ingalls Shipbuilding, and is responsible for training all of Ingall's craft personnel. Beyond this, he also serves as the inaugural chair of the National Maritime Education Council (NMEC). As the spearhead for efforts to standardize and provide credentials for shipyard workers, backed by a coalition of 20+ industry trade groups and companies, what he and the NMEC do next could well be the template for industry human resources development that we have been thirsting for.
The new shipyard workforce development effort on the Gulf Coast is an exciting concept. The initial efforts at standardized curriculum development were started with a post-Katrina Department of Commerce grant in 2006. The Alabama, Mississippi and Louisiana Manufacturing Extension Partnerships (MEPs) joined together with gulf coast shipyards to form the Gulf States Shipbuilders Consortium (GSSC). Lotshaw explains, "After considerable effort and three years of development GSSC rolled out the Shipfitting Boot Camp. The program has been very successful with a 100% rate of employment for graduates."
GSSC wanted to expand the curriculum and credentialing effort from a regional to a national effort, launching what was named the Lighthouse Campaign to raise funds. NMEC was established in March of 2012 with 12 founding members representing the shipbuilding and ship repair industries. NMEC will, says Lotshaw, "… work from a common set of definitions, defining exactly what each craft does, documenting each craft's required skill sets, and based on those skill sets, developing curriculum and assessments that ensures craftsmen who are certified through the system can perform to industry standards."
A key part of the NMEC effort is its partnership with the National Center for Construction Education & Research (NCCER). At the time of its inception, NMEC was searching for best practices to implement its vision, they looked at what NCCER was doing in industrial construction, pipeline and power line curriculum and credentialing. Lotshaw adds, "We found that when NCCER was formed as a non-profit education foundation in the early 1990's, those industries were facing the same challenges that the shipbuilding and repair industry is facing now. Their model is effective, efficient, and has made measurable impacts related to safety, profitability and workforce development in those industries. We were offered the opportunity to partner with them and build on their success."
Already in place is a secure National Registry where craft training, assessment records and credentials are available for review by potential employers (with applicant approval), and a proven track record. Hence, with NMEC standardization, and regardless of where the individual receives training, employers have assurance that persons with this credential are well trained and have the skill sets they need. Lotshaw further insists, "Partnering with NCCER gives our industry the best bang for the buck and the quickest, surest pathway to meeting our goals."
The Shipfitting curriculum at NMEC addresses – and standardizes – one of the most in-demand skills in the business. Lotshaw defines shipfitting by saying, "Think of shipfitting as carpentry with steel or aluminum. A skilled shipfitter knows how to read a blueprint, measure accurately, and how to cut and join metal for form different structures. He understands basic metal working and is familiar with maritime terminology."
GSSC's successful shipfitting boot camp program and the shipfitting curriculum were the precursors to and the main reasons behind the establishment of NMEC. During the program's pilot period, the boot camp was offered three times and graduated 31 entry-level shipfitters. Instructors used and vetted the shipfitting curriculum during the pilot. Lotshaw adds, "The outcomes were impressive. In addition to 100% placement of its graduates, after employment, employers reported savings on initial training costs and declines in probationary releases, disciplinary actions, and absenteeism. Perhaps a better indicator of employer satisfaction, though, is the fact that employers wanted more workers trained under the model using the curriculum. As a result, it has been adopted by at least three community colleges and one for-profit training provider, and the interest in the program continues to grow."

Common Goals: Different Vehicles
One of the reasons NMEC was formed and then partnered with NCCER was to create a national approach to training, assessment, and credentialing. NMEC and John Lotshaw reason that the common skills sets required of craft workers in the maritime industry do not vary based on the region of the country and the curriculum used to train workers should not either. Today's NMEC membership of 20+ organizations includes several trade associations, including GSSC and the Virginia Ship Repair Association and some larger, Gulf Coast-based shipyards. Once the programs have had time to prove their mettle and get benchmarked, that's expected to grow.
Two levels of pipefitting completed this fall and two levels of shipfitting have been added to the curriculum. Lotshaw says, "We haven't started marine electrical, or coatings, or other crafts that also need to be addressed. Our ability to do that is dependent on the industry's coming together and supporting the initiative."
Whether home-growing talent or engaging contract skilled labor from organizations such as Tradesmen International, the goals should be the same: producing skilled craft workers by offering individuals industry exposure and the opportunity to choose a career in shipbuilding/repair as early as high school, and offering them a career path through industry-and-craft-specific curriculum in order for them to be work-ready at point of graduation and/or after additional training in the community colleges. It's all an important building block in generating a pipeline of skilled workers into the shipbuilding industry. And, it's here now. Take your pick.


(As published in the 4Q 2013 edition of Maritime Professional - www.maritimeprofessional.com)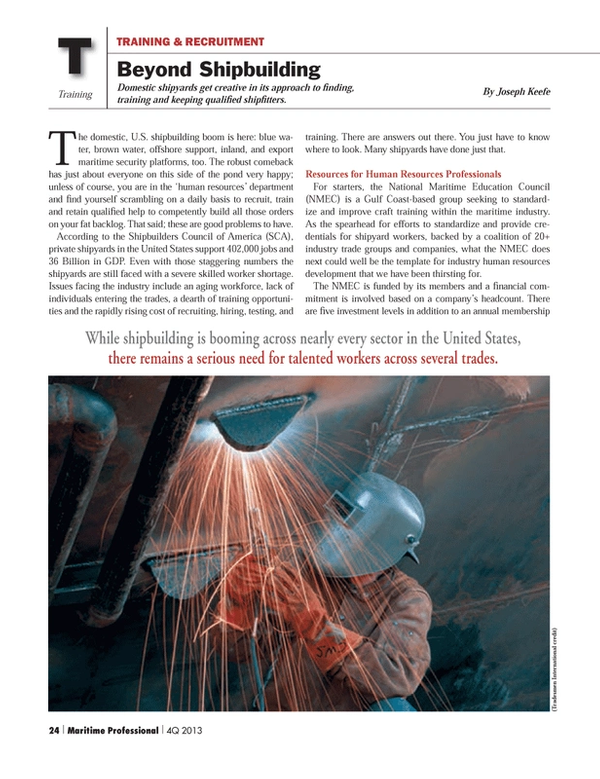 Read Beyond Shipbuilding: Training and Recruitment in Pdf, Flash or Html5 edition of Q4 2013 Maritime Logistics Professional
Other stories from Q4 2013 issue
Content