NASSCO's Parker Larson on All Things Shipbuilding
By Joseph Keefe
When we caught up with NASSCO's Parker Larson in December, he had only just been promoted to Director of Commercial Programs at the sprawling San Diego, Calif. shipyard. Previously NASSCO's Program Manager for Commercial Contracts, he no doubt played a large role in the recent high profile deals won by NASSCO, in particular the two 3,100 TEU LNG-powered containerships for TOTE, Inc. Additionally, he was responsible for design, planning, and construction of over $1 billion in commercial new construction work at NASSCO that includes four 50,000 DWT product tankers for APT, two 50,000 DWT product tankers for Seacor Holdings, and the design contract for the conversion of two TOTE Orca Class trailerships to operate on LNG. The impressive commercial backlog promises to keep him even busier for the foreseeable future in his new role.
Starting his career at NASSCO in 2003 as a Production Associate for the Ship's Management Team, Larson then moved into roles of increasing responsibility including Production Area Manager on the T-AKE program for the Navy, Deputy Program Manager on the PC-1 product tanker program for APT, Manager of Commercial Engineering Projects, and Program Manager in Business Development & Strategic Planning.
Larson's love for shipbuilding began with his educational experience(s).Parker attended the United States Merchant Marine Academy in Kings Point, N.Y., graduating magna cum laude with a Bachelor of Science Degree in Marine Engineering & Shipyard Management. Along the way, he also received a Master of Science Degree in Oceans Systems Management from the Massachusetts Institute of Technology in Cambridge, MA where he wrote his thesis on LNG infrastructure in the United States. Parker has spent the past two years developing his knowledge of LNG propulsion in the commercial marketplace. He also completed the Program Manager's Course at the Defense Acquisition University in 2009.
Along the way, Larson has served in several shipyard roles including production, engineering, business development, and program management. Directly involved in the transformation of NASSCO's business model for commercial new construction through collaboration with Daewoo (DSME/DSEC) starting in 2006, he naturally hit the ground running in his new role. Nevertheless, MarPro convinced him to slow down in December, if only briefly, to get his take on all things shipbuilding.
Reflecting on his chosen career path, Larson told MarPro, "Shipbuilding, as a facet of the maritime industry, is an incredibly satisfying career path. There are very few careers in the world where you can design and construct such a finely engineered product and then watch it become an operational entity that lives on for 30+ years. For me, being part of that process is uniquely special."
Perhaps the most interesting part of Larson's CV is his knowledge of LNG and how that eventually could play a big role in the construction of the containerships and trailerships. As he was promoted to Director of Commercial Programs at NASSCO earlier this year, that experience and knowledge base no doubt didn't hurt him on his climb up the food chain. More than Larson's job billet will change as he assumes a new role. He explained, "In addition to the program management responsibilities tied to NASSCO's existing commercial new construction backlog, I have direct production interface. For example, I will manage the commercial ship management team which serves as the production organization responsible for the delivery of each commercial vessel. Additionally, I will be continually engaged in business development given my direct experience with LNG propulsion and commercial program execution."
As his career evolved, Larson has been witness to and a part of the many changes in shipbuilding, particularly on this side of the pond. Even in the midst of the most profound shipbuilding revival in this country has seen in some time, over the past decade, NASSCO has shifted its commercial shipbuilding business model. Larson says, "Prior to the mid-2000s, we designed and procured all material for our new construction projects at NASSCO. In 2005, NASSCO partnered with Daewoo Ship Engineering Company (DSEC), a subsidiary of Daewoo Shipbuilding & Marine Engineering (DSME), to collaborate on international projects. DSEC became the lead design and procurement agent and we lead the efforts to integrate DSEC's design into NASSCO's shipyard's planning, purchasing, and construction processes. Leveraging the world-class commercial design standards and purchasing power from DSME has helped NASSCO become more competitive in the Jones Act shipbuilding market."
Also during that time frame, NASSCO also adjusted its approach to construction schedules. Today, NASSCO does not cut a single piece of steel until the ship design is fully complete and a large portion of planning effort is finalized. NASSCO's Director of Commercial Programs insists, "This ensures we identify and address risks in new-construction programs as early as possible. As a result, we have reduced the construction cycle times and improved quality in our past three new-build programs."
As Jones Act shipbuilding sees what can only be described as a robust and arguably unexpected revival, we asked Larson how long this trend – a cyclical boom, really – can continue. Enthusiastically, he replied, "As more domestic oil and gas is recovered, there is increased demand to move the product between U.S. ports, which invokes the Jones Act and drives the need for additional tonnage in the market. With North American Emission Control Areas (ECAs) in 2015 (addressing SOx), Tier III regulations in 2016 (addressing NOx), and an Energy Efficiency Design Index (EEDI) currently in place (addressing CO2), ship owners need to evaluate their existing propulsion plants onboard. Ship replacement can be a cost-effective method to address these increasingly stringent emission regulations. There are still several ships in the U.S. coastwise fleet that are more than 30 years of age operating with relatively inefficient power plants. This tonnage will need to be replaced over the next 5-10 years." Clearly, Larson, like other U.S. blue water builders, remains bullish on the markets for the near term.
Despite all the good news, however, a key 'knock' on U.S. yards has always been that they cannot compete with foreign builders in terms of efficiency, costs and a raft of other metrics. Larson's boss, Fred Harris, on the other hand, has always been a big believer in emulating the Korean art of the series build technique. Larson shares his enthusiasm. "Over the past seven years, NASSCO has learned a lot from our partnership with the expert shipbuilders at DSME and DSEC. As a result we've made several facility improvements, including a new blast and paint facility, usage of transporters and updated ground outfitting process lanes. We've seen a positive impact to both our commercial and government shipbuilding programs." He continues, "A key metric we follow is completing the design prior to starting construction. This becomes more important when building a series of ships. A shipyard must get the lead ship right or the impact of change will permeate negatively throughout the entire class of vessels. Changes made once construction has started impacts the design and directly affects the supply chain, schedules and quality."
Larson, without neglecting his other responsibilities, clearly has a passion for the TOTE ship projects. That's only natural, especially considering his affinity for LNG and the intended propulsion of this new class of vessel. He explained, "The TOTE ships are 764-foot-long, 3,100 TEU LNG-powered containerships, which are setting a new benchmark in green ship technology. When completed they are expected to be the largest ships of any type in the world primarily powered by liquefied natural gas."
NASSCO and Larson approached these ships like any other program. After identifying the risks associated with the design, procurement, and construction, each one of those metrics was addressed through execution of a risk management plan. Larson adds, "For example, it is paramount that we work closely with United States Coast Guard (USCG) and ABS to understand any regulatory and design challenges associated with the LNG fuel gas system, from arrangement configuration to hazardous zone definition to trim and stability calculation. We have worked closely with USCG and ABS personnel since the outset of the program in conjunction with DSEC and our equipment suppliers. This program is on track and the design will complete on time before the end of 2013."
We finished up by asking about the 600 pound gorilla in the room – concerns over the potential cutbacks from the federal government and shipbuilding programs as a function of the ongoing sequestration battles. That discussion has NASSCO's Chief commercial executive square in the middle of it. For his part, Larson likes where the yard is sitting, saying only, "NASSCO has a well-balanced portfolio with commercial new construction, government new construction, and U.S. Navy repair projects. This provides NASSCO the ability to shift resources when the allocation of work changes between each business segment." Nevertheless, keeping that portfolio balanced going forward could be Larson's biggest challenge. He likes his chances of doing just that.
As NASSCO launches a new era for its upgraded facilities, filled with a fat backlog, Parker Larson is arguably the perfect candidate to lead the firm's commercial sector as it takes on some of the most exciting and cutting edge shipbuilding projects on the planet. And, there's no place else he'd like to be.

(As published in the 4Q 2013 edition of Maritime Professional - www.maritimeprofessional.com)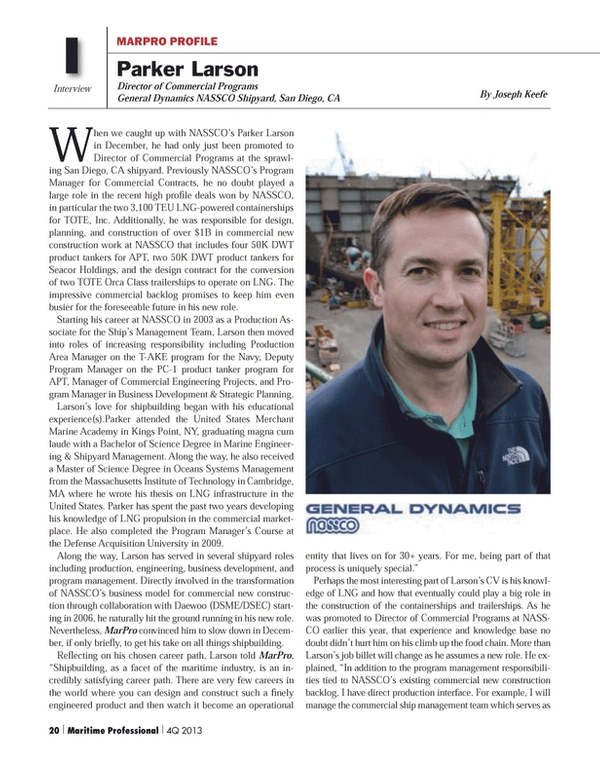 Read NASSCO's Parker Larson on All Things Shipbuilding in Pdf, Flash or Html5 edition of Q4 2013 Maritime Logistics Professional
Other stories from Q4 2013 issue
Content