Damen Looks Offshore
By Eric Haun
As Damen looks offshore, the market leader in standardized hulls, spec series build techniques and (arguably) quality too, also spreads its wings into new markets.

If Damen Shipyard's standardized hulls are the hallmark of its existence, then providing customers with a proven and reliable product, based on years of research and the well-oiled ability to produce these hull forms on spec, economically and in series, is the rock upon which that considerable reputation was built. Today, the prolific shipbuilder and renowned designer of reliable hull forms is poised to once again export its dependability and knack for innovation as it plots international growth in a number of targeted market sectors. Jan van Os, offshore director at Damen, points to a number of niche markets in which the company sees its best opportunities, including offshore, offshore wind, ports, dredging, security, yachting and of course conventional and hybrid tugs. In U.S. markets, Damen is well known as the designer of the hull form for the U.S. Coast Guard's Sentinel Class Cutter. Based on the Damen Stan 4708 patrol vessel, the design was chosen by a risk-averse Coast Guard leadership in the messy wake of several high profile hull failures. Damen remains in the hunt for the Coast Guard's Offshore Patrol Cutter (OPC) sweepstakes, as well. Of late, however, Damen has exhibited an increased focus on the offshore sector, an area traditionally filled with specialty, built-for-purpose tonnage.
Looking Offshore
Damen currently collects just 10 percent of its $1.8 billion annual turnover from its offshore division, but with several new offerings catering to the offshore sector, that seems likely to change. That's because the company has launched several new offshore designs in recent years, ranging from Platform Supply Vessels, Construction Support Vessels and Fast Crew Suppliers to Offshore Carriers and Heavy Lift Vessels.
And just as with tugs and other workboats, Damen upholds its worldwide approach; the company's increased offshore production is not limited to region. "We see opportunities globally, that's our nature and way of doing business," van Os said. "However, there are some marked opportunities in South America, Western Europe and Scandinavia, a few North African countries, South Africa (where we have Damen Shipyards Cape Town and a Service Hub), Australia and Singapore." And, because Damen often partners with other builders to supply design models, the opportunities available to the Netherlands-based business probably exceed that which is immediately evident.
Damen's plans for a steady growth and development in the offshore sector incorporate "more advanced technological niches," van Os said, but still maintain a standardized production approach. "You'll probably see us moving from PSVs for simple transport/supply jobs etc., via lighter/underside-of-market OSVs/OCVs and via rather serious AHTSs and FIRMs, to more high-end OSVs/OCVs, subsea support/construction vessels etc.—but all in good time." He adds, "We know our place in the offshore market, and because we also know what we want and what we're capable of, we will move up in a gradual and modest way," van Os continued, emphasizing "quality for clients first."
A major point of focus for Damen's offshore series is its PSV 3300, the first of which, World Diamond, was built in Damen's Galati yard and delivered in June 2013 as part of a six-vessel order from Norwegian company World Wide Supply (WWS). The 3300, one of five Platform Supply Vessel offerings from Damen, features long, more efficient hull shape, diesel electric propulsion, dynamic positioning (DP2) capabilities and increased crew comfort amenities. The fifth PSV for WWS, World Opal, was delivered in November. Four of the PSV 3300s secured long term contracts for Petrobras, while the remaining two are expected to operate in the North Sea under the spot charter market.

Opportunity is Blowin' in the Wind
Damen has also made strides in offshore wind, bringing standardization to a specialty market that desperately needs it – and with good results. Damen delivered 25 FCS 2610 twin axe catamarans in 25 months and is currently building them for stocks as orders continue to come in. With the success of the 2610, Damen is now producing a smaller version, the FCS 2008. In a market categorized by specialty, Damen is essentially creating vessels that can be standardized, yet fit in with other vessel ranges or even other markets. "We have high hopes for the Walk to Work vessel," said van Os, referring to a new class of vessel aptly coined the Wind Farm Service Vessel (WSV). The purpose of the vessel is to support and accommodate turbine maintenance crews at sea and allow them to 'Walk-to-Work.' After industry-wide consultation, the vessel has been designed from first principles to provide on-site work facilities and accommodation for 45 maintenance personnel plus 15 crewmembers, for voyages of up to one month. Additionally, he said, Damen is building an offshore carrier for Van Oord in a pipelaying outfit for windfarms.
Peter Robert, Damen's business development manager offshore wind, said, "The Damen W2W can as well be used in the Offshore Oil & Gas business, because we have foreseen a suitable tank arrangement in order to service the unmanned platforms in the North Sea."
Robert further explained that Damen already possesses a number of offshore wind products, including the Twin Axe 2610, 2008; DOC-range (based on this design, Damen is currently building a cable layer for Van Oord); a dedicated Array Cable layer; and a Damen Walk to Work vessel." Next to be added to the company's portfolio, Robert said, are a Maintenance Jack-Up for offshore wind, in addition to further looking into installing foundations with a free floating vessel on dynamic positioning, removing Jack-Ups from these kind of activities.

Proven Methods for a Changing Market
As far as Damen is concerned, it really doesn't matter what the market brings. Its time-tested standardized hull system, bolstered by the firm's solid series build record, will produce results for any niche. As new Damen products geared toward offshore operation emerge, the group will continue to challenge the modes of niche builders in the specialty offshore sector. "Over time, we can say to have set a new Damen Standard, like we have done with our tugs and other workboats," van Os said. Few would argue with his logic. Arguably, fewer still can compete with Damen's results.


(As published in the 4Q 2013 edition of Maritime Professional - www.maritimeprofessional.com)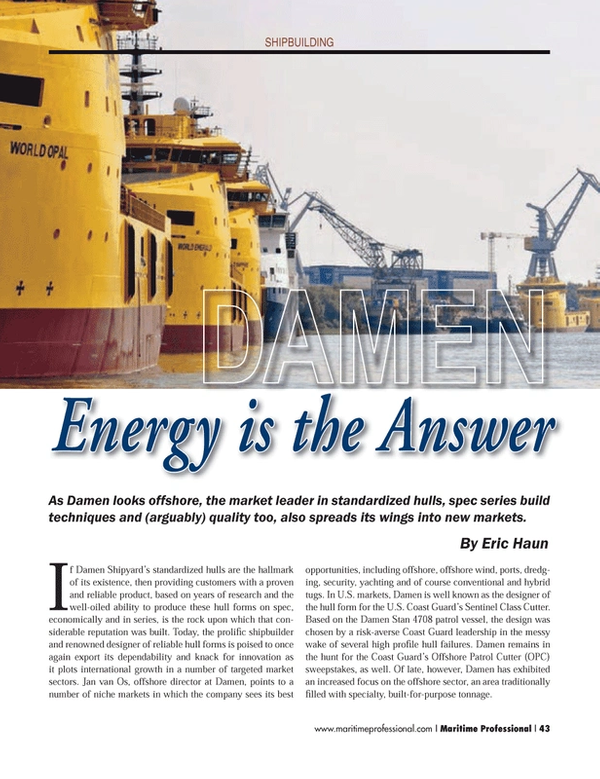 Read Damen Looks Offshore in Pdf, Flash or Html5 edition of Q4 2013 Maritime Logistics Professional
Other stories from Q4 2013 issue
Content