Built By Main Iron Works, The 6,000-HP McAllister Tugboat Jabbar Will Work In Arabia
McAllister Brothers, Inc. recently accepted delivery of the 6,000-horsepower shipdocking tug Jabbar from Main Iron Works of Houma, La. The tug is on a longterm charter to ARAMCO and will be owned and operated by I n t e r n a t i o n a l Tug Services, a Saudi Arabian joint venture company, in which McAllister is a partner. I n t e r n a t i o n a l Marine Services, a well-known tug operator in the Arabian Gulf, is a partner, as well as the Olayan Group, a successful Saudi Arabian b u s i n e s s f a m i l y . Sheik Khaled Olayan is the chairman of the company.
The tug was designed by Mc- Allister Brothers' e n g i n e e r i ng staff headed by Donald C. Hankin.
Design criteria for the tug were developed by Capt. E.C. Brown and Michael Stegenga of ARAMCO, to handle the largest tankers in the world, currently 550,000 tons, that now call at the ARAMCO Ras Tanura facility in Saudi Arabia. The propulsion systems and the Horton/Kort nozzles were designed by Clancy Horton of Wilton, Conn.
The tug's design includes provisions for the difficult task of handling the large tankers during heavy weather, especially during the Shamal season. For this reason, the tug is fitted with two automatic bow winches built by New England Trawler, which hold 250 feet of 11-inch-circumference Samson braided dacron lines and are controlled by the captain from the pilothouse.
In order to provide the thrust necessary to handle these large tankers with adequate safety margins, the tug is e q u i p p e d with Horton/Kort nozzles. These nozzles give the tug e x c e p t i o n a l thrust astern (130,000 pounds), as well as ahead (160,000 pounds).
The high maneuverability of the tug is developed by a six-rudder system (two main rudders and four flanking rudders) which are quick acting (seven seconds hard over to hard over).
The tug has been designed primarily to perform as a tractor tug, but local shiphandling customs require the tugs to operate also in the European style; therefore, the Jabbar is fitted out with a remote q u i c k - r e l e a s e towing hook supplied by New England Trawler. The unique bow fender system pioneered by ARAMCO and developed by Uniroyal and McAllister for this vessel is extruded l o w - f r i c t i o n rubber 16 inches by 16 inches by 4 feet long, molded around a steel plate with stainless-steel bolts for fitting on the bow. With this method, bow fenders can be changed by the crew and do not require shipyard or crane service.
The facility at Ras Tanura is situated in a remote area of Saudi Arabia, and for this reason, the tug is outfitted with extensive firefighting and antipollution devices as well as duplicate or complete backup systems for all major functions, such as air-conditioning, generators, hydraulic system, and electrical system.
M c A l l i s t e r B r o t h e r s believe that the tug Jabbar is the most powerful tug ever built specifically for shiphandling. The name "Jabbar" means " P o w e r f u l " in Arabic, and its new owners feel that it will perform accordingly.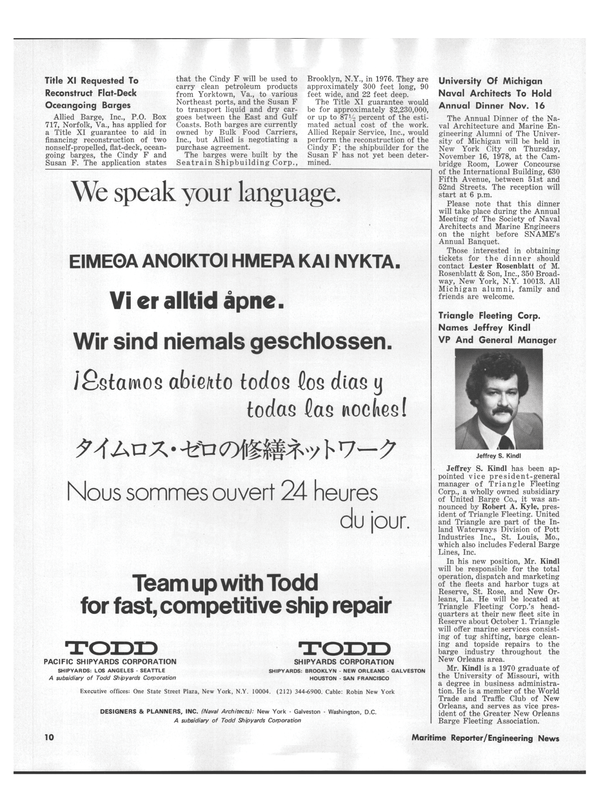 Read Built By Main Iron Works, The 6,000-HP McAllister Tugboat Jabbar Will Work In Arabia in Pdf, Flash or Html5 edition of October 1978 Maritime Reporter
Other stories from October 1978 issue
Content