S/S 'United States'— A Second Life For World's Fastest Passenger Liner?
The recent drydocking and inspection of the SS United States at Norshipco's yard in Norfolk showed the 28-year-old ship to be in excellent condition, both inside and out.
Since the world's fastest passenger liner was mothballed in 1969, the Maritime Administration has provided her with meticulous care. A sophisticated dehumidification system utilizing some 5,000 feet of galvanized tubing has kept the relative humidity in the interior spaces at less than 20 percent—about what you might expect in King Tut's sealed tomb.
Even more remarkable, during a recent tour of her public rooms and service areas, the ship appears like she had been out of service for only days or weeks— not the more than 10 years that she has been laid up. Her galley, once capable of serving 9,000 meals daily, is still stocked with its 80,000 pieces of crockery, 25,000 pieces of crystal, and 48,- 000 pieces of silverware. Her engine rooms are almost as spotless as the galley. And in her library, note paper, envelopes, and playing cards are still in slots on the writing desks!
When the United States was completed in 1952 as the flagship of United States Lines, she quickly set a record to win the coveted "Blue Riband" by crossing the Atlantic from New York to Le Havre in 3 days, 17 hours, and 48 minutes, attaining an average speed of more than 35 knots, a record that has never been equaled. Until recently, her top speed was a military secret; it is now known that she attained a maximum speed in excess of 39 knots during her official time trials.
Now it appears that the Big U may resume service as a luxurious cruise ship operating between the West Coast and Hawaii, and on cruises to other areas of the world. U.S. Cruises Inc. of Seattle agreed to purchase the mothballed liner from the Maritime Administration in September 1978 for $5 million. The Seattle company is privately owned by Richard H.
Had ley, a real estate builder and developer. He plans to spend $35 million on a 12-month refurbishing of the United States to make her one of the most luxurious liners in the world.
When construction and outfitting of the United States was completed in 1952, the total cost was about $79.5 million. Were she to be duplicated today, the cost would be approximately $400 million.
The SS United States was designed by William Francis Gibbs, then one of the world's leading naval architects, to be an "outstanding express liner of remarkable speed, safety, and efficiency." The 38,216-gt ship has an overall length of 990 feet and a beam of 101 feet 6 inches—measurements that would just allow her to squeeze through the Panama Canal, although she has never made that transit.
When last in service, the United States carried a crew of 1,000 to serve the needs of her 2,000 passengers who were carried in 694 cabins. After the refurbishing program planned by U.S. Cruises, she will have about 650 luxury staterooms accommodating more than 1,300 passengers. She will carry a crew of about 450, and will operate at speed of 18-20 knots.
Present plans for refurbishing include the construction or remodeling of five gourmet restaurants, the classic ship's dining room; a half-acre shopping arcade ; two theaters for films and stage shows; formal ballroom; Hawaiian lounge and disco; "San Francisco" style pub; library and card room; full-size tennis court; two racquetball courts; three new outdoor, fresh-water swimming pools and one indoor pool; and a gymnasium, sauna, and spa. In addition, a closed-circuit television system will offer daily entertainment, as well as worldwide and ship's news and reports.
The goal of U.S. Cruises for the SS United States is at once enormous and simple: to make her the world's greatest luxury cruise ship.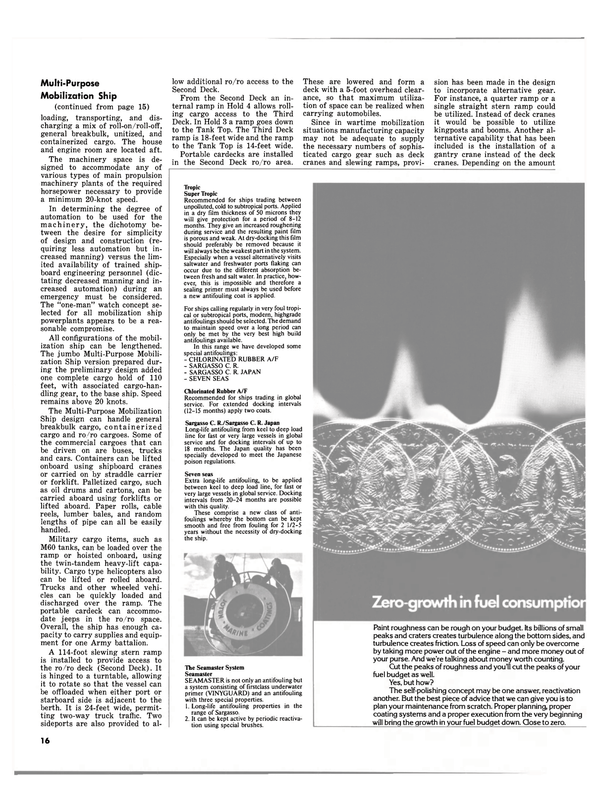 Read S/S 'United States'— A Second Life For World's Fastest Passenger Liner? in Pdf, Flash or Html5 edition of September 15, 1980 Maritime Reporter
Other stories from September 15, 1980 issue
Content