Steam Plant Optimization Topic At New York Port Engineers Meeting
The recent meeting of The Society of Marine Port Engineers New York, N.Y., Inc. heard a paper titled "Steam Propulsion Plant Optimization for Slower Steaming" presented by Chester W. Scott Jr., senior thermal systems engineer at General Electric's Marine Turbine & Gear Department in Lynn, Mass. "Almost all steamships operating today can and have, over the past few years, improved fuel consumptions to some degree through various energy conservation opportunities and measures," Mr. Stott stated.
"The most effective measure for savings has been due to a complete overhaul, cleaning, repair, and tune-up of all plant equipment to restore the plant to neardesign conditions. This has resulted in savings of 5 to as much as 15 percent, attesting to the neglect which some turbine plants have suffered while fuel was cheap.
Despite their reduced efficiency, the ships have been reliable and operable, displaying a ruggedness to abuse and a tolerance to fuel degradation unmatched by any other propulsion machinery," he said.
"A subsequent measure requires strict observance of proper operating procedures for each vessel as determined by close cooperation between management and operating sea personnel. The lack of a dedicated modern program of maintenance and repair will defeat this opportunity and the previous losses will re-appear.
"A third measure is cycle improvement and equipment modification, especially for those lowercost, higher-reliable, simple steam air heater/economizer cycles (SAH).
In the United States, before the fuel crunch most shipyards offered and many owners desired only these less efficient plants. Overseas the price of fuel oil always has been higher than in this country; consequently, the economics favored the most efficient regenerative gas air heater cycle (RAH).
As long as normal operation is in the range of 70 to 100 percent of design, maximum continuous rating, the fuel savings from this program could average 5 percent for the SAH cycle and about 2 percent for the RAH cycle.
"Another conservation measure involves slow steaming," the author said. "On an individual ship basis, this measure has the greatest potential for fuel conservation, regardless of the type of propulsion steam cycle. However, owners must balance fuel savings against related cost increases, revenue losses, and the overall transportation requirements of their entire fleet. The net fuel savings from slow steaming, when operating between 55 and 30 percent of original maximum continuous rating, will vary inversely as the power between 25 and 40 percent, respectively."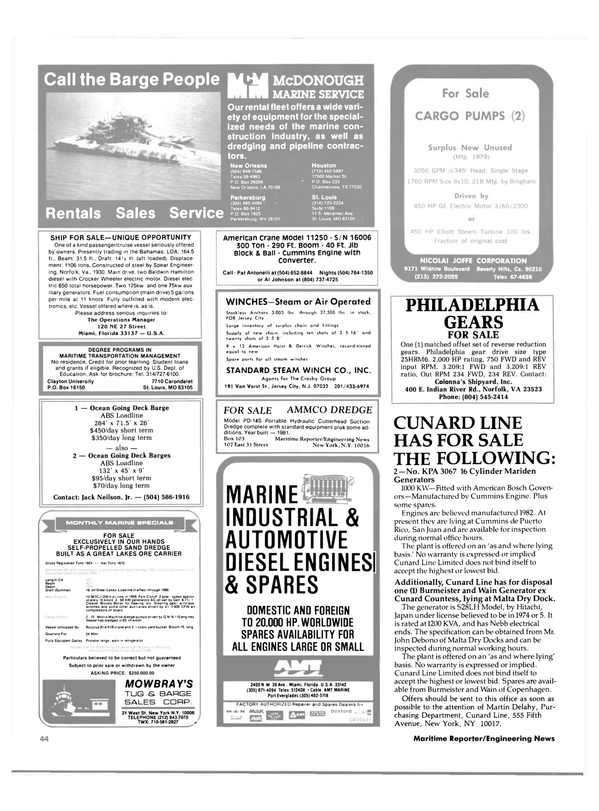 Read Steam Plant Optimization Topic At New York Port Engineers Meeting in Pdf, Flash or Html5 edition of January 15, 1984 Maritime Reporter
Other stories from January 15, 1984 issue
Content