Hyundai, MAN B&W Are At Top of Engine Power
By David Tinsley, technical editor
Rising Korean aspirations as to market influence and technological standing could alter the established order in an important segment of the engine business.
While MAN B&W announced opening contracts for its new L21/31 design as a marine auxiliary, Hyundai Heavy Industries was preparing to rollout its first-ever, self-originated engine type targeted at a similar power range.
The H21/32 signals the emergence of Hyundai, the world's largest producer of marine diesels, as a designer in its own right. The company's development of the in-house Himsen brand denotes a move towards increased technological self-reliance, given the wholesale dependence up until now on manufacturing licenses from foreign engine firms.
The move has been many years in the planning and is underpinned as much by pure industrial will as by the physical capability to deliver 1.2 million-bhp (900,000-kW) or 500 sets of mediumspeed engines every year, as well as 5 million-bhp (3.7 m-kW) or 150 twostroke propulsion engines.
MAN B&W designs figure prominently in the output of both main and auxiliary plant from Hyundai's engine works at the Ulsan integrated shipbuilding complex, and the European company has sought to strengthen its position in the 950-1,800 kW band with the com- pact new L21/31. Initially slanted at marine genset drive applications, the type has made an auspicious commercial start through its nomination for the auxiliary installations in the exceptionally high capacity new breed of RoRo trailership contracted by DFDS for its North Sea services.
In the meantime, Hyundai is readying the first examples of its home-grown H21/32 medium-speed series for delivery to China as the auxiliary units in two 37,000-dwt ballast barges under construction at Shanhaiguan Shipyard.
Each newbuild will be fitted with two six-cylinder models of the four-stroke design rated at 1,200-kW. The in-line H21/32 covers the 800-1,800 kW range, achieving 160-kW/cyl at a running speed of 720-rpm and 200-kW/cyl at 900-rpm.
While propulsion and gas engine versions are envisioned longer-term, the Hyundai design is targeted at marine genset and stationary power applications at the outset. Early market receptivity to the 210 mm-bore Himsen type was such that sales had reached about 30 sets by July, with the likelihood of steep growth in production on the back of HHI's considerable demand for auxiliary engines deriving from its shipbuilding activities at Ulsan. Of course, shipowners opting for Himsen engines will be anxious to ensure that they have recourse to the requisite after-sales network.
The Himsen banner has also been raised over Hyundai's version of the more powerful medium-speed engine recently developed in collaboration with the Bergen arm of Rolls-Royce Marine.
Bearing the H25/33 designation, as the Korean equivalent to the Bergen C25:33, the series will initially be available in 5,6,8, and 9-cylinder versions at 720-750 and 900-rpm crankshaft speeds, spanning unit powers from 1,160 to 2,610-kW. Like the H21/32, the H25/33 has immediate relevance for HHI as a genset drive. A six-cylinder H25/33 is under test at Ulsan, and there is every prospect that the 250 mm-bore type will soon join the H21/32 in expanding the indigenous component of engine production.
Application versatility was a key goal in the Norwegian-Korean technical development pact, such that Rolls- Royce is promoting the C25:33 both as a heavy fuel oil (hfo)-compatible marine genset and as a propulsion engine, either as a prime mover in geared mechanical systems or in diesel-electric installations.
From the standpoint of the established Bergen range, the new C-engine offers a considerably higher power density at the same cylinder bore as the proven Ktype, underscoring its compactness and relevance to the needs of owners, builders and designers of vessels faced with, or requiring, limited machinery space. The design brief also included a requirement for a gas-fuelled variant for stationary power generation, with possible marine use.
The C25:33 will make its seagoing debut in a diesel-electric, multi-function offshore support vessel under construction by west Norwegian builder Soviknes Verft to UT737 blueprints provided by one of Rolls-Royce's Norwegian design houses. Four such engines have been ordered by electrical system supplier ABB, which has opted for ninecylinder models of 2,610-kW.
The project has added technical significance by virtue of the selection of new podded propulsor technology developed specifically for the smallship market. Two ABB Compact Azipods will deliver the propulsive effect, while maneuvering and stationkeeping will be assisted by two 883-kW tunnel thrusters and a swing-up azimuthing unit of the same power forward.
Incorporating a subsea work capability, the 305 ft. (93-m) vessel is due to be brought into commission next year under the ownership of Island Offshore, and in the service of support ship specialist Solstad Rederi. The build schedule calls for the set of C25:33 engines to be delivered from the Hordvikneset factory next spring, with the prospect of a repeat batch for a sistership at the same yard.
Surging investment in LNG carriers has prompted major new endeavors by diesel engine manufacturers to break into a market where the steam turbine has maintained its supremacy as the source of propulsive power. Besides the proven reliability and low maintenance needs of turbines, the possibility to use boil-off gas from the cargo tanks has been one of the key motivators for the use of the mode.
However, the high consumption of the combined boiler and steam turbine system is a drawback, while the refinement of LNG cargo containment design and tank insulation technology is reducing natural boil-off rates, calling for proportionally higher fuel oil usage or forced gas boil-off.
MAN B&W claims that operators could save up to $2.5-million per year by installing heavy fuel-burning, twostroke diesel machinery, in combination with a reliquefaction plant for the boiloff gas in a 135,000-cu m LNG carrier, rather than taking the conventional route of using a steam turbine in which boil-off is consumed.
"The reliquefaction of evaporated gas will increase the amount of LNG delivered to the customer, and the benefit from the sale of this reliquefied LNG will far exceed any difference in operating costs between a diesel engine with reliquefaction plant and steam turbine," observed the company.
MAN B&W considers that its S70MC-C and L70MC-C low-speed designs are especially well-suited to a twin diesel engine layout where the requirement is for a redundant installation, while the very wide, 900 mm-bore family would cover a single-engine specification. The single diesel engine solution could encompass back-up propulsion in the shape of retractable azimuth thrusters or the adoption of an electric motor acting on the shaftline.
Wartsila Corporation implemented work two years ago on the adaptation of its 32DF dual-fuel engine in response to prospects of demand for LNG as an alternative fuel in the offshore, ferry and coastal shipping markets. Development of the marine DF range, soon to be extended with a gas engine version of its powerful 46-series medium-speed diesel, has also been influenced by the need for a high-performance source of power using boil-off gas for LNG transport as well as production and storage.
Derived from the Wartsila 46, a sixcylinder 50DF engine was run on the laboratory testbed last year, and an 18- cylinder variant started an extended test program at the group's Italian factory in Trieste during May 2001. The first commercial pilot installation is expected to be in operation towards the end of this year, giving the concept its debut in the land-based power generation sector.
It is estimated that running costs for a large LNG carrier using the 50DF in a twin-engine plant could be some 20-30 percent less than with the conventional steam turbine solution. It is also claimed that newbuilding installation would be easier, offering potential savings in shipyard man-hours.
Wartsila's DF gas engine development makes it possible to utilize the boil-off gas efficiently, and dispenses with the need for a boiler. Although direct-drive is one option, Wartsila also advocates electric propulsion using the low-pressure dual-fuel DF gas engines as the prime movers in main gensets. High thermal efficiency, operating flexibility and safety are the main arguments in the comparison. The redundancy conferred by such an installation is as relevant to the pressing requirement for service dependability in the LNG supply chain as it is to safety.
DF engines can be run on gas or on light fuel oil and heavy fuel oil. Instead of a spark plug for ignition, as normally used in lean-burn gas engines, the lean air-gas mixture is ignited by a small amount of diesel fuel injected into the combustion chamber. The relatively minute amount of diesel fuel injected, typically less than 1 percent at nominal load, has considerable merit from an environmental as well as economic standpoint. It is reckoned that the NOx emissions of a DF engine are about onetenth of those of a standard diesel engine.
The 50DF employs a wider bore and lower mean effective pressure than the Wartsila 46 engine, but retains the same stroke and crankshaft speed. The DF type has an output of 950-kW per cylinder, compared to the maximum rating of about 1,150-kW/cyl attained with the latest D version of the 46 diesel. Since it will be made available as both an in-line and vee-form engine, the 50DF covers the 5,700-17,100 kW unit power band.
A concerted drive is under way in Norway to use LNG as fuel in offshore support ships, ferries and other coastal vessels, prompted by a desire to broaden the use of Norwegian resources of gas on both national, economic and environmental grounds. Perceived as a 'clean' fuel, LNG combustion results in considerably lower emissions of oxides of nitrogen (NOx) and particulates compared with conventional bunker fuels, and carbon dioxide release is also reduced.
Following the milestone adoption of a gas-electric propulsion system in the 312 ft. (95-m) double-ended fjord ferry Glutra, burning locally-derived LNG two new supply vessels to be built for operation in the Norwegian sector of the North Sea are to be equipped with main machinery adapted to run on LNG It is estimated that NOx output from the ships' plant will be cut by 420-tons per year as a consequence of using LNG fuel instead of diesel oil. The two ships are expected to be completed for Norwegian owners in 2003, and will bunker liquefied gas from the Coast Center Base at Aagotnes, near Bergen.
New generations of vessel introduced under the Celebrity Cruises and Royal Caribbean brands have given form to the concept of the combined gas turbine and steam turbine, integrated electric drive system (COGES), while gas turbines have been specified as part of the electrical power and propulsion system on a number of cruiseship newbuilds in conjunction with diesel-driven main gensets. Issues of design, operating flexibility, through-life costs and environmental compliance have colored the choice of such systems.
Now the MAN Group has broadened the range of solutions available to the cruiseship sector by offering combined diesel and gas turbine (CODAG)-based electric power installations. Drawing on the respective strengths of MAN B&W Diesel and MAN GHH Borsig, a variable number of diesel engines can be married with one or two gas turbines to provide a codag electric solution matching specific needs. The increasing influence of environmental constraints on cruiseship operations have provided the impulse for a rallying of forces within the MAN organization.
A CODAG configuration can better enable a vessel to economically meet varying environmental criteria without the whole system having to be engineered to the most extreme, local controls.
For instance, low-speed cruising might be accomplished in ecologically fragile or sensitive areas using just the gas turbine component of a CODAG plant, by virtue of the turbine's considerably cleaner emissions performance relative to a diesel.
The CODAG approach also offers benefits from a ship design standpoint, given the high energy density encapsulated in compact turbine plant, with its favorable implications for weight and machinery location.
The MAN companies have teamed-up to provide cruiseship powering configurations spanning plant outputs from 30- MW to 120-MW. MAN B&W's indigenous medium-speed diesel portfolio extends to unit powers of nearly 19,000- kW, and potentially to 24,000-kW with the largest engine from the Pielstick stable, while two gas turbine models of 10,500 kW and 26,000-kW have been brought to the combined offering by MAN GHH Borsig.
MAN B&W's development of its Invisible Smoke (IS) technology gives an added edge to the environmental credentials of an MAN CODAG installation.
The IS option, fully applied in a 48/60-series engine delivered to a cruiseship newbuilding last year, suppresses soot formation, so that smoke readings are kept within the most rigorous limits required for ship operation in Alaskan waters and other eco-sensitive areas.
Wartsila has broadened the ambit of the four-stroke engine by securing a breakthrough, tanker propulsion deal for the world's most powerful class of medium-speed diesel. A six-cylinder model of the 64-series engine, producing a potent 2-MW per cylinder for a total output of 12,060-kW, will be supplied to a 40,000-dwt products and chemical carrier ordered by Italian interests from Cantieri San Marco in La Spezia. While the 6L64 engine will ensure a competitive service speed of 16 knots, with the promise of a top speed of 17 knots, the installation's greater merit lies in the adoption of an auxiliary propulsion drive (APD) system. Under APD, a shaft generator can be used as a motor to drive the propeller in the event of main engine breakdown or non-availability.
The arrangements underline the suitability of the W64 for incorporating PTO(power take-off)/PTI (power take-in) systems. The latest project signified shipowners' willingness to consider alternatives to traditional two-stroke propulsion solutions for Handysize tankers.
Recovery in the tanker markets, coupled with legislative developments fuelling the retonnaging process, offer prospects of a replacement need for some 500-600 products carriers and chemtankers up to 60,000-dwt in the five years to 2005.
Wartsila has identified around 200 newbuilds as possible candidates for the W64 engine.
Finnish electrical engineering specialist ABB Marine has advocated the use of podded electric propulsion in tandem with a conventional, direct-drive propeller as an efficient solution to the powering needs of the future breed of ultra-large containerships.
It has proposed a system for vessels of 9,000-TEU and above whereby a steerable Azipod unit would be mounted immediately abaft the standard propeller.
Located on the same axis, but without any physical connection, the 'pulling' propeller of the pod would contra-rotate in relation to the shaft-driven main propeller.
In response to liner operators' clear preference for single-engine propulsion, major players in the low-speed diesel stakes have extended their two-stroke catalogs to bring power concentrations up to 80,080-kW (108,920-bhp) within the ambit of one direct-drive prime mover.
MAN B&W's current program advertises 13- and 14-cylinder models of the K98MC and K98MC-C designs, although it has repeatedly declared a readiness to provide the industry with two-stroke versions encompassing up to 18 cylinders, for power demands to 103,000-kW (139,000-bhp).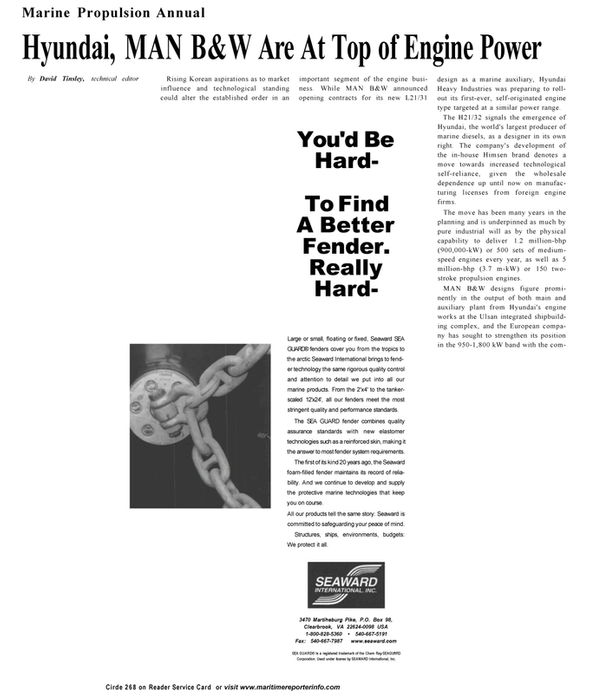 Read Hyundai, MAN B&W Are At Top of Engine Power in Pdf, Flash or Html5 edition of September 2001 Maritime Reporter
Other stories from September 2001 issue
Content