After 137 Years—A Legacy Prevails
by Greg Trauthwein
Through a tumultuous, ever-evolving and always colorful 137years, McAllister to constantly come out ahead. — by Greg Trauthwein Discussing the marine business with Captain Brian McAllister is much like sitting in a "Maritime History 101" course, in that his accumulated knowledge, experience and stories tell the tale of not only the evolution of one company, but an entire industry operating in one of the world's most dynamic ports.
During his more than a quarter of a century at the helm of the family business, Captain Brian McAllister and his company — McAllister Towing and Transportation (MT&T) — have had more than their fair share of wins and losses. However, on the event of the christening of the company's new tugboat Janet M.
McAllister — named for McAllister's two-year-old granddaughter, the sixth generation of this historic New York company — MT&T appears to be in as good of shape as ever, prepared to prosper in the ever-changing marine market under the steady guidance of Captain McAllister and all of the McAllister progeny that will follow.
Summarizing almost 140 years of history into the confines of one article is an arduous if not impossible endeavor. McAllister Towing & Transportation, it must be understood, is as much a symbol of New York City as the skyscrapers that adom the Manhattan skyline.
While MT&T is "New York," the company has effectively expanded its influence and markets, and stands today as one of the oldest and largest marine towing and transportation companies in the U.S., operating a fleet of 61 towboats, as well as a number of barges and ferries along the U.S. East Coast and Puerto Rico.
With roots dating back to 1864 when Captain James McAllister emigrated from Ireland to New York, shortly thereafter purchasing a small sail lighter which he employed carrying freight between ships and piers in New York Harbor, the company has built an enviable reputation as a leader in the procurement and operation of advanced technology vessels. This adherence to arming itself with the caliber of fleet that will meet today and tomorrow's requirement is embodied in the delivery of the Janet M. McAllister. (Please see related story, page 32) The Foundation When Captain James McAllister — a tall, bearded, handsome man whose family often called him "Whiskers" with affection behind his back — bought and started operating that first sail lighter, it is doubtful he could have known that he was sowing the seeds for one of the more formidable and long-lasting marine businesses in the United States. Modem New York Harbor, much to the dismay of the fraternity of maritime executives with long histories here, is today a far cry from the harbor business that James McAllister entered in the 1800s. At that time, taxes on foreign goods entering the port of New York accounted for almost 50 percent of the revenue of the U.S. treasury.
In 1884, of the 4,706 arrivals in the Port of New York flying foreign flags, more than a thousand were schooners, 2,600 were brigs and barks, 625 were large sailing ships and 455 were steamers.
The lighter business in the harbor was booming, and James McAllister wanted to acquire more vessels, but needed help. Using money from the business, he paid for family members' passage to New York - first, for brother Daniel at age 19, then William - and also to buy more vessels.
The business eventually grew via a sprawling partnership that included James McAllister's brothers, cousin, son and in-laws. Upon adding an additional four or five boats, the Greenpoint Lighterage Co. was formed, with offices located on 31 South St., the fabled "Street of Ships".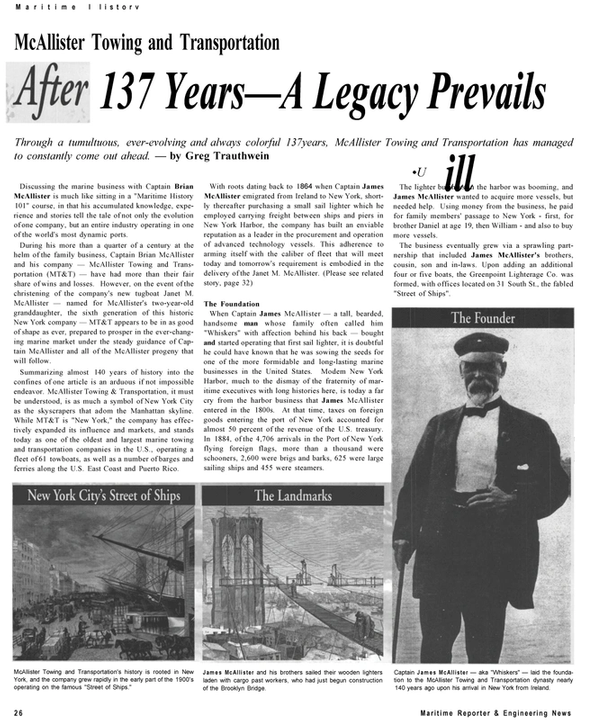 Read After 137 Years—A Legacy Prevails in Pdf, Flash or Html5 edition of September 2001 Maritime Reporter
Other stories from September 2001 issue
Content