Antifouling Paint Helps USCG Sink Maintenance Costs
The United States Coast Guard (USCG) has reduced maintenance costs by minimizing the time spent on ship bottom refurbishing, with the help of E Paint Company of East Falmouth, Mass.
E Paint SN-I coating provides USCG vessels with well-balanced control over a wide array of common soft and hard fouling species. Vessels coated with E Paint SN-1 solventborne antifouling paint can operate for up to two years before they must be hauled, pressurewashed and repainted. This is longer than is possible with virtually all approved non-metallic biocide antifouling paint. Extending the interval between maintenance significantly reduces vessel downtime.
This combination of efficacy and minimal threat to the environment is achieved by a dual-action biocidal system that combines E Paint's patented photoactive technology and a booster biocide. The system keeps ship bottoms smooth and clean without leaching harsh toxicants, which persist in the environment.
"Sunlight and water are photochemically combined by our paint to produce hydrogen peroxide, a potent antiseptic, on the paint's surface," said Christine Greene, Sales and Marketing Director at E Paint Company. "The hydrogen peroxide constantly bleaches the hull, discouraging the accumulation of fouling organisms. While discouraging the settling of a wide variety of fouling organisms, hydrogen peroxide has the additional benefit of decomposing into oxygen and water. The booster biocide works in combination with the photoactive surface and is required in warm water environments, which are particularly congenial to the growth of foulants. To qualify for this role, a biocide must be very effective against both hard and soft fouling species, especially algae, and should not present any undue hazard to the aquatic environment." To meet these requirements, E Paint Company chose SEA-NINE 211. an isothiazolone biocide specifically developed by Rohm and Haas Company for use in heavy-duty antifouling paints.
SEA-NINE 211 biocide controls such fouling organisms as algae, bacterial slime, barnacles, tunicates, tubeworms, bryozoa and diatoms. Equally significant, SEA-NINE 211 biocide provides excellent performance while posing a minimal long-term environmental threat. SEA-NINE 211 compound degrades very rapidly in seawater, binds to sediment instead of remaining in the water, and does not accumulate in the tissues of marine animals. Because of the environmentally-positive performance features of SEA-NINE 211 marine paint antifouling agent, Rohm and Haas was the recipient of the first United States Presidential Green Chemistry Challenge Award in the category of Designing Safer Chemical Products.
E Paint SN-1 coating was formulated specifically for the USCG to be environmentally compliant without sacrificing effectiveness. Exhibiting low VOC content, positive effectiveness and environmental effectiveness has led to E Paint SN-1 to becoming the only US EPAapproved, biocide-containing paint authorized for use on all aluminumhulled US Coast Guard vessels.
"Especially designed for use in rough weather, the Coast Guard's motorized lifeboats are precisely balanced to right themselves if capsized. If the buildup of fouling organisms is not controlled, it can adversely impact the balance, and thus, the self-righting properties of these boats, a definite safety hazard," said Greene.
Other agencies, such as the Woods Hole Oceanographic Institution, Channel Island National Park Service, U.S.
Army Corps of Engineers and National Oceanographic Atmospheric Administration to not only use E Paint SN-1 on their aluminum vessels, but also on buoys and underwater equipment exposed to biofouling. In gaining Coast Guard business, E Paint SN-1 paint supplanted coatings made with tributyl tin oxide. E Paint SN-1 antifouling coatings are currently EPA-registered for use by the U.S. Department of Defense, U.S.
Coast Guard, U.S. Army Corps of Engineers, U.S. EPA Research Vessels.
National Park Service Vessels and Oceanographic Research Vessels.
What's Next?
E Paint Company, with support from the National Science Foundation, has developed several new materials to improve the efficiency of peroxide production.
One of these materials, a proprietary porphyrin, is similar to chlorophyll used by plants for photosynthesis.
Improvements in the coatings formula allow for longer life and a smoother surface.
Another promising new product under development is a waterborne barrier coat paint characterized by ease of application and excellent protection of the substrate. The future is in waterborne coatings. They will replace the high VOC solventborne barrier coats, primers and antifouling paints. Current water-based coatings have been plagued with difficulties ranging from adhesive failure to cracking.
Circle 41 on Reader Service Card www.maritimereporterinfo.com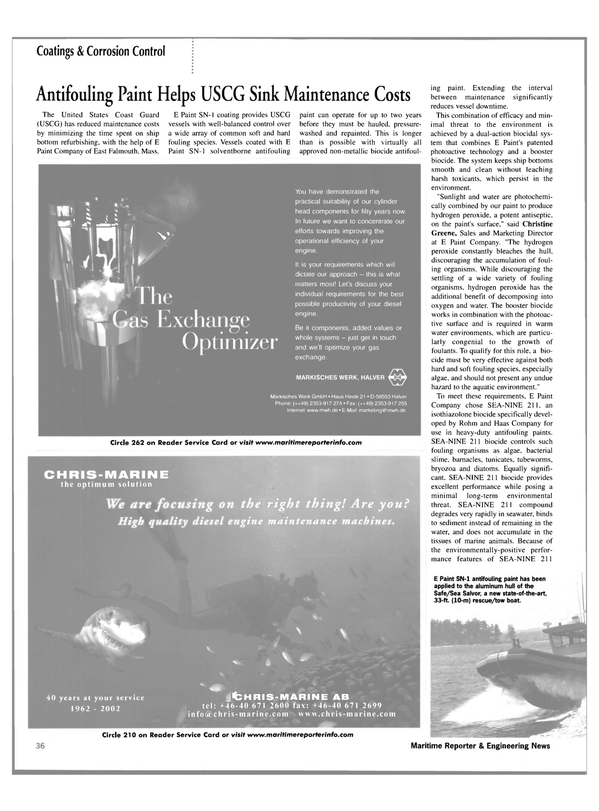 Read Antifouling Paint Helps USCG Sink Maintenance Costs in Pdf, Flash or Html5 edition of March 2002 Maritime Reporter
Other stories from March 2002 issue
Content