NSRP Projects Show Impressive Results
NSRP ASE sponsors a variety of R&D projects that address lean initiatives — some focusing on new construction and others on repair. One notable lean repair project that has demonstrated rapid payback and implementation involves the surface preparation process.
Traditionally, about 25 percent of ship repair work has focused on surface preparation processes, and roughly 67 percent of surface preparation work involves nonvalue- added activities, according to industrial engineering time studies from Atlantic Marine. Through an NSRPsponsored Ultra-High Pressure Water Blasting (UHPWB) project. Atlantic Marine is achieving substantial process improvements and related savings in time and money.
Interim statistics show a 22-28 percent reduction in total life cycle costs using Ultra-High Pressure Water Blasting on a recent destroyer project over the project's baseline — a destroyer earlier this year.
Specific metrics include: • Overall process productivity — improved by more than 38 percent • Blasting gun on-time — doubled from 24 percent to 47 percent • Setup time — cut in half • Wait time — dropped from 42 percent to 19 percent • Labor per sq. ft. — 38 percent reduction • Environmental disposal cost/gallon — 94 percent reduction (expected in near term).
A November demonstration in Jacksonville showcased results to date of the project to U.S. shipyards as a means of quickly transferring this knowledge throughout the U.S. industry. The shipyard compared statistics from similar water blasting jobs on two sister warships, the USS Spruance (DD-963) and the USS Obannon (DD-987). The Spruance underwent interim dry-docking availability a year ago when the project was just getting underway, which resulted in some substantial man-hour overruns for the surface prep process.
"This project has had a significant impact on increasing our competitive position in the surface preparation process of military and commercial ship repair." said E d Fleming, president of Atlantic Dry Dock Corp. in Jacksonville.
"It has allowed Atlantic Dry Dock to compete with the more efficient dry blasting operations while reaping the environmental benefits of water blasting." Contributing to the overall success of the hull blasting and painting effort on Obannon was the "lean" detailed plan the workers followed to prepare, blast and paint continuously from bow to stern with minimal delays and interruptions.
Given the significance of surface preparation and coating in many interim docking schedules, these time reductions have the potential to directly reduce time in dock and thus return the warship asset to the deployment-ready status more quickiy.
Ergonomic improvements include a "Gun Rack" to support the blasting gun that takes the stress off the worker, and a "Crawler" that supports the worker in reclined positions and can be adjusted in many different angles. As part of the UHPWB project, Atlantic Marine is also tackling the environmental protection costs associated with surface preparation.
To reduce the cost of disposing of contaminated blasting water, the team assessed options and selected the Electro-Pulse System to remove "metals" which remain after primary cascade sedimentation has been accomplished.
Circle 4 7 on Reader Service Card www.maritimereporterinfo.com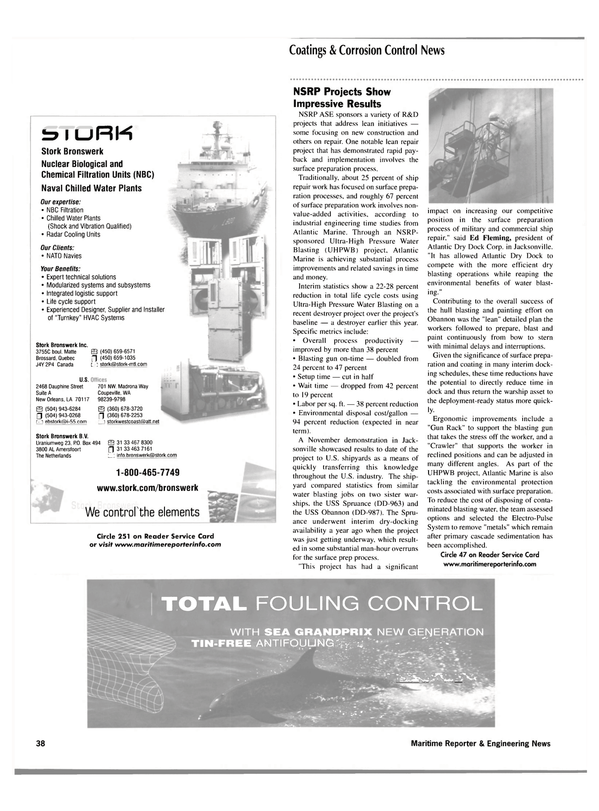 Read NSRP Projects Show Impressive Results in Pdf, Flash or Html5 edition of March 2002 Maritime Reporter
Other stories from March 2002 issue
Content