Dockyard Doubles Its Prosperity
In January 2003, Huarun Dadong Dockyard (HRDD) was awarded eight vessel repair contracts awarded in succession — doubling the amount of jobs the yard was awarded just one year previous.
Measuring 614 x 93 ft. (187.3 x 28.4 m) M /V Sheila Macdevitt of U.S.-based TECO Shipping will undergo approximately 70,000 sq. m. of sandblasting and coating in ballast tanks, holds and main decks, and more than 150 tons of steel renewal. The 896 141-ft. (273 x 43-m) M / V Lady Madonna of Japan's Toyo Sangyo Japan will receive 45,000 sq. m. hold sandblasting and zinc silicate coating, and 300 tons of steel renewal and routine dry docking works for shafting and hull maintenance works, while M / V Integra Duckling 886 x 138 ft. (270 x 42 m) of TNT from Taiwan will experience 28,800 sq. m. hold sandblasting and coating and 100 tons of steel renewal and dry docking works. Routine dry docking works for M / V Maritime Peace 525 x 83 ft. (160 x 25.4 m) of Taspool (IMC) from Singapore, M / V Grand Race 588 x 106 ft. (179.1 x 32.2) of CIDO Shipping from South Korea and M / V Glorious Sun 543 x 89 ft. (165.5 x 27 m) of Veritas Maritime Corporation from Philippine, and two domestic vessels for docking and minor repairs.
Located at the entrance of Yangtze River into the China East Sea and opposite to Shanghai Port, Huarun Dadong Dockyard (HRDD) is closelyfollowing the rapid step of Shanghai's economic development, reforming externally and internally. Within the last seven years of improvement after HRDD's establishment, the company now has the ability to bid for repairs and conversions not only on bulk carriers and multi-purpose carriers, but also on container, chemical tankers, RoRos and LPG vessels with satisfactory feedback from owners.
With the steady technique support from Hudong shipbuilding yard which is the shareholder of HRDD together with China Resource (Hong Kong) Ltd, the repair work scope in the yard consisted of the completion of several successful repair contracts: conversion of bulk carrier cargo hold into container cargo hold and converted container hold 12-ft. cover into 24 ft.
cover for SS Manulani from Matson in October of 2000; 1,700 tons of steel renewal on M / V Primo in 2001 from Barber Ship Management, which again awarded M / V Leopardy with 1,100 tons of steel renewal to HRDD. In addition, HRDD performed 700 tons of steel renewal on M / V Irongale from Zodiac in 25 days during May 2002.
The systematic management and the infrastructure reinforcement such as berth extension and air compressor capacity expansion enable HRDD to sandblast all holds for panamax ships simultaneously and accomplish successfully 13,000 sq. m. of cargo tank sandblasting for M / T Emerald Sky from Tanker Pacific within 15 days this May.
Cic| e / 2 Q n R e a d e r S e r v k e C a r d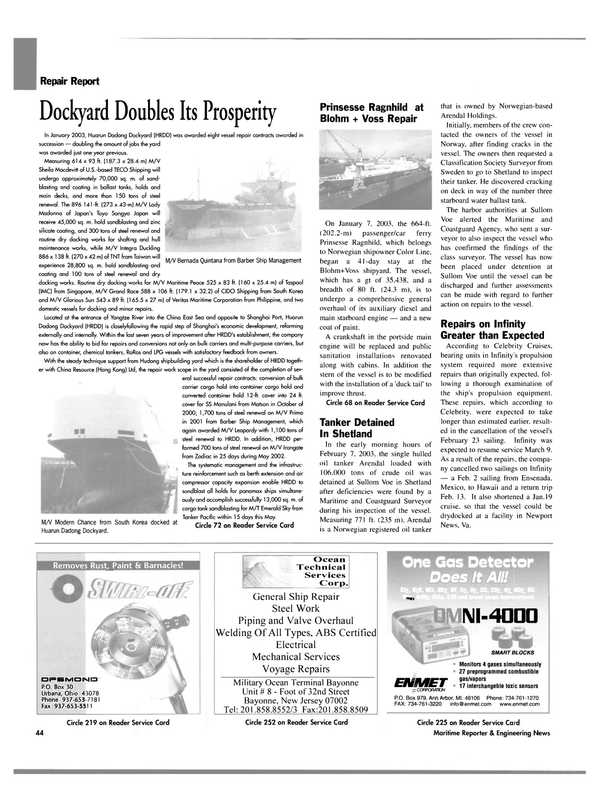 Read Dockyard Doubles Its Prosperity in Pdf, Flash or Html5 edition of March 2003 Maritime Reporter
Other stories from March 2003 issue
Content