Damen PSV 3300: A Diamond in the Rough
By Maritime Reporter & Engineering News
The platform supply vessel World Diamond was delivered by Damen Shipyards, Galati, on June 28, 2013, to World Wide Supply. The PSV was built to a completely new and distinctive design from Damen, and World Diamond is the first of six PSVs for the Norwegian owner. The vessel is capable of worldwide operations and its construction involved close cooperation with Damen Shipyards Gorinchem, The Netherlands, which provided engineering and main equipment.
The PSV 3300 represents a new era in Damen's offshore supply vessel story, having been built to a new design as part of a major extension in the yard group's offshore portfolio.
The 80.1m PSV 3300 will undertake crew and materials transport to and from offshore platforms but also offers firefighting and oil pollution recovery capability. Equipped with azimuthing thrusters and for dynamic positioning (DP2), the design is distinguished by slender hull lines to meet challenging conditions and minimised fuel consumption, as well as enhanced crew comfort.
World Diamond is the first delivery of the PSV 3300, developed after extensive CFD studies and hull testing at Maritime Research Institute Netherlands (MARIN) to verify the results. Built to Damen's "E3" principles, the vessel is distinguished by its sleek bow, slender hull lines and diesel electric propulsion with azimuth stern drives. This combination has been developed to minimize slamming and to balance a relatively high cargo intake with low fuel consumption, not only in calm water but also in rough seas. The azimuthing thrusters with ducted propellers in conjunction with the bow thrusters are designed to provide accurate station keeping. The vessel features DP2 capability as well as newly designed anti-roll tanks, while smooth surfaces and a distinct lack of angles, lines and recesses also have a positive effect on the durability of coatings. Other notable features of design include a new sheltered foredeck and an optimized superstructure for crew comfort, while the steel-welded wheelhouse is mounted on top of the deckhouse to ensure an optimal view in all directions.
World Diamond is powered by a diesel electric solution with Tier II-compliant Caterpillar engines; two C3512 generator sets in combination with two C32 TTA generator sets. The gensets are connected to a waste heat recovery system, greatly reducing fuel costs for heating of accommodation, tank cleaning and other purposes. The vessel is provided with a state-of-the-art Integrated Automation System (IAS) that incorporates a redundant topology reflecting the vessels design intent.

Main Particulars – World Diamond
Owner World Wide Supply
Flag Norwegian
Classification Lloyd's Register
Dwt 3,500 t
Length o.a. 80.03 m
Length b.p.p. 74.75 m
Beam 16.2 m
Depth (molded) 7.5 m
Max Draft 6.15 m
Gross tonnage 3,832 GT
Deck cargo 1,520 t
Cargo area 728 sq. m.
Fuel oil (service) 454 cu. m.
Potable water 817 cu. m.
Ballast capacity 1,694 cu. m.
Liquid mud/Brine 869 cu. m.
Fuel oil/base oil 869 cu. m.
Dry bulk 259 cu. m.
Speed 13.7 knots
Main engines Diesel-Electric, 690 V, 60 Hz
Propulsion power 2x 1500 ekW
Propellers 2x 2300 mm, FPP, Azimuth in nozzle
Bow thrusters 2x 735 ekW, 1740 mm, FPP
Exhaust gas cleaning SCR systems on all main generator engines for effective NOx reduction
Ballast water Ballast water treatment system

Deck Lay Out
Anchor mooring winch 1x electric-hydraulic, with two mooring rope drums and warping heads
Capstans 2x each 5 t pull
Deck crane 1x 1.5 t at 16 m (harbor)
Tugger winch 2x each 10 t pull

Cargo Handling Systems
Fuel oil/base oil pumps 2x 150 cu. m./hr at 90 m head
Fresh water pumps 2x 150 cu. m./hr at 90 m head
Drill water pumps 2x 150 cu. m./hr at 90 m head
Liquid mud / brine pumps 2x 75 cu. m./hr at 85 m head
Dry bulk compressor 2x 75 t/hr at 80 m head
Fire fighting (optional) 2400 cu. m./hr + water spray system

Accomodation
Crew 16 persons
Passengers 6 persons
Bridge system Alphatron
Dynamic Positioning Marine Technologies
Bow thrusters Schottel
Waste heat recovery system Ulmatec
Silencers Axces
SCR installation HUH
Electrical installation Eekels
Engine generator set Caterpillar
Alternator generator set Leroy Somer
Valves and fittings Econosto, PCC
Pumps Allweiler
Bilge water separator Facet
Purifier Alfa Laval
Heat exchanger Alfa Laval
Freshwater pressure set Sterling Sihi
Hot water calorifiers Ulmatec
Fresh water generator Alfa Laval
Vacuum toilet system Jets
Sewage treatment BioCompact G&O (TBU)
Remote tank sounding AE Sensors
HVAC system Johnson Controls
Emergency generator set Caterpillar
Dry bulk system Alphatechnique
Liquid mud agitators Allweiler
Cargo control systems Hoglund
Cargo pumps Allweiler
External fire-fighting pumps Nijhuis
Fixed installation for internal fire fighting MX Consoles Alphatron
Galley equipment Bouter
Navigational equipment Alphatron
Windows Van Wingerden
Window wipers Wynn
Paint International Paint


(As published in the December2013 edition of Maritime Reporter & Engineering News - www.marinelink.com)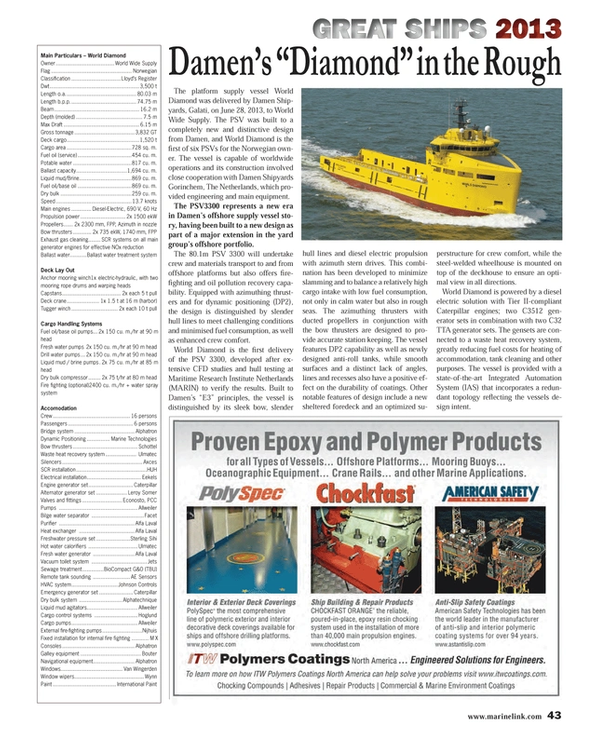 Read Damen PSV 3300: A Diamond in the Rough in Pdf, Flash or Html5 edition of December 2013 Maritime Reporter
Other stories from December 2013 issue
Content