Maersk's Mammoth Containerships Making History
By Maritime Reporter & Engineering News
Photographs of Maersk Line's 18,000 TEU ships are flooding in from ports around the world as the carrier phases its giant new vessels phase into the AE10 string between Asia and North Europe. It's a "Where's Waldo" with maritime characteristics. Shanghai, Ningbo, Yantian, Hong Kong, Tanjung Pelepas, Rotterdam, Aarhus, Gdansk – the giant Triple-E Class ships are making history with each port call and tugboats with water cannons firing have been rolling out the aquatic red carpet.
Maersk Mc-Kinney Moller was the first of 20 Triple-Es ordered by the carrier and it sailed into service with much fanfare on June 28. In August she was followed by Majestic Maersk, and Mary Maersk was scheduled to join the fleet in mid-September.
Five of the giant vessels will be in service before New Year celebrations begin and by 2015 all 20 will be in business, an incredible 360,000 TEU of capacity shuttling between Asia and North Europe.
While the trend is big (and since this ship entered service, several carriers have announced deals for even bigger ships) the biggest and best comes at a price, and the first 10 ships cost Maersk Line $190 million each. The carrier expects optimization and energy improvements to the second 10 should see the price dropping to an average of $185 million per ship. Raw materials comprise most of the cost with each vessel requiring 55,000 tons of steel.
Despite initial resistance to slow steaming, shippers have grown accustomed to longer voyage times and have adapted their supply chains accordingly. Guaranteed times have replaced speed, even though it now takes six days longer than in 2008 to ship containers from Shanghai to North Europe.
The two-propeller engine that can push the Triple-Es to 23 knots while operating at slower speeds gives the ship an operational sweet spot lower than the Emma Maersk. Design improvements see the engines in the second batch of 10 vessels reduced from eight cylinders to seven cylinders. The more efficient engines make low fuel consumption one of the Triple-Es greatest advantages. Compared to the 13,000 TEU ships of competitors, vessels of 18,000 TEU are believed to burn around 35% less fuel per container. In fact, Maersk said the vessels will burn 30,000-35,000 tons of fuel a year, which over their lifetime will be close to three times the price of the ship. As fuel accounts for well over half of all voyage costs, this kind of fuel economy is a powerful incentive for ordering the new generation of container ships.
The main drivers behind building the Triple E in the first place were to achieve greater container capacity and better fuel efficiency. Its "Triple-E" moniker refers to economy of scale, energy efficiency and environmental improvements made possible through advances in ship design and technology. At 400 m, the ships are just four m longer than E-class vessels (Emma Maersk) yet can carry 2,500 more containers. An expanded inside cavity in a wider hull with a more bulbous bow allows the additional 16% of boxes to be piled in without significantly increasing the draft. Moving the navigation bridge and accommodation five bays forward and the engine room and chimney six rows back created more space. Despite the increase in container capacity, the Triple-Es will only be one row wider than the E-class ships, 23 rows as opposed to 22. This means the ships can be handled with cranes currently in use in the hub ports.
Maersk believes its 20 Triple-Es will be enough new capacity for the next few years and has long since declined to exercise an option for a third round of 10 Triple-Es.

(As published in the December2013 edition of Maritime Reporter & Engineering News - www.marinelink.com)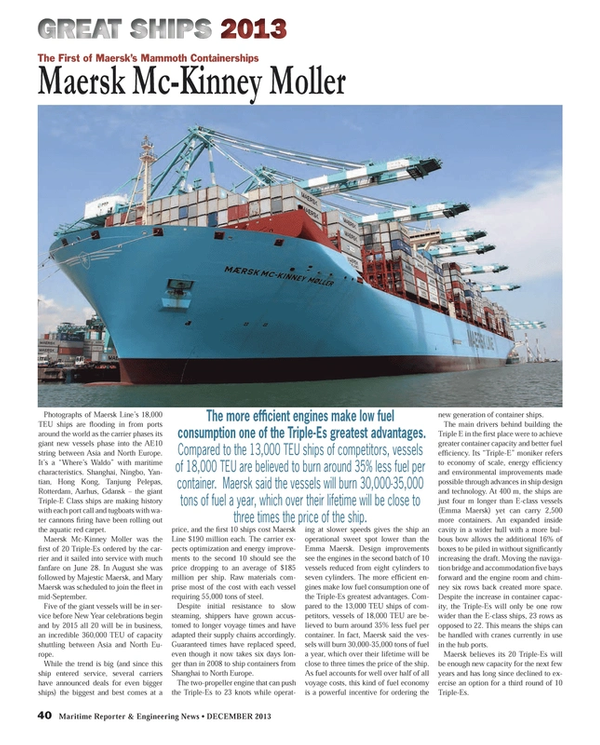 Read Maersk's Mammoth Containerships Making History in Pdf, Flash or Html5 edition of December 2013 Maritime Reporter
Other stories from December 2013 issue
Content