Interview: Volvo Penta's Ron Huibers
By Greg Trauthwein
As Volvo Penta continues its strategic penetration of the commercial maritime sector, Maritime Reporter & Engineering News checks in with Ron Huibers, President, Volvo Penta of the Americas.
When we first met with you a few years ago, Volvo Penta was in the early stages of a strategic move into the commercial maritime sector in North America. Please update your progress.
Historically, we have been strong in the marine commercial markets outside of North America. Five years ago, we made the strategic decision to leverage this global experience and supplement our marine leisure business with an increased focus on the commercial segment here in the Americas. Since then, our commercial marine business has increased by roughly 10% percent annually.
Our current lineup for the commercial marine market includes a variety of engines based upon the regions' needs (D1 – D16 in Canada and Central America) and (D4-D16 in the US), ranging from 225 to 800 in the US horsepower with inboard or IPS drives. We also offer both diesel and gasoline sterndrives, and marine diesel gensets. In some cases, customers are using our engines to power pumps on fuel barges as well.
About 20% percent of our commercial marine business is newbuilds. The rest are repowers. We've seen a surge of repowers in California, where the state Air Districts provide substantial subsidies to operators repowering with greener engines.
The commercial marine sector is obviously large. If you had to narrow it down, where does Volvo Penta best fit?
Our "sweet spot," I would say, is displacement vessels from 15 to 90 feet. We have had good success with pilot boats, tugs, commercial fishing vessels, passenger and vehicle ferries, and patrol boats for law enforcement and military operations. Since many of these projects have a relatively long lead time, our efforts to build market share over the last few years are now starting to bear fruit.
Ten percent commercial marine growth is impressive. What measures is Volvo Penta taking to further strengthen its position in the North American commercial marine segment?
We recognize that the prime imperative for commercial marine vessel operators is to minimize downtime and maximize productivity. To that end, we have put a great deal of emphasis on strengthening our commercial marine dealer network to ensure prompt service 24/7/365 with the highest possible first-time-fix rate. We also have established new Volvo Penta Power Centers in key regions. We now have 10 commercial marine Power Centers, in the U.S. and Canada. These large "super dealers" provide a critical liaison link with dealers and builders in their regions. They too have decades of experience serving the marine commercial industry.
We have beefed up our technical training programs for dealers. Last year we set a new record for the number of trained technicians, both in our training center in Chesapeake and in key regional centers across the Americas. In 2018 we'll do even more. To supplement in-person training, we also offer a broad array of e-learning courses to help competence development for our dealer technicians.
The 1 million square foot national parts distribution center recently established by the Volvo Group in Byhalia, Mississippi, is another key element in our commercial marine strategy. In most cases, Byhalia provides overnight delivery of critical parts anywhere in North America.
Where do you see growth opportunity in the coming 12-24 months?
We see a market opening up in the US offshore wind industry as it already has in other parts of the world. The Department of Energy reports there are 28 offshore wind projects currently under development. As these coastal wind farms come into service, they need a fleet of vessels to transport crew and spares to the turbine towers. As you know, the offshore wind industry in Europe is far more mature and advanced than in North America. Volvo Penta has captured a large market share of the offshore wind support vessels in Europe. This gives us a leg-up when it comes to offering proven, fast and fuel-efficient solutions to the market. Our IPS technology is a perfect fit for these highly specialized vessels.
We are seeing share growth in ferries, water taxis and passenger carriers, as more and more municipalities take advantage of their waterways to relieve congested roadways. Military vessels are another area of strategic focus for us.
Does Volvo Penta have any endeavors in the development of its systems fit for true autonomous operations?
Certainly, truly unmanned autonomous ships are still a long ways off, but in the short term we will doubtless see movement toward more shore-based monitoring and control over onboard systems in real-time. We believe connectivity will become a standard feature built into marine engines over the next few years. The Internet of Things (IoT) is already becoming commonplace in land-based transportation, spearheaded in many ways by our Volvo Group colleagues, and we will see it gaining traction in the marine space. Commercial operators will want to be able to pull data off the engines and drive train, as well as other mission-critical systems on the vessel in real time, for analysis, condition-based maintenance and trouble-shooting. This movement will also be driven by lower-cost satellite data connections for vessels operating beyond the reach of land wireless networks. You can be certain that we will be at the forefront of this trend.
When I visited Volvo Penta's global R&D center in Gothenburg 18 months ago there was a push regarding joystick control of Volvo Penta systems. Where are we to date, in the commercial market, re: penetration of joystick controls?
Volvo Penta was an early pioneer in introducing joystick docking and maneuvering to the marine marketplace.
Joystick control is gaining momentum in commercial marine vessels. The benefits are obvious, but the marine industry is conservative, and it will take time to overcome the traditional wheel-and-throttles mindset.
Interestingly, last year we won an Innovation Award from the National Marine Manufacturers Association for our new patented Joystick for Inboard. This was the first-ever joystick for twin inboard shaft installations that includes both docking and driving modes and integrates all five steering components – thrusters, rudders, gear shift, slip and throttle. Since the steering system is all-electric, it eliminates hydraulics.
As vessel owners increasingly digest regulation change in terms of equipment emissions, how is it affecting Volvo Penta's role as a product/systems supplier.
When it comes to emissions mitigation, we are able to call upon the vast engineering resources of the Volvo Group, which has been a world leader in emissions technology. For instance, Volvo was an early pioneer in developing SCR technology for over-the-road heavy trucks. Already, Volvo Penta's SCR-based land-based industrial engines are fully compliant with EPA Tier 4F requirements. Volvo Penta's marine engines in Europe are currently meeting the latest EU standards, which in many cases are more stringent than America. We take a proactive, not a reactive, stance in this area, and we are committed to being ahead of the curve when it comes to meeting new deadlines for new regulations.
What about electric and hybrid propulsion?
We are actively pursuing these technologies, which we believe will become the wave of the future, both in land transportation and marine propulsion. The primary barrier to widespread penetration of electric and hybrid systems until now has been battery capacity, which continues to improve dramatically. As with emission-reduction technology, our close relationship with our sister companies in the Volvo Group gives us access to the latest improvements in automotive-scale energy storage technology. Volvo Penta has supplied hybrid systems for several high-profile vessels in Europe, and I'm sure you will see more of the same in the Americas. The potential savings in fuel and lower maintenance costs present a compelling argument, and I predict momentum will continue to build in this area.
What do you consider the biggest challenge to expanding Volvo Penta's penetration in the commercial sector, and how are you addressing it?
This is a tough question. We know we have the right technology, backed by industry-leading engineering and quality, and we are continuing to invest in developing an aftermarket service network that is second-to-none in the industry. We are growing our market share in the Americas' commercial marine sector steadily. Still, we may be perceived by some as a relative newcomer in the commercial marine marketplace, and the only way to overcome that hurdle is to call attention to our growing pool of customers.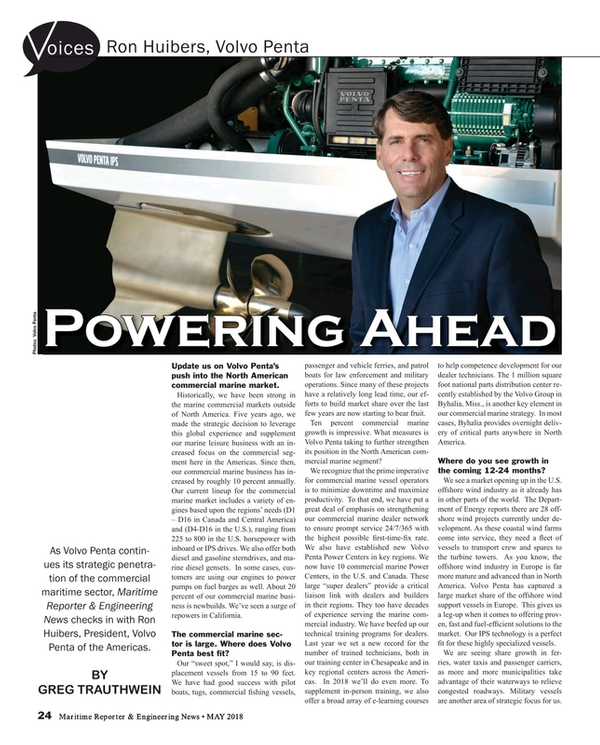 Read Interview: Volvo Penta's Ron Huibers in Pdf, Flash or Html5 edition of May 2018 Maritime Reporter
Other stories from May 2018 issue
Content