MarTID: A New Tool for Maritime Training Professionals
Posted by Joseph Keefe
The inaugural edition of the MarTID Maritime Training Insights Database (MarTID) Report sheds new light on maritime safety and training practices, what works, and what doesn't. More importantly, its analysis and data emanates from you.
The first annual MarTID Maritime Training Insights Database (MarTID) Report initiative has been two years in the making. This initiative was developed with the intent of being a shared commitment to safe, efficient and sustainable operations in the maritime industry. Importantly, the detailed 50-page report provides valuable insight, not based on so-called third-party experts, but input from the stakeholder respondents themselves. That means you.
Making MarTID
The MarTID survey is focused on training done by maritime companies outside the context of shore-based education and training leading to Standards of Training, Certification and Watchkeeping (STCW) Certificates of Competencies. In other words, this is a survey seeking data on how maritime operators continue to train their seafarers, post-STCW certification. The results collected will be used to provide objective and comprehensive data on how the industry manages and conducts training for shipboard competencies.
The aim for this initiative is to provide insights that will aid in enhanced policy-setting, decision-making, benchmarking and optimization of training practices by industry and regulatory authorities at all levels, leading to the sustainable development of productivity and safety of vessel operations.
The MarTID project is completely non-commercial, and reports are free and distributed widely. It is supported by the generous contributions of the three partnering organizations – the World Maritime University (WMU), New Wave Media and the Marine Learning Systems group. All three stakeholders agree that best practices can be achieved only if this effort is based on real data. Your data – protected and anonymized.
Specifically, the report provides information on:
industry spend on training, resources used and future trends;
methods, tools and techniques for training;
the purposes and goals that training serves within organizations;
how training is tracked and measured within a company;
new initiatives undertaken by operators; and
common challenges and anticipated training trends.
Because the origin of the underlying data is just as important as the vehicle that delivers it, it is also critical to define who the respondents represent. To that end, MarTID would not have been possible without the tremendous response and participation that came from the global maritime community.
Who provided the data upon which the report was compiled? You did. Respondents included Training Instructors (23%), C-suite maritime personnel (18%), managers (15%), owners of company CEO's (12%), vessel masters (8%), deck and engineering personnel (8%) and a raft of other maritime stakeholders with a wide range of credentials (16%).
Education, training and human resource development is critical for the sustainability of any industry endeavor. That's because, in the maritime industry, there is broad agreement that a significant percentage of maritime accidents involve human factor causes. You already know that. So, too, did our respondents. In terms of experience, the average respondent had worked in a training-related role in their current organization for 8.4 years. Overall, a respondent had an impressive overall 12.7 years of maritime training experience on average.
Without a doubt, maritime stakeholders invest significant resources into creating best practice and innovative training programs. At the same time, the industry as a whole knows very little about the training approaches and successes of other vessel operators and training centers outside their sectors and/or companies. That's because this data is typically siloed and guarded. This type of siloed approach, rather than a collaborative effort, results in stakeholders pursuing their own path and sometimes repeating the mistakes of others.

On a global scale, it means that we cannot benchmark our training approaches and learn from the successes of other industry players. It also means that industry training approaches will only advance by isolated individual effort and not by continually improving on the global state of the art. All of that can and will end with MarTID. Even if you didn't contribute to and participate in the inaugural effort, there's always the next survey and report. And, you can benefit immediately by using the current report to your advantage.
MarTID's core principles include ethical integrity, objectivity and confidentiality. Each of the partner organizations is donating their time and resources to make this initiative possible. Like the efforts to promote greater transparency throughout the supply chain, the sharing of safety-focused information also benefits the entire industry. Secure and anonymized MarTID data provides insights into training practices, budgets, priorities, challenges and perspectives.
Why MarTID? Why now?
Vessel operators and maritime training centers are pouring significant resources into creating best practice and innovative training programs. Often intended to bridge the gap between standard certifications and what actually happens in the real world afloat, these unique efforts fall outside the realm of traditional licensing and credentialing. That doesn't make them any less important.
In fact, in-house safety and competency training programs often go far beyond the typical STCW course. It is also true that in-house programs tend to be viewed as proprietary assets, intended not just to create a safer marine environment but also to achieve competitive advantage in the marketplace. As this siloed approach continues, it yields fruit, but also suffers from a lack of standardization and the absence of benchmarked victories. That's where MarTID comes in.
Every year following the survey, a series of reports will be published broadly. These reports will provide both high-level and deep-dive information covering both broad trends as well as deep coverage of emerging issues and successes. The reports will grow to be a highly valuable and anticipated source of information each year – but only if there is broad industry buy-in from stakeholders like you.
The Maritime Training Insights Database (MarTID) is an initiative of The World Maritime University, Marine Learning Systems and New Wave Media. Intended as the ideal vehicle to collect data through a survey instrument, it will focus on the dominant training practices now being undertaken in the global maritime industry. In a world where mariners – despite being bombarded with the crushing weight of regulatory training and certification requirements – still seem to find trouble in way of collisions, allisions, oil spills and all manners of casualties, it is past time to stop and assess this important part of the global maritime industry. MarTID is already leading the way forward.
Looking Ahead
This initiative, founded and run by the three partner organizations, requires community involvement to succeed. This year's survey and report, the first of many annual efforts to come, was a resounding success because of stakeholder input. You will be hearing a lot about MarTID in the coming weeks and months. Take the time to download this year's report and then, when the next survey window arrives, get ready to contribute, collaborate and reap the rewards of doing so.
Look for more information and coverage on MarTID in the May print 2018 edition of
Maritime Reporter & Engineering News
, starting on page 66. Beyond this, you can access, read and even download the first annual MarTID report by clicking
HERE
.
The annual collection and analyses of training data will help the maritime community gain insights that can lead to enhanced policy-setting, decision-making, benchmarking and operational optimization by industry operators and regulatory authorities at all levels. This year's product proves that out. It is hoped that the survey data and its analyses will become an important, if not the definitive source of knowledge for the global maritime community and its quest for absolute safety. Join us on the journey. – MLPro.
World Maritime University: https://www.wmu.se/
Marine Learning Systems: https://www.marinels.com/
New Wave Media: https://www.marinelink.com
Joseph Keefe is a 1980 (Deck) graduate of the Massachusetts Maritime Academy and lead commentator of
MaritimeProfessional.com
. Additionally, he is Editor of both Maritime Logistics Professional and MarineNews magazines. He can be reached at jkeefe@maritimeprofessional.com or at Keefe@marinelink.com. MaritimeProfessional.com is the largest business networking site devoted to the marine industry. Each day thousands of industry professionals around the world log on to network, connect, and communicate.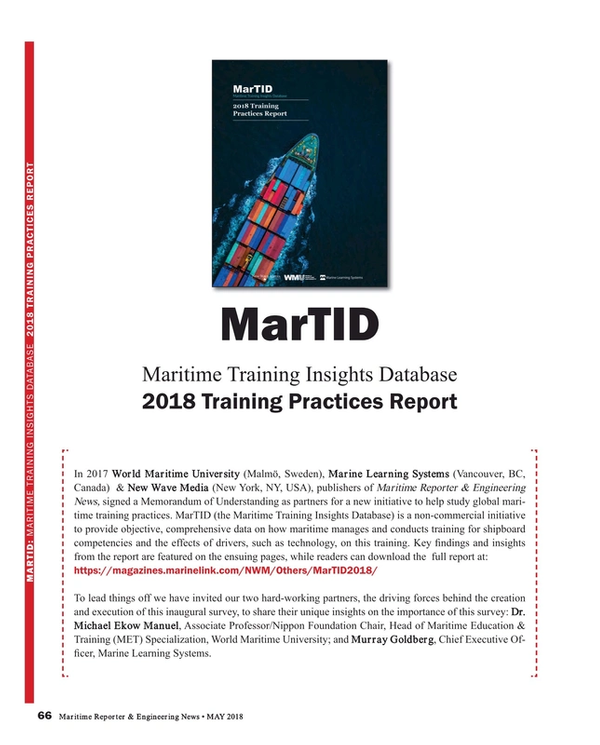 Read MarTID: A New Tool for Maritime Training Professionals in Pdf, Flash or Html5 edition of May 2018 Maritime Reporter
Other stories from May 2018 issue
Content