Skentelbery Drives Grand Bahama Shipyard
By Greg Trauthwein
We visited Grand Bahama Shipyard CEO Dave Skentelbery, who updates us on his shipyard and the cruise shipping industry.
How do you see the market today?
In terms of the cruise ship market, it is very healthy. As a business, we are growing the amount of work we do on each of those projects. We're doing more complex scopes of work. I think we're truly demonstrating our capability as a project management company to the cruise lines.
How do you evolve to more complex jobs?
It's investment in people and facilities. It is our ability to be able to project manage larger scopes of work where we have the capability to do, you know, a wide range of shipyard work. We have the capability to take on more complex scopes of work.
So how, specifically, are you investing?
We have a very clear investment plan where we are looking every year to improve the capability of the facility. As with any shipyard, that means improving workshops, improving cranes, and improving the ability to carry out the logistics that are required for cruise ship refit. In terms of the people, we're investing in both training and developing existing people, and recruiting new talent.
How long have you been in marine?
I've been in the marine business for 44 years. I went to sea at 16, I was a navigating officer apprentice, and served a short time as ship's master and then came ashore, working for a company that operated telecom cable layers. I was operations director, running its business in China and in Singapore. In 2000, I went for a career change and ended up in ship repair, first with Cammell Laird and then the A&P group in the UK. In 2010, I left the A&P Group when we sold our shareholding, and I went into business on my own, which took me to India where I helped develop a new yard. After developing the yard I ran it for two years. Two years ago I came to Grand Bahama Shipyard as CCO, and I've been acting CEO since June 2017.
Looking at the industry you joined at the age of 16 and the industry today, what are the true transformational changes?
I think the maritime industry at this moment suffers from a lack of training in the 1980s and 1990s. And today there's not enough people; there is a gap in the talent.
The equipment in the shipyards hasn't changed greatly. We're still taking ships out of the water, scraping their bottoms, blasting them, painting them, and putting them back in. It's not rocket science. But I have seen, and certainly in this cruise industry, more attention to becoming a project-led industry than a production-led industry. I think project management needs to become the core of your company.
Why is that?
In theory, you could subcontract out every bit of work, but somebody's got to be a project manager. So project management, in my opinion, should be the core competency – certainly of a shipyard like the Grand Bahamas where we're doing larger and more complex projects. Don't get me wrong, production is extremely important. But the project management, the planning, the risk management, the commercial management, has all got to be in place for the production management to do the right thing.
So what is your biggest challenge today and how are you addressing it?
I've got a really good team around me; experienced and capable of taking the company forward. The challenges are getting the cruise companies confident that we can do bigger, more complex scopes of work, safely, environmentally friendly and in a timely manner.
Is there a recent project that you think best exemplifies this?
Carnival Elation, from September 2017.
Nice, that was our January 2018 cover.
That was the biggest one we've ever done. And its success was the planning, as well as the cooperation between the client, ourselves and all the subcontractors. But it was the planning that made it a success.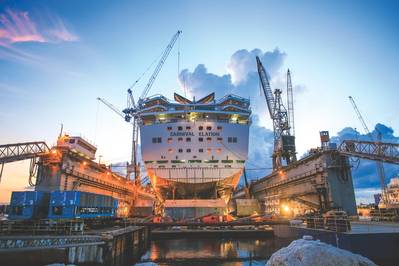 Carnival Elation at Grand Bahamas Shipyard (Photo: Grand Bahama Shipyard)


(As published in the May 2018 edition of Maritime Reporter & Engineering News)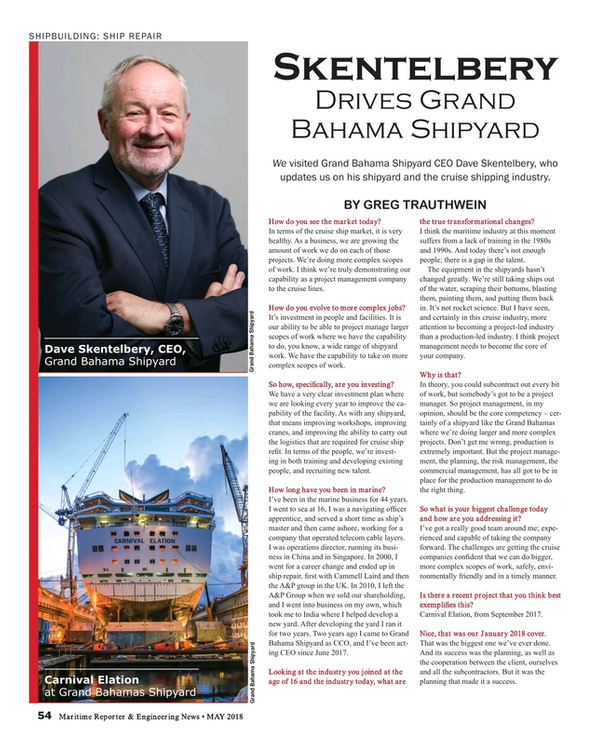 Read Skentelbery Drives Grand Bahama Shipyard in Pdf, Flash or Html5 edition of May 2018 Maritime Reporter
Other stories from May 2018 issue
Content