Sixteen Key Appointments Announced At Bath Iron
President John F. Sullivan Jr.
of Bath Iron Works recently announced 16 key appointments in a major managerial realignment to strengthen the shipyard's production and marketing capabilities.
"We are pleased that all the appointments came from within the company," he said. "They reflect the depth and strength of our organization." The following promotions and organizational changes were announced by the chief executive.
Royce A. Young Jr. was promoted to vice president-operations.
Previously vice presidentproduction, he is a native of Topsham and a 1958 graduate of the BIW Apprentice Program.
Henry M. Stupinski was promoted from program manager- FFG Program to director of marketing for new ship construction.
Prior to coming to BIW in 1977, Mr. Stupinski was general manager of Steel Span, Inc. of Avon, Mass., for three years.
Gordon H. Fait Jr., who previously served as manager of marketing- overhaul, was named director of marketing for overhaul and repair, where he assumes additional responsibilities. Mr. Fait has been employed at BIW for more than 20 years.
Steven G. Buttner was promoted to director of program management, having previously served as program manager of commercial new construction and Navy overhauls. He joined BIW in August of 1972 and has held a variety of engineering and planning posts.
Harland D. Hatch was promoted from production superinendent to production manager. In his new position, Mr. Hatch will be in charge of all production and shipbuilding functions in the yard.
He will be directly responsible for such areas as structural services, machinery, sheetmetal works, carpenters, new ship construction and ship conversions.
Abbott Fletcher was promoted to program manager of FFG new construction. He previously had served as assistant manager of the guided missile frigate program.
He came to BIW in 1953 from the Bendix Aviation Corp.
in New Jersey, where he worked as a founding engineer.
Frank C. Leavitt Jr., who had served as FFG administration manager, was named program manager for FFG support services.
A graduate of BIW's Apprentice Program, Mr. Leavitt has worked in the yard since 1955.
Robert J. Donovan was named program manager-commercial new ship construction. He previously had served as assistant program manager in that area. He started to work at BIW in 1972, after having served as a lieutenant in the U.S. Navy.
Jerry L. Steiner was named program manager of Navy overhaul and repair. He had previously served as overhaul planning manager. Mr. Steiner worked as a naval architect for Litton Industries in Los Angeles before coming to BIW in 1973.
Richard E. Outhuse was designated to be project manager of the Sun Dredge contract which BIW was awarded on September 25. A graduate of the BIW Apprentice Program, he has served as project manager or superintendent of several ship contracts in the past, including recent work on the USS Conyngham.
Karl H. Finnimore, previously a project engineer, was promoted to assistant program manager of the FFG Post Shakedown Availability Program. Mr. Finnimore came to BIW in 1977 from Bethlehem Steel in Beaumont, Texas, where he worked as a project engineer.
Dennis P. Sullivan was promoted to general foreman of sandblasting and paint services. Mr.
Sullivan joined BIW five years ago.
Maurice J. Bisson was named general foreman of structural services, being promoted from a shipfitting foreman. He has been employed at BIW since 1953.
Donald J. Perron was promoted to foreman of shipfitting on the ways and water, after having previously served as an assistant foreman in that area. He has been employed at BIW for 17 years.
Maurice L. Cloutier was elevated from assistant foreman to foreman of the paint department.
He has been employed at BIW for 23 years, starting to work on the yard after his discharge from the Marine Corps.
Cleon V. Pinkham was promoted to foreman of sandblasting and cleaning, previously having served as an assistant foreman in that area. He has been employed on the yard since 1958.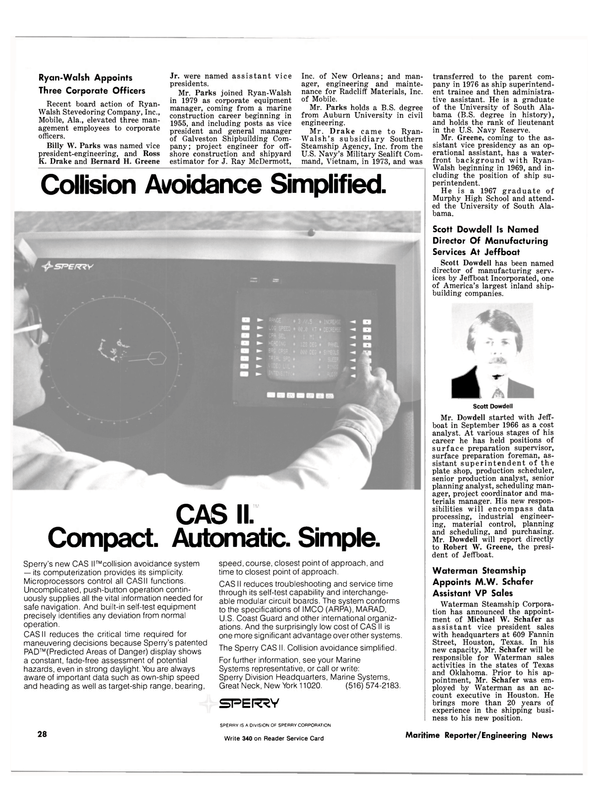 Read Sixteen Key Appointments Announced At Bath Iron in Pdf, Flash or Html5 edition of December 15, 1980 Maritime Reporter
Other stories from December 15, 1980 issue
Content