$200 Billion Needed Over Next Decade For World Fleet Replacement
Shipowners, shipbuilders and bankers were told at a recent meeting in London that as much as $200 billion will be needed over the next decade to replace the world's aging shipping fleets. Rex Harrington, of the Royal Bank of Scotland, forecast that capital markets would play a much greater role in funding fleet replacement programs.
Addressing over 300 delegates at a seminar organized by City University's International Center for Shipping, Trade and Finance, Mr. Harrington said: "In order to raise the substantial amount of money required, the industry will need to be able to assure serious long-term investors that the returns will be less volatile than in the past. There will need to be a much greater collaboration between owners and charterers to achieve the right climate for the amount of investment required." Shell International Marine managing director Juan Kelly warned the seminar that a "pressure cooker" effect was in the making, with the price of newbuildings outstripping the slower pace of increase in freight rates. This inhibited major ordering of new vessels and could lead to a tonnage shortage and, in turn, a dramatic rise in freight rates.
Mr. Kelly urged all concerned to exercise "universal self-constraint." He said that an appropriate response would involve "building new ships to replace operationally unsuitable or unserviceable ones, in numbers and of a size which main- tain a broad balance between supply and demand." Basil Papachristidis, chairman of Papachristidis (UK), said the major oil companies' role as investors will have a major influence on the health of the international tanker market in the years ahead.
He called on the oil companies to resist the temptation to implement newbuilding programs in response to anticipated tonnage shortages.
Greek shipowner Nikolas Tsakos told the seminar that world fleet renewal required building at the rate of some 20 million tons deadweight annually, costing up to $15 billion per year at present prices. He supported the view that capital markets would have to be harnessed to greater effect.
John Parker, chairman and chief executive of Belfast shipbuilders Harland & Wolff, forecast a doubling of demand for new vessels by the mid-1990s. He said: "Newbuilding prices will undoubtedly substantially increase and freight rates must inevitably reach levels which support new shipbuilding prices. A key question is 'When will the shippers be forced to recognize the inevitability that the revenue balance must be restored for the shipowner and the shipbuilder to satisfactory commercial levels."' Prof. Costas Th. Grammenos, director of the International Center for Shipping, Trade and Finance, told the seminar: "In order to attract the risk adverse institutional investor, risk management in shipping will have to play a more prominent role through the increased adoption of maritime joint ventures, shipping pools and currency and interest rate hedging." Professor Grammenos also underlined the importance to the maritime industries of the accelerating trend of transnationalization in production and services, "which has a major bearing on geographical shifts in production sites and changes in the flows of raw materials, production inputs and finished goods, as well as significant repercussions on national trade balances and economic policies."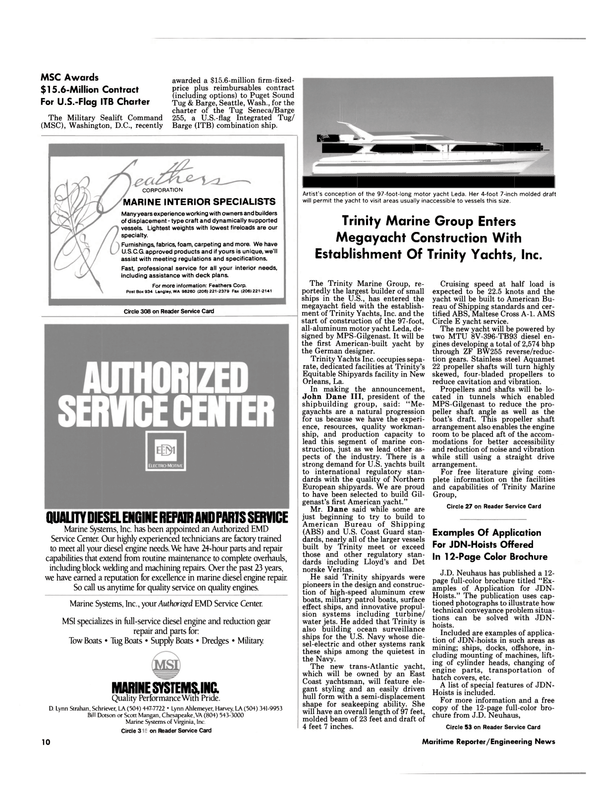 Read $200 Billion Needed Over Next Decade For World Fleet Replacement in Pdf, Flash or Html5 edition of July 1989 Maritime Reporter
Other stories from July 1989 issue
Content