OUTLOOK FOR THE $35-BILLION ANNUAL NAVY SHIPBUILDING MARKET
By Dr. James R. McCaul, President International Maritime Associates, Inc.
Technology Development To Be Given Added Emphasis Navy Shipbuilding Program Navy ship construction has been the major business driver for shipbuilders and ship systems manufacturers in this country over the past decade. This article deals specifically with Navy ship construction over the next 10 years. As documented in IMA's report, the Navy program is entering a period which will dramatically impact industry.
As shown in Exhibit 1, the U.S.
Navy over the past eight years has funded construction or conversion of 175 major ships—an average of 22 ships per year. As a result, the size of the deployable battle forces has grown from 479 ships in 1980 to 568 ships currently—with 574 ships projected for 1990. Exhibit 2 shows the trend and composition of the deployable battle force over the past decade.
This program has had a major impact on industry. Exhibit 3 shows the shipyards now involved in Navy ship construction or conversion. Exhibit 4 shows the trend in the number of shipyards building or repairing Navy ships over the period 1978- 1988.
Will Navy Maintain the Pace of Ship Construction?
The Assistant Secretary of Navy (S & L) last year stated: " .v. to keep the size of Navy we are talking about, you would need to build at a continuing pace of 18 to 20 ships a year. ..." It is useful to compare this projected rate of construction with past activity. The Navy ordered 236 ships in the 1960s—an average of almost 24 ships annually. During the 1970s (a period of declining defense spending), the Navy bought 147 ships—an average of 15 ships annually. In the 1980s, the Navy has thus far ordered 184 ships—an average of 20 ships annually. Will the pace of orders in th 1990s be similar to the 1960s/1980s—or the 1970s?
It is also useful to examine the trend in unit cost. Navy ships in the 1960s cost an average of $24 million each. This figure became $88 million in the 1970s—and $209 million in the 1980s.
No one questions that the ships now being ordered are technologically superior to those ordered in the 1960s. Rather, the question is whether the Navy can continue to maintain a building pace of 18 to 20 per year in light of (1) future funding constraints and (2) continued growth in ship prices.
During the 1980s there was minimal conflict among the proponents of submarine, surface combatant and aircraft carrier programs. There was enough money for growth in all three areas. Things have changed— and difficult trade-offs need to be made. There are not sufficient funds for all of the proposed programs.
More clashes over priorities and funds can be expected within the Navy. Submariners, for example, have already been staking their claim to funds by talking up a future role for submarines which infringes on the traditional turf of aircraft carriers.
Technology Development Will Be Given Added Emphasis The Navy is under pressure to study and introduce new concepts— not simply buy more of the same.
Technology-push developments are already getting greater attention in the Navy. Opportunities have opened in a variety of new areas— including fiber optics, composite armor, stealth concepts, ship survivability, etc.
It is important to remember that necessary changes will bring new opportunities and the fact still remains that the Navy plans call for an average of $35 billion annually in expenditures over the next 10 years, approximately a third of which will be spent for ship equipment.
iMA has just completed an indepth assessment of Navy ship construction over the next ten years.
The 220-page report, released in June 1989, evaluates future business drivers and assesses likely construction requirements in nine categories of Navy ships: • submarines • surface combatants • aircraft carriers • amphibious ships • combat logistics ships • sealift ships • mine warfare ships • ocean survey and surveillance ships • boats and service craft.
Only a few of the findings and conclusions from the report are highlighted in the above article.
More in-depth and extensive coverage is available in the full IMA report, which can be purchased for $950. To order, contact: IMA Associates, Inc., 835 New Hampshire Avenue, N.W., Washington, D.C.
20037; telephone: (202) 333-8501; and telefax: (202) 333-8504.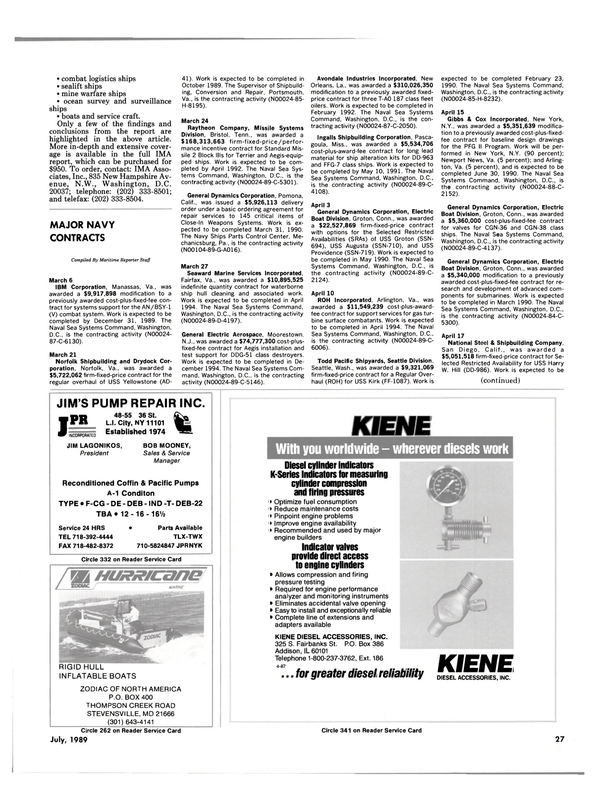 Read OUTLOOK FOR THE $35-BILLION ANNUAL NAVY SHIPBUILDING MARKET in Pdf, Flash or Html5 edition of July 1989 Maritime Reporter
Other stories from July 1989 issue
Content