Future Repair & Modernization Of U.S. Navy Ships
By James R. McCaul, President IMA Associates, Inc.
$5 Billion Annual Market For Shipyards Navy ship repair reaches deep into U.S. industry. Forty-five U.S. commercial shipyards, eight naval shipyards and two Navyowned ship repair facilities are involved in this business sector. However, these are only the tip of the iceberg. Thousands of manufacturers throughout the country supply replacement equipment and service shipboard systems. Despite future down sizing of the U.S. Navy fleet, repair and modernization of Navy ships will continue to provide a substantial business base for a diversified mix of companies.
Spending Trends For Navy Ship Repair Expenditures for maintenance and repair of Navy ships have risen dramatically over the past 18 years.
As indicated in Exhibit 1, expenditures have quadrupled between 1975 and 1992. Total expenditures peaked in 1985 at just under $4.8 billion.
However, in terms of maintenance expenditures per ship, 1992 is a peak year.
Additionally, the Navy has been spending between $100 million to $200 million annually on maintenance and modernization of Naval reserve ships. The Military Sealift Command (MSC) has recently been spending about $ 175 million to $200 million annually on ship maintenance and repair of nucleus fleet ships. The Maritime Administration budget for RRF ship maintenance has been climbing—reaching $172 million in 1991,$234 millionin 1992.
Funding trends are shown in Exhibit 2.
Mix Of Work Shown in Exhibit 3 is the number of overhauls and short term maintenance availabilities scheduled for active fleet ships over the past 10 years. The number of overhauls has fallen dramatically during this period— reflecting the change inmaintenance strategy which emphasizes frequent short duration availabilities in place of periodic lengthy overhauls.
For many years, Navy maintenance practice had been to schedule periodic, lengthy ship overhauls during which repairs and planned alterations were performed. A typical cycle allowed approximately 36 months between maj or overhauls— with the overhaul requiring 8 to 12 months to complete.
This traditional overhaul practice has been largely discontinued— principally to minimize ship out-of- service time. In it place has been the introduction of three maintenance program utilizing frequent short term availabilities: engineered operating cycle, progressive maintenance and phased maintenance. The basic pattern for each of these maintenance programs is illustrated in Exhibit 4.
As a result of these new maintenance programs, the percentage of scheduled maintenance being performed during short term availabilities has dramatically increased. Ten years ago, 78 percent of ship maintenance was being performed as part of regular overhauls—and only 22 percent during short term availabilities.
Currently, only 32 percent of scheduled maintenance is being performed during regular overhauls.
The remaining 68 percent is being scheduled during short term availabilities.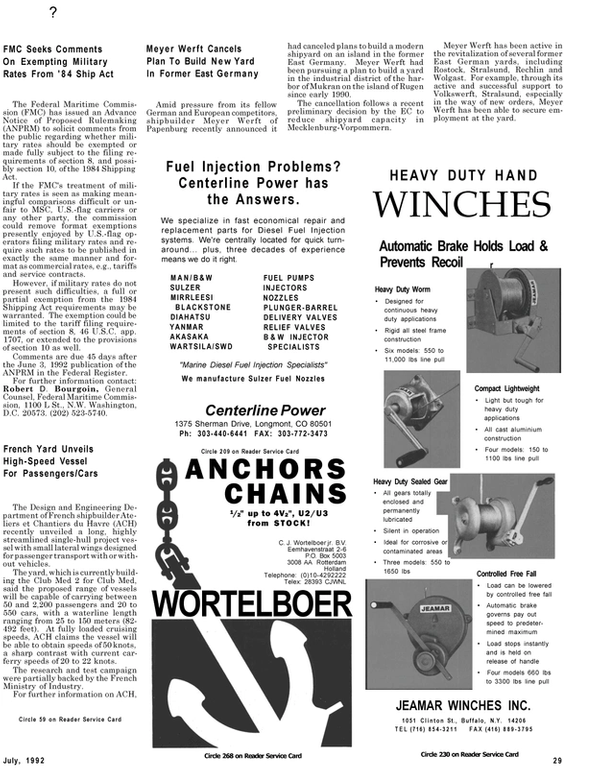 Read Future Repair & Modernization Of U.S. Navy Ships in Pdf, Flash or Html5 edition of July 1992 Maritime Reporter
Other stories from July 1992 issue
Content