U.S.-FLAG CRUISING: READY TO SAIL?
By Lawrence H. Evans Director— Domestic Affairs Transportation Institute*
New Gaming Law First Step In Opening Lucrative Market To U.S. Operators * Editor's Note: The Transportation Institute is a maritime trade association based in the Washington, D. C.
area which represents more than 140 U.S.-flag shipping companies engaged in the nation's foreign and domestic waterborne commerce.
Among the institute's members are American Hawaii Cruises, operating the only two deep-draft U.S.-flag cruise ships, and Delta Queen Steamboat company, which operates on the nation's inland rivers.
Interest among the institute's member companies in U.S.-flag cruise activities and gaming boat operations has increased as a result of recent developments. Those companies offer vessel management services, ownership and investment opportunities.
Recently President Bush signed into law P.L. 102-251, which included provisions to partially redress the inability of potential U.S.- flag cruise operators to offer onboard gaming as is done on foreign-flag ships serving U.S. ports.
While important, the significance of the legislation is apparently misunderstood by some observers of the cruise industry and distorted by others.
One widely read marine publication declared the law a failure because no U.S.-flag vessels had been built within six weeks of passage.
One must wonder how even meeting with designers could be scheduled in that timeframe, let alone signing a contract, ordering materials and building a vessel in only six weeks.
One problem does remain, however, which limits the short term impact of the legislation in opening up the day cruise market. When E L.
102-251 was passed it amended the Gambling Devices (Johnson) Act regarding the possession and transport of gaming equipment. It did not address the poorly crafted, ill defined Gambling Ship Act which prohibits U.S. citizen involvement in ships used "principally" for the purpose of gaming or offering "large scale commercial gambling." Unfortunately, those terms are not explained anywhere in federal law. In April 1991, the U.S. Department of Justice (DOJ) attempted for the first time in 40 years to explain the meaning of the law.
Essentially, DOJ said that a ship offering gaming was a gambling ship unless it called on a foreign port every voyage or stayed at sea for more than 24 hours and offered food service and cabins to all passengers.
DOJ then went on to say that their statement was only "guidance" not clarification and enforcement was up to the various federal attorneys whose replacement in the future could view the "guidance" differently.
In any event according to DOJ, a vessel could meet the guidance and still be in violation of, or fail to meet it and not violate the Gambling Ship Act. Since, with one exception, foreign- flag cruises-to-nowhere are apparently immune from DOJ action only prospective U.S.-flag operators continue to suffer the inequity.
Each state has the authority to control or prohibit cruises-to-nowhere on the intrastate itineraries.
EnactmentofEL. 102-251 didclarify beyond a doubt the ability of U.S.-flag vessel to conduct gaming operations on international or inter- state voyages which will be beneficial over the long term. The law, however, is not an end unto itself and was not thought of by supporters as being such. Just as casino gaming is now an important source of onboard revenue for foreign-flag operators, it soon will be an important key to success for U.S.-flag operators as well. It is an important first step and further indication of the sea change which is occurring with regard to U.S.-flag cruise prospects To fully appreciate the importance of this development, some background is in order.
The enormous growth in the U.S.- based, foreign-flag cruise industry is, to a degree, the result of the absence of U.S.-flag competition. Until recently, less than strenuous enforcement of U.S. law and regulation against foreign-flag vessels also facilitated their operation. Without U.S.-flag competition, foreign operators were awarded the U.S. market by default. One of the reason that market grew rapidly is because of a confluence of trend among the American public, the source of 85 percent of worldwide cruise passengers. Significant among those trend is the willingness to spend greater amounts of disposable income for leisure activities. In spending that income, however, Americans are taking more, but shorter vacations.
Two increasingly popular leisure activities among Americans are cruise vacations/excursions and gamingpursuits. Theparallel growth of those two activities has been a major factor in the development of the cruise sector. By not recognizing those trends and not removing competitive obstacles which prevented involvement by U.S.-flag operators, the industry became predominately a foreign-flag community [see table, page 8]. Where offshore shipboard gaming is involved, it has been an entirely foreign domain. That largely unregulated floating gaming industry is based in the United States and caters mostly to an American clientele, an irony not lost on the U.S.
Government.
According to Gaming & Wagering News, from 1982 to 1990 the gross annual wager of the United States grew at 10.82 percent yearly, jumping from $125.7 billion to $286.2 billion, a staggering 127.55 percent increase. In 1990, $1.8 billion of that amount was wagered in shipboard casinos and an undetermined amount via shipboard lotteries. Most of that money was wagered by Americans, but none on U.S.-flag ships.
Studies done for cruise lines indicate that passengers prefer shipboard casinos to be larger, better appointed and open longer hours.
Thus, shipboard gaming will eventually make an even greater contribution to the industry's bottom line.
The fact that onboard gaming is critical to the success of the cruise industry awakened the U.S. Government to the need to grant equal treatment to its own national fleet.
A parallel development which also heightened official awareness and illuminated the possibilities for U.S.
marine industries has been the rapid growth of state-authorized onboard gaming. The phenomenon began in Iowa with the first boat beginning operation in April 1991. Illinois followed shortly thereafter with the first operation beginning in Alton in September 1991. Since that time Mississippi, Louisiana, and Missouri have passed legislation which authorize waterborne gaming, although Missouri voters will have to approve it in a statewide referendum in November and Mississippi voters have a mixed record of approval in county referendums, there is interest in at least 15 other states.
The market has not yet matured nationwide, although there has already been some repositioning of equipment from one market (Iowa) to another (Mississippi). While the state level activities comprise an industry unto itself, there are also some factor which underscore the potential for U.S.-flag cruise activities.
To date, state level waterborne gaming has been focused exclusively on inland waterways. The predominant inland gaming vessel configuration has been the paddlewheeler.
That is primarily the result of a state requirement, usually related to the heritage factor in promoting gaming boats as hubs for tourism development. As the industry moves into tidewater states where gaming vessels will have to cruise on open saltwater, larger monohull and especially SWATH vessels will be utilized.
The latter design in particular portends well for U.S. interests.
As the recent launch of the Radisson Diamond indicates [see this month's cover story], there is much interest in this design for cruise purposes. The United States is particularly well situated to capitalize on interest in the SWATH approach. U.S. yard have built several SWATH vessels and an American firm designed the interiors on the Radisson ship. Currently, Ocean Systems, Navatek and SwathTech America (in conjunction with J.J.
McMullen, Studio Bertolotti and McDermott, Inc.) all have impressive gaming boat designs available.
SwathTech America through its marketing arm, WorldSwath, also has developed a revolutionary cruise ship design using a SWATH configuration for carrying up to 1,500 passengers.
That directly addresses another obstacle to U.S.-flag cruise activity which is the perceived inability of U.S. shipyards to deliver a quality cruise ship on time and at a reasonable price. Again, the current situation is dramatically different from just a short time ago. U.S. shipyard labor costs are substantially lower than those in most countries which build cruise ships. Also, the extensive U.S. Navy construction work, which sustained the American shipbuilding base, is rapidly disappearing.
Consequently, some major and mid-size American yards are looking at cruise ship projects and discussing teaming arrangements with prominent European designers and builders in order to transfer technology and management expertise. This latter development prompted the President of one of the world's leading cruise lines to state at an industry conference that: "Fortunately, there are some exceptions and some competitive U.S. yards. With the proper investment, effort and motivation, I am convinced that they could redevelop the ability to construct cruise vessels on an internationally competitive basis." Already, some of the reluctance to seriously consider an American shipbuilding or design alternative is being alleviated by the development of the domestic gaming boat sector.
Boats designed for some markets will have a capacity for up to 3,500 passengers and, in addition to the obvious casino, will include other onboard amenities such as dining rooms, lounges, shops, arcades, etc.
of significant size and complexity. It must be remembered that the gaming boat industry is less than two years old. Notably, U.S. shipyards, designers and marine architects have demonstrated an ability to provide large, soundly built vessels, with well-appointed public spaces of a quality level sufficient to meet the demands of the existing market.
Also, operators of inland gaming boats pay substantial licensing fees, state taxes, some as high as 20 percent of adjusted gross gaming revenue, per passenger taxes and a variety of local fees in addition to the usual state and federal corporate taxes. Those operators utilize large onboard crews and shoreside staff at prevailing U.S. wages and under state and federal labor regulations.
The structure of administrative rules, regulation and daily oversight are extensive and time consuming.
Yet that structure has not stopped the industry from prospering, especially in jurisdictions with less onerous requirements. In 1991, with less than a full year of operation, the gaming boats were the most popular new tourist attraction in the United States according to a travel industry survey. To date, more than 4.5 million people sailed on only eight gaming boats generating more than $165 million in adjusted gross gaming revenue. At least seven more boats are coming on line in Illinois.
In addition to those impressive figures can be added revenues from passage, dining/bars and gift shop/ arcades. The foreign-flag cruise industry may boast to potential investors in public offerings that it weathered the recession and Operation Desert Storm. During the same period, however, an All-American industry exploded and is still growing!
Some analysts are beginning to reexamine the outdated belief that U.S. operating costs are prohibitive and regulations too burdensome.
While certainly different from the cruise sector, the experience in the gaming boat market coupled with recent developments in federal law is a strong indicator that a U.S.-flag cruise operation can succeed.
A splendid array of coastwise and nearby foreign itineraries, enhanced shipboard convention deductibility, and shipboard gaming coupled with marketing an American product will all help to propel the development of a U.S.-flag cruise fleet. Not all the steps have been taken, but the progress made thus far and a growing determination on the part of U.S. marine industries to play a greater role will eventually launch a U.S.-flag industry which will not only survive but prosper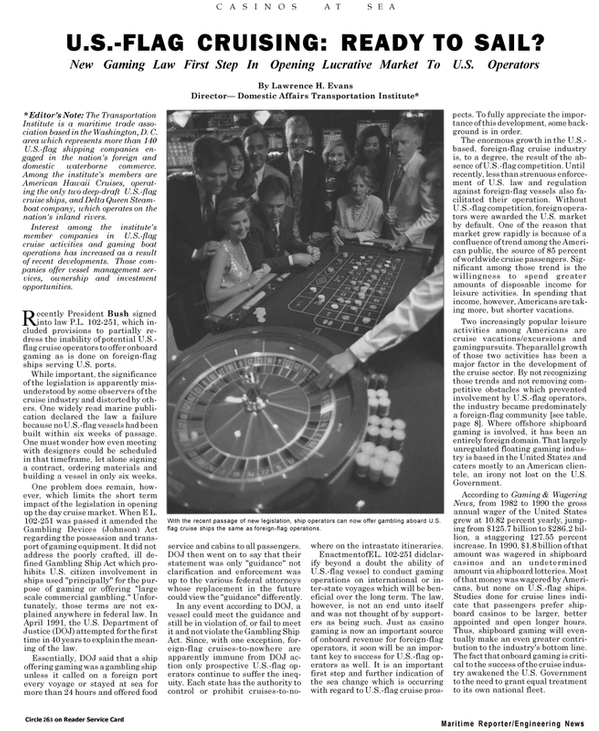 Read U.S.-FLAG CRUISING: READY TO SAIL? in Pdf, Flash or Html5 edition of July 1992 Maritime Reporter
Other stories from July 1992 issue
Content