NNS Fixes Circle 278 on Reader Service Card ISO 9001 CERTIFIED 8365 Highway 308 South • Lockport, Louisiana 70374 Telephone: (504) 532-2554 • Fax: (504) 532-7225 • www.bollingershipyards.com Paradise s Pod
When the 70,367-ton, 855 - f t . (260.6 m) Carnival Paradise arrived at Newport News Shipbuilding for emergency repair on its Azipod propulsion system, it marked a mile- stone in ship repair history as no U.S.- based yard had ever performed work on the advanced pod system. The vessel arrived for drydocking at the yard on July 25, where the NNS crew prepared it in time for its next scheduled sailing date on August 20. MR/EN had the opportunity to speak with Becky Stewart, NNS' director of ship repair, who provided an update of this premiere repair job.
For the past two-and-a-half weeks crews from various departments within Newport News Shipbuilding (NNS) have been grinding away around-theclock seven days a week in order to rejuvenate the Carnival Paradise's Azipod propulsion system. The yard's rigging and machine shop crews, along with ABB (the manufacturers of the Azipod system) technicians worked together to ensure the 2,052-passegership's place back at its Miami, Fla. port by August 20. Once repairs on the Azipods are complete, the vessel will steam south to its homeport — resuming its scheduled itineraries to the Eastern and Western Caribbean.
First established in Europe, Azipods have been touted as innovative because of their ability to pull the ship through water rather than pushing it, as well as eliminating the necessity of rudders, long shaft lines, conventional drive units and stern thrusters.
The emergency repair job, the first of its kind in the U.S. was granted to NNS by Carnival after the two-year-old Paradise's starboard side seal deteriorated — flooding the electric-powered Azipod system. Since an electric system cannot operate in these conditions, Carnival tapped the expertise of NNS to remedy the situation. In addition, to removing the 45-ton rotor unit on the starboard side Azipods, as well as checking wiring, shafts and bearings, the yard was also asked to replace the vessel's portside bearings and rotor unit.
The rotors on both sides were extracted, according to NNS' Becky Stewart, by hydraulic transporters, which are able to move the pods quicker and easier. Stewart added that the transporters also cut back on time — anywhere between 10 and 12 hours a day of manpower because of their strength. In addition, the yard has all the capabilities to handle this job in-house, without having to solicit help from outside sources. Stewart added that if the yard did not have this ability, it could possibly add on extra time on Paradise's drydocking from three to five days. Since the cruise industry works on a tight itinerary schedule this was a plus for Carnival in that NNS had all its equipment and materials directly on-site for a quick and accurate repair job.
Aside from this unscheduled emergency repair, NNS has a trio of Carnival vessels — Destiny, Fantasy and Triumph — scheduled for routine drydocking this fall. The first of the group to arrive will be Destiny on September 5, followed by Fantasy sometime in early September - October, and Triumph's premiere drydocking in October. The vessels will spend approximately seven to 10 days at the Virginia yard.
— Regina P. Ciardiello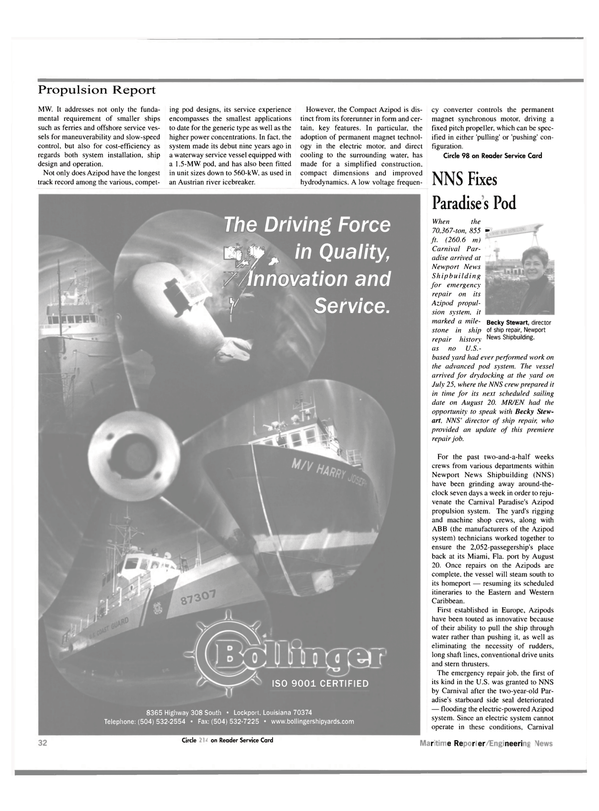 Read NNS Fixes Circle 278 on Reader Service Card ISO 9001 CERTIFIED 8365 Highway 308 South • Lockport, Louisiana 70374 Telephone: (504) 532-2554 • Fax: (504) 532-7225 • www.bollingershipyards.com Paradise s Pod in Pdf, Flash or Html5 edition of September 2000 Maritime Reporter
Other stories from September 2000 issue
Content