PTC Launches New CAD/CAM Shipbuilding Solution
PTC, a leader in the CAD/CAM marketplace with its software in use at more than 28,000 companies including companies such as Caterpillar, Lucent, Mitsubishi, Nike and Siemens, has launched a shipbuilding specific product.
Working with partners like Hyundai Heavy Industries, BAE SYSTEMS, DCN, B1W, and Ingalls, PTC has more than 20 years of experience in bringing innovative design solutions to the shipbuilding industry with products like CADDS 51, Medusa, and Dimension III. Drawing on its experience with proven solutions and existing customers, PTC recognized that its industry solutions provided by Pro/ENGINEER could and should be leveraged to develop the next generation shipbuilding solution — a product the company will debut at SMM in Hamburg, Germany This solution combines the power of Pro/ENGINEER for design with the Web-based collaboration and product design information sharing capabilities of Windchill. Shipbuilders will now be able to control critical design features like decks, frames, bulkheads, and compartments with parameters (i.e. dimensions).
Since the geometry has built in relationships, an engineer can readily propagate changes throughout the design. In addition, all downstream deliverables such as manufacturing drawings, machine tool paths, and structural analysis models can be automatically updated to reflect the change because of the inherent "associativity" of the system. Through the information sharing capabilities of Windchill, notification of changes can also be propagated throughout the design staff, eliminating rework and design errors. Associativity can be controlled globally. For instance, an engineer can move a deck and all pipes routed relative to that deck will update. Or locally, if a stiffener changes size, the associated cutouts can be updated. In the extreme case, if once the detail design is begun and a new hull surface is required, the hull could simply be replaced and the structural steel will update to the new shape.
There are many users of the design information created by the engineer outside of the design staff, and when the information changes, these people need to informed. With this system, a production engineer could use a Web browser to see the up-to-date mass properties of a manufacturing block as the design evolves and make a crane selection for lifting it, accordingly. Change is unavoidable. Being able to effectively manage it is what enables productivity gains across the shipyard.
At the core of the Pro/ENGINEER Shipbuilding Solution is functionality that addresses each of the following disciplines: Basic Hull Design: Structural Hull Design; Piping; HVAC: Electrical Systems; Machinery and Structural Outfitting; Routed Systems Support; and Accommodations.
These modules will allow the user to design in an assembly-centric design environment, creating fully parametric/ modifiable 3-D structural components.
Based on the engineer's design intent, change propagation can be managed throughout all of the design modules.
The routed systems are specification driven and incorporate intuitive routing within the context of the overall 3-D assembly. These modules, combined with the existing Pro/ENGINEER simulation (CAE) and manufacturing (CAM) environment tools, provide the user a single, complete design solution Improving Design Efficiency Behavioral Modeling, a patent-pending technology at the heart of Pro/ENGINEER, is a solution that captures product-intent as a natural part of the engineering process, and then automatically builds virtual prototypes that satisfy these multiple objectives. What's more, because the problem and solution have been captured electronically in the design, the system can automatically solve future real engineering problems.
PTC seeks to deliver improved productivity to the shipbuilding industry in the same way it revolutionized traditional computer aided design in other industries.
For example in aerospace, Pro/ENGINEER reduced airframe design by 50 percent: allowed for 97 percent first time fit, and 40 percent reduction in resources on the Global Hawk, Northrop Grumman's high altitude aerial vehicle. At Lockheed Martin, PTC's products helped deliver the Atlas rocket program product with a 25 percent reduction in engineering change orders (ECO's), saving $10 million.
These are the benefits of this new CAD architecture on complex engineering projects and PTC is bringing these types of cost advantages to the shipbuilding industry, which can employ tools like these to respond to new customer demands and market-driven forces with increased efficiency, even late in the product development cycle.
Collaboration Is Key Shipbuilding is becoming increasingly reliant upon collaboration as a means of achieving project goals.
Shipyards have shifted toward the extensive use of sub-contractors, increasing the importance of data management and necessitating the sharing of information across an extended enterprise. It is crucial to have a design tool integrated with an enterprise information management system, like PTC's Windchill, to facilitate this information sharing. This is the idea behind the Pro/ENGINEER Shipbuilding Solutions product.
With Windchill, the Web is used to link ship information across departments, divisions, strategic suppliers, ship owners, and anyone else who is desired to be included within the extended enterprise. All common product information is stored in shared databases.
Data visualization and digital mock-up are accomplished using common web browser technolo- gies.
Electronic data from suppliers, which originates from other CAD systems, can be easily retrieved and used for design purposes using PTC's Associative Topology Bus. Windchill also manages workflow, triggering actions to be taken.
In addition, Windchill links existing disparate databases together. For example, a drawing cataloging system could be tied to a bill of material system via simple Web pages. Information can now easily come together to allow engineers to effectively collaborate with other members of the design enterprise.
PTC is presenting to the shipbuilding industry what it dubs the next generation of shipbuilding design solutions with the introduction of the Pro/ENGINEER Shipbuilding Solutions package.
PTC recognizes the tremendous pressures of competition in the shipbuilding industry and by providing the unique, state-of-the-art collaborative design solution found in Pro/ENGINEER Shipbuilding Solutions, PTC is providing to the shipbuilding community the tools needed to successfully compete in new global markets.
Circle 97 on Reader Service Card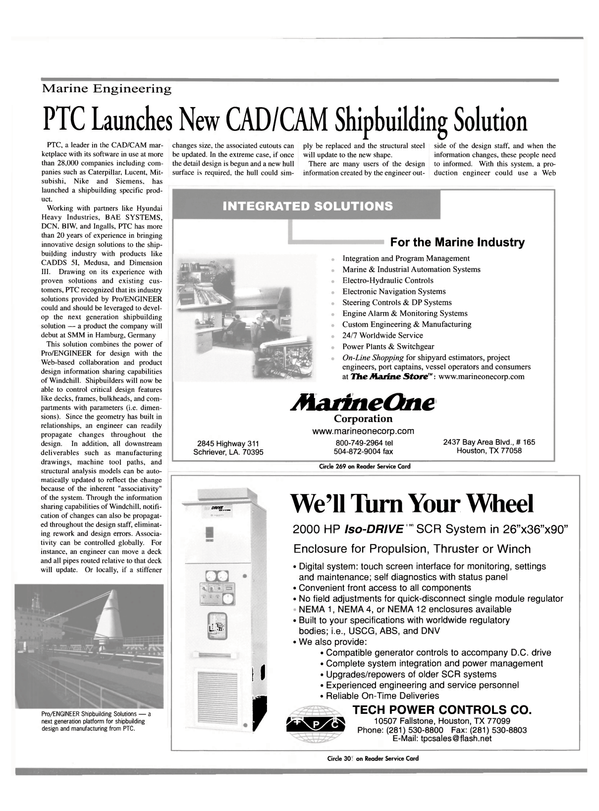 Read PTC Launches New CAD/CAM Shipbuilding Solution in Pdf, Flash or Html5 edition of September 2000 Maritime Reporter
Other stories from September 2000 issue
Content