Ship Noise Guide Updated
Controlling shipborne noise is always a concern for vessel designers, builders and outfitters. The two most widely distributed documents are IMO's Resolution A.468(XII), "Code on Noise Levels Onboard Ships," issued in 1981 and the USCG's Navigation and Vessel Inspection Circular (NVIC) 12-82, "Recommendations on Control of Excessive Noise," issued in 1982. These two documents generally discuss methods to reduce shipboard noise, recommend noise limits and describe how to measure noise on ships.
One year after the USCG issued the NVIC 12-82, a group of acoustical engineers from the consulting firm of Bolt Beranek and Newman (BBN), completed a report that is not as well known, which is still available from SNAME.
The Design Guide for Shipboard Airborne Noise Control, Technical & Research Bulletin Number 3-37 - developed by Raymond Fischer, Courtney Burroughs and Daniel Nelson was issued in January 1983. While the guide includes some of the general information that was provided by the USCG and IMO — the T&R 3-37 went one signifi- cant step further — it provided noise prediction methodology. The "SNAME Design Guide" provides a cookbook methodology to predict shipboard noise levels based on design information.
According to Burroughs, who is a professor of acoustics at Penn State University, "The purpose of the design guide was to pull together all the information into one location and put it into a simple format for engineers without a background in shipboard acoustics." While the methodology requires only general design information — information about the types and sizes of the major machinery on the ship is required as well. This would include diesel engines, gas turbines, large pumps, compressors and HVAC equipment. The SNAME Design Guide is used by ship designers to determine what types of noise control treatments are required for a vessel. In 1991 Fischer started his own consulting firm. Noise Control Engineering, Billerica, Mass., to provide this service to many of the smaller shipyards in the U.S. "The SNAME Design Guide has helped my firm provide credible design information to many clients" said Fischer.
"But, soon after the Design Guide was issued we starting improving the methodology and today, many aspects of the SNAME Design Guide have been modified to enhance prediction accuracy." Since its issue, the SNAME Design Guide was never updated until last year.
With its eye on the Deep Water Project, the USCG stepped in and funded a guide revision. Due to the highly specialized nature of this work, a limited competition solicitation was issued by the USCG to the original firm that prepared the design guide, BBN and Fischer's firm. Noise Control Engineering (NCE). An award was made to Noise Control Engineering in October 1998.
Fischer's approach was simply not to just update the existing methodology, but to add prediction capability. In order to maximize the technical content, the Coast Guard funded preparation of a supplement. Fischer stated that, "the new document will also be published by SNAME, but it must be used along with the original Design Guide." One of the new topics that have been addressed is the prediction of hydroacoustic noise sources such as propulsors, thrusters and wave impact noise. In addition to the supplement itself, the Coast Guard was also given an acoustic database that included source levels and noise control material performance data.
Circle 170 on Reader Service Card The supplement was co-authored by Leonid Boroditsky, a senior engineer at Fischer's firm. He contributed to sections devoted to noise in engine rooms and hydrodynamic noise sources. The wave impact algorithms were developed by Boroditsky during his 20- year career at the Research Institute of Shipbuilding Technology in Russia.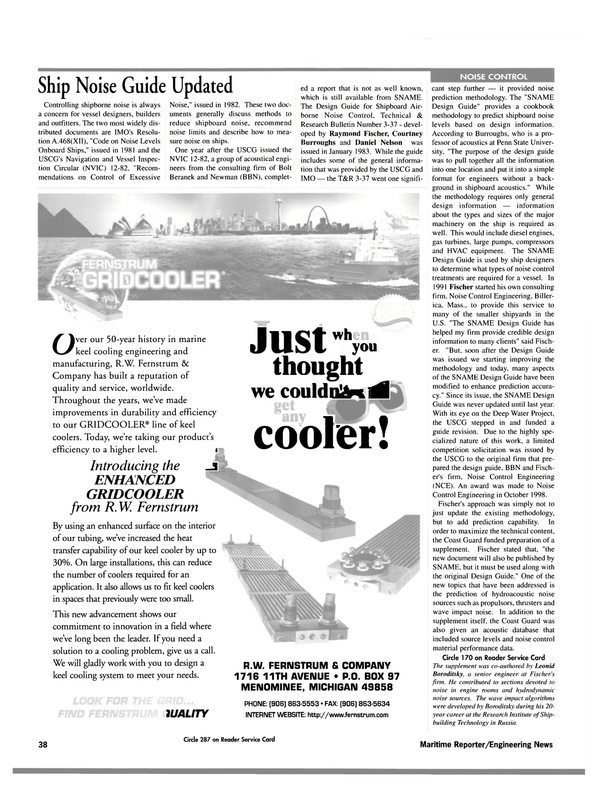 Read Ship Noise Guide Updated in Pdf, Flash or Html5 edition of September 2000 Maritime Reporter
Other stories from September 2000 issue
Content