Losing ontact... Not an Option
Maritime communications is an estimated $1 billion industry, encompassing ship operators, merchant fleets, governments and private yacht owners. There is arguably no more quickly evolving technical sector in the maritime market than the satellite communications niche. Safety, operational efficiency and quality of life onboard vessels of all type and size today more than ever depends on clear, reliable and cost effective satellite communication services and products. The following reports on recent advances from major service, product and system suppliers.
The year started with news that Connexion by Boeing, a business unit of The Boeing Company, would roll-out its high speed satellite broadband capability for the maritime industry. "We're actively engaged in discussions with several of the leading maritime operators, as well as potential distributors, and have received a tremendously positive response to our service and the speeds at which we can move data," said Connexion by Boeing President Scott Carson.
Connexion by Boeing has tested real-time data communication and a live, high-quality video teleconferencing from a private vessel in Seattle's Lake Union to its Seattle campus. The Connexion by Boeing maritime solution is designed to be faster (approximately ten times faster, the company claims) and cheaper than existing maritime communications systems available, though final details on system and service pricing were not available at press time.
In late 2003 Globalstar, L.P. was acquired by Thermo Capital Partners, a plan which seems aimed to expand the provider's potential.
The new company is planning to introduce an accelerated business expansion plan later in 2004. Globalstar's business assets were transferred to the new company, and will operate under the Globalstar brand name. "This is the beginning of a new, very encouraging chapter for Globalstar," said company president Tony Navarra. "Our working relationship with Thermo has already spanned many months, and as a result, we have been able to rapidly develop with them an outline for an aggressive business plan that will give Globalstar the opportunity to broaden our business and to introduce new products and services in the future." Cunard's new flagship, the 151,400 ton Queen Mary 2, has garnered its fair share of headlines and coverage in this, as well as many other business and consumer publications around the world. The world's largest cruise ship requires many innovative systems and products, and satcom is no exception. Maritime Telecommunications Network (MTN) satellite-based mobile communications platform is installed on Cunard's Queen Mary 2 to provide passengers and crew with a broad suite of Internet access and other communications services. MTN has outfitted QM2 with full redundancy services including dual antennas and its redundant FLYAWAY MPEG-2 Digital Video unit. Each antenna on the 151,400-ton vessel has 12 lines providing a total of 24 multiple voice, fax and data capabilities.
Xantic supplied its AMOS Maintenance and Purchasing application to the new flagship of the Cunard Line fleet, Queen Mary 2. The massive liner poses challenging requirements in terms of reliability, the maintenance of the labyrinth of onboard equipment is of vital importance. Cunard implemented Xantic's AMOS Maintenance and Purchasing application as it provided the most comprehensive solution for Queen Mary 2's operational environment.
AMOS M&P provides administration, monitoring and control of maintenance management, spare part inventory, fiscal expenditures, purchasing and logistics.
"The system was installed in the preconstruction stages of Queen Mary 2 and was key to our construction and procurement activities in preparation for delivery of the vessel. Xantic provided systems engineers to oversee and audit our database during construction, which proved to be invaluable in ensuring the system's availability," said Steve Storey.
Director Technical Operations of Cunard Line Limited. "AMOS M&P has proven to be an integral part of our operation, allowing the realisation of efficient and economic maintenance, repair and procurement activities. The AVMS module. Xantic's Hotel defects reporting system, has allowed us to effectively deal with any unexpected problems onboard. This facilitates efficient management of our maintenance schedules and coordination of resources. The minimum disruption to our guests that results is paramount to our operation." Stratos provides global BEST (Bandwidth Efficient Satellite Transport) service for the U.S. Navy, Military Sealift Command (MSC). With BEST, Stratos provides increased throughput over Inmarsat B HSD (Highspeed Data) leases by combining multiple channels for additional bandwidth.
BEST also offers a great deal of flexibility with respect to sharing and allocating the bandwidth available.
MSC uses Stratos' BEST technology for voice communications, email, Internet access, network access, and file transfers. Additionally, MSC is able to maintain 24x7 visibility and control over the Inmarsat lease connectivity for their fleets worldwide. From their central network operations center, MSC can allocate bandwidth to each ship, and adjust the bandwidth assignments on an as needed basis.
MSC has benefited from having this level of flexibility in managing their lease channel capacity. BEST allows MSC to respond instantly to mission critical requirements for increased voice and data connectivity.
Sea Tel was awarded "Best of Show" at the National Marine Electronics Association Convention for the WaveCall Model 3000 voice and data marine satellite antenna product. "We at Sea Tel are very proud to receive this award. It reaffirms our commitment to excellence in product development, performance and reliability," said David Quarders, Sales Manager — Americas.
The WaveCall Model 3000 is a compact voice and data system which uses an omnidirectional satellite antenna enclosed in a compact 10-in. dome. The size and construction of this unit allows great flexibility in configuring phone and computer systems for a vessel. It has been specifically designed by Sea Tel for the marine environment and has fea- tures not found on previous models including an optional remote display panel which shows signal strength, gateway.
roaming and current phone registration data. The unit offers low-cost voice communications combined with up to 56 kbps data speeds for email and Internet use.
INAVSAT, a consortium formed jointly by Inmarsat, EADS Space Services and Thales, has been chosen as one of only three final bidders for the concession to develop and run Galileo satellite navigation system, the European equivalent to GPS. The second competitive phase will now go ahead with the three consortia of companies on the shortlist.
Inmarsat, EADS Space and Thales are leaders in the field of mobile satellite communications, aerospace and navigation products and services Kongsberg Seatex AS signed an agreement with the Galileo Joint Undertaking (GJU), which originates from the European Space Agency (ESA) and the European Union (EU).
GJU is responsible for the development and implementation of Galileo — Europe's state-of-the-art global navigation system. Kongsberg will lead the Maritime Galileo (MARGAL) consortium, which will address future use and standardization of Galileo Maritime services based on early use of the European Geostationary Navigation Overlay Service (EGNOS). A major challenge faced by MARGAL is to provide identical basic solutions to both harbors/ports and inland waterways in order to provide a harmonized seamless service for both sectors. MARGAL is now moving into the design and demonstration phase with testing equipment placed along the Danube as well as in several U.K. ports.
The Maritime group is EMS Satcom's newest team. The group extends EMS satcom's industry leading satellite technology from air and land onto maritime platforms. The Fleet 55 Inmarsat satellite terminal is the group's flagship product, and provides 64kpbs ISDN and MPDS connectivity to maritime vessels of all sizes, from small fishing vessels and yachts to large tankers and cargo vessels.
SeaDigital formed a business alliance with Telenor Satellite Services to market an integrated calling card solution.
The SeaDigital ONE Card will provide seafarers with worldwide access to satellite and terrestrial telecommunications at very low cost. It is aimed specifically at the maritime market and allows seafarers to make calls while at sea or from port. The ONE Card is designed to provide an easy and affordable means to stay in touch with home and family.
regardless of time or distance. The SeaDigital ONE Card also provides increased flexibility for use on land and at sea in various combinations. The ONE Card works with terrestrial phone services, as well as all of Telenor's services via Inmarsat including A, B, M, Mini-M, GAN, and Fleet. Shore to ship calls can be made to all the mobile satellite providers such as Inmarsat, Iridium and Thuraya.
Telenor delivers high-speed data, voice and video communications and offers a portfolio of value-added services including prepaid calling solutions, easy internet access with e-mail and direct calling to Inmarsat terminals.
Telenor also offers The Source, a webbased account management system available exclusively to Telenor Service Providers. Telenor Satellite Services owns and operates a global network of land earth stations located at Eik (Norway) and Southbury (Connecticut) and Santa Paula (California) in the United States, and uses the satellite systems of Inmarsat, Intelsat, and Iridium for its services.
KVH Industries signed an extension of its 2002 agreement with Thrane & Thrane, making KVH the sole marine channel partner of Thrane & Thrane's Inmarsat Fleet marine satellite commu- nications products to the U.S. marine market. KVH will continue to distribute Thrane & Thrane's full line of existing Inmarsat maritime products through KVH's nationwide dealer network. In addition, KVH and the Denmark-based Thrane & Thrane will work together to introduce products geared toward supporting high-speed, two-way data communications in the U.S. maritime market.
The newest of these products is the Tracphone F33 global satellite communications system, which offers voice, fax, data, and high-speed Internet access around the world. Vessel owners and fleet managers rely on SeaWave STAR, a Web-based asset tracking tool. Vessels equipped with a SeaWave communications system can be tracked for free by authorized remote users using SeaWave STAR. Fleet owners and managers locate, monitor and communicate with all their vessels with a single heads-up display featuring common interface elements.
To generate tracking information the ship owner or administrator simply sets the desired time interval for reports.
Back on shore, authorized personnel with a user name and password can log into the mySeaWave Web portal and see the ship or multiple ships in a single display.
Tracking assets from the most remote areas in the world is a benefit to fleet management and safety. Benefits include: Track multiple vessels in the fleet; detailed voyage information; view log entries, comments, fuel and cargo reports; easily export data into Microsoft Excel for trending and analysis; intuitive interface requires little or no training.
Nera F77 continues the companies long experience with 64 kbps highspeed data and high quality products dedicated to the maritime market. Nera F77 will give ships online access to a whole range of applications like the internet and e-mail with the worlds first global maritime Mobile Packet Data System (MPDS). The Nera F77 package includes high-speed ISDN at a 64 kbps.
which permits fast data transfer. This gives a ship online access to a whole range of applications like the internet and e-mail.
The Eurocomm system delivers a 2 wire telephony interface in a ruggedized marine package. One is HWU-EFMUII- WS Iridium System features a ruggedized design designed for maritime use and environment. It is vibration resistant and features low power consumption (25 W in TX mode / 8 W in stand- by mode).
Marlink now offers a full range of Inmarsat services for customers requiring flexible and efficient land mobile communications over satellite. Marlink's new Regional Broadband Global Area Network (Regional BGAN) offers reliable.
24-hour a day Internet Protocol (IP) connectivity at data speeds of up to 144kbps via a secure channel. The service is available in Europe, Asia, and northern and central Africa.
Additionally, Marlink offers its Regional BGAN users' access to a dedicated leased line from Telenor Satellite Services. This exclusive communications feature affords Marlink customers access to a secure transmission path for their high-speed data communications.
Another major benefit of Regional BGAN is its cost effectiveness.
Connection to the Internet or a private network can be kept "always on" as customers pay only for the amount of data sent or received. Regional BGAN offers the additional benefit of using notebooksized, portable satellite IP modems.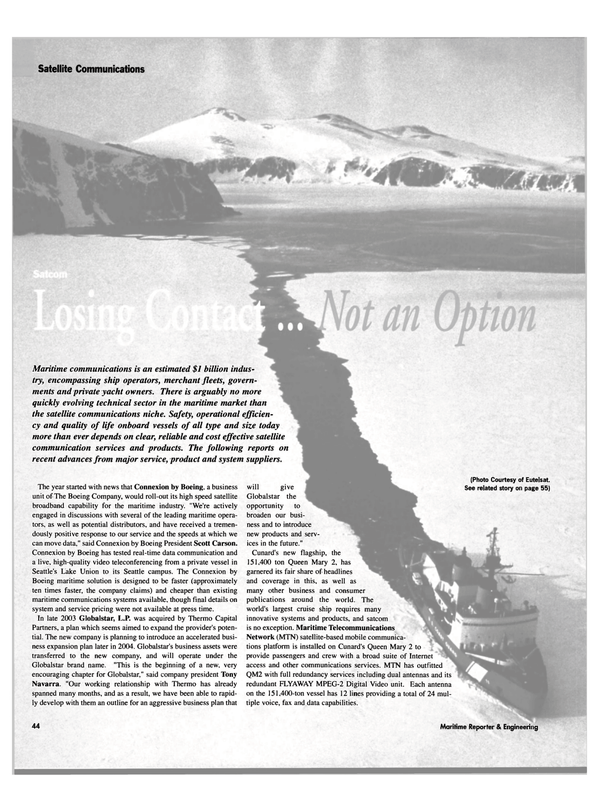 Read Losing ontact... Not an Option in Pdf, Flash or Html5 edition of March 2004 Maritime Reporter
Other stories from March 2004 issue
Content