Great Ships of 2004
Name Alaskan Frontier Type DH Oil Tanker Owner BP Oil Shipping Co.
Builder NASSCO National Steel and Shipbuilding Company delivered the Alaskan Frontier, the first of four Alaska-class double-hull oil tankers being built for BP Oil Shipping Company, USA. These state-of-the-art ships are designed to be and touted by the builder and owner as the most environmentally friendly oil tankers ever built. The Alaskan Frontier's double hull has been designed for a life of 35 years and the deck structure has a life of 50 years, a robust configuration that is designed to perform at peak efficiency for decades in the rigors of the Gulf of Alaska's waters.
The diesel-electric propulsion system, with redundant engines, shafts and screws, significantly increases reliability and reduces air emissions and maintenance downtime. The ships also use seawater instead of oil to cool and lubricate their propeller shafts, thus eliminating the possibility of accidental oil leaks.
The ship's cargo piping, normally installed on the deck, is inside the cargo tanks to reduce the risk of small spills.
"NASSCO was acquired by General Dynamics in 1998 and they have invested more than $120 million since then to improve our shipbuilding technologies and production efficiencies," said Richard Vortmann, NASSCO president.
"BP is the first customer to fully benefit from this investment, and we are extremely proud of the ship we are delivering." The double-hull ships measure 941 x 164 ft. (287 x 50 m) and have a capacity of 1.3 million barrels of oil. The design of the tankers in the Alaska Class allows maximum flexibility for oil deliveries from Alaska to West Coast ports, including BP refineries in Los Angeles. Calif., and Cherry Point.
Wash.
The four ships are scheduled to be delivered between now and the end of 2006. Once completed, the four BP ships will be operated by the Alaska Tanker Company of Beaverton. Ore., which operates BP-chartered tankers used in the Alaska North Slope trade.
In September 2000. NASSCO received a $630-million contract from BP for the construction of three state-ofthe- art. double-hull tankers for the carriage of crude oil from Valdez. Alaska, to BP's U.S. West Coast refineries. In September 2001, BP exercised an option for a fourth ship and has options remaining for two additional ships. The ships will incorporate the latest proven technology in ship navigation and cargo and machinery control systems.
The new, 185.000 DWT double-hull ships will have a length of 941 ft. (287 m) and a beam of 164 ft. (50 m).
Capacity w ill be approximately 1.3 million barrels at a design draft of 61.5 ft.
(18.5 m). Construction on the first ship has begun and the ships will be delivered in 2004. 2005 and 2006.
Name Azzura Type Bulk Carrier - Handysize Owner Cello Inc.
Builder IHI Marine United Inc.
IHI Marine United Inc. delivered the Azzura, a 52,000 DWT Handymax size bulk carrier, to Cello Inc. on June 30, 2004 at the Yokohama Shipyard. The Azzura is the first of a series of Future-52 type bulk carriers developed by IHIMU. The Azzura has the optimum dimensions to qualify for worldwide trade, and well-appointed fittings for easy operation and maintenance.
The cargo holds have been strengthened for heavy cargo with holds Nos. 2 and 4 empty, and wide weathertight folding type hatch covers are fitted. Four deck cranes of 30t capacity are provided, and the deck cranes can be fitted with electro-hydraulic grabs as an option. The hold access complies with AWWF requirements.
Since 1967, IHI/IHIMU has delivered over 380 standardized multi-purpose cargo vessels, the well known F-series. The Freedom series, the first of the F-series, was highly evaluated for its excellent operating economy and reliability, and such high performance and evaluation were followed by its successors, the Fortune, Freedom Mark II, Friendship and Future series. The Future-52 was developed as a successor to the superior features of the well established Future series. The Future series has been particularly well evaluated for its operating efficiency from domestic and overseas owners, and the Future-52 retains such good operating efficiency with the maximum deadweight in the Handymax size Future series.
Ship Name Petali Lady Ship Type Oil Tanker Ship Owner Byzantine Maritime Ship Builder STX Shipbuilding Petali Lady has been built to endure 25 years fatigue life time with north Atlantic trading route of 12% (Ice class 1C) with a double hull forming common side and center double bottom water ballast tanks, and it has a cargo space divided into 15 tanks (six port + six starboard, two slop tanks and one residue tank) by a centerline and eight transverse bulkheads.
The cargo space design is arranged for the carriage of crude oil fuel and clean petroleum products, with a specific gravity of 1,055 (tons/cu. m.) for filling up to 98% full and partial loading. Cargo is handled by two Framo pump 1500 cu. m./hr. each in pump room serving all the cargo tanks. Loading and discharging is accomplished through a deck manifold at midships P&S. All cargo tanks are fitted with stainless steel 316 heating coils that are arranged with three circuit for cargo oil tanks and two circuit for slop and residue tanks. Those thermal systems are capable to heat main cargo tank from 44°C to 66°C in 96 hours, slop and residue tank from 33°C to 66°C in 24 hours. For clean purposes, each tank is fitted with fixed nozzle appliances, capable of using either hot or cold sea/fresh water. Flow through method of ballast water exchange is adopted by using auto remote control valve system. AH water ballast tanks are provided with Cu-Ni heating coil for anti-freezing due to Ice class. Petali Lady is fitted with a STX-MAN B&W, type 6S60MC-C direct reversible, single acting two stroke exhaust gas turbocharged and air cooled cross head diesel engine, with an output of SMCR 12,240 kW at 105 rpm and driving a fixed pitch propeller for a fully loaded service speed of 15.26 knots at 90% MCR with 15% sea margin.
Ship Name Methane Kari-Elin Ship Type LNG Carrier Ship Owner British Gas Ship Builder Samsung Heavy Industries Methane Kari-Elin is an oceangoing, single-screw steam turbine driven and suitable for the transportation of LNG under approximately atmospheric pressure at a temperature of -163°C with an operational life of at least 25 years. It has a continuous upper deck with aft sunken deck, a raked stem with bulbous bow, and a transom stern. The hull form, overall propulsion and power generation systems are designed for maximum propulsive efficiency and fuel economy.
Accommodations including navigation bridge are located after part and under trunk deck passageways are provided port and starboard for access over the cargo tank length of the vessel.
The aft body of the ship with transom stern is used for the steering gear compartment, fresh water tank, distilled waters tanks, aft peak ballast tank and conventional rudder. The engine room is arranged to accommodate the main propulsion machinery, sufficient platform decks for the auxiliary machinery, engine control room, workshop and stores. The cargo area is of double decks, double hull, and cofferdams which are located at forward and after part of cargo area and between cargo tanks with double bottom construction, and consist of four center cargo tanks with the liquid domes and the gas pipe by GTT MARK-III cargo containment system for the carriage of LNG cargoes at cryogenic temperature (-163°C) and atmospheric pressure, and six pairs of wing and double bottom water ballast tanks. Fore peak tank for water ballast, forward water ballast tanks (P&S), fuel oil tank (C), fuel oil pump room, chain lockers, bow thruster room, emergency fire pump room and bosun store with rope stowage space are arranged at fore body. Two sets of jib cranes are provided after part of cargo manifold pipe lines near the midship for handling of manifold and fittings with spares in a deck store. One combined foldable signal and radar mast on the top of wheelhouse to meet air draught requirement and one fore mast are fitted.
Ship Name Muscat LNG Ship Type LNG Carrier Ship Owner Oasis LNG Carrier S.A.
Ship Builder Kawasaki Shipbuilding Corporation Kawasaki Shipbuilding Corporation has delivered Muscat LNG, an LNG carrier with a cargo capacity of 145.000 cu. m.
LNG, to Oasis LNG Carrier S.A. of Panama.
The carrier is the second of the 145,000m3 type developed by Kawasaki and designed with the 10,0(X)m3 larger capacity than the conventional 135,OOOm3 type carrier, although the ship dimensions are almost the same as the conventional type.
Therefore, the carrier can visit many LNG terminal ports worldwide. Four LNG cargo tanks of independent spherical MOSS type are provided. The heat insulation is the Kawasaki panel system, which has a high heat insulation effect. The boil-off gas rate is maintained at aboutO. 15% per day by the system. The cargo tanks are installed inside the compartment built with double side shells and double bottom to ensure safety so that the cargo tanks are not damaged directly The wheel-house is equipped with the advanced integrated navigation equipment, which has improved ship operation tasks. Windows around the wheel-house provide a panoramic view of 360 degrees, allowing one-man operation during ocean-going navigation. Cargo-handling operation is carried out at the cargo-handling room located in front of the accommodation quarters, where the Kawasaki IMCS (integrat Management Control System) is installed for monitoring and control of cargo handling operation as well as monitoring engine conditions. The IMCS is very easy to use since it was developed by incorporating experience and opinions from many operators.
Ship Name Everest Spirit Ship Type Oil Carrier Ship Owner Teekay Shipping Ship Builder DSME Everest Spirit is an aframax crude oil carrier constructed by DSME, Okpo shipyard for Teekay Shipping Ltd.
under the survey of Lloyd's Register of Shipping. The vessel was designed with three (3) longitudinal bulkheads including one (1) centerline bulkhead and transverse bulkheads to have six (6) pairs of cargo tanks, two slop tanks and wing and double bottom water ballast tanks for water ballast.
In careful consideration of the environmental protection, the heavy fuel oil storage tanks having a capacity of 3,000 cu. m. in engine room area were protected by the double hull structure.
The vessel has designed and built to meet the classification notations of : +100A1, "Double Hull Oil Tanker", ESP, ShipRight(SDA, FDA, CM), LI, +LMC, UMS, IGS, *IWS, SPM with the descriptive notes of "PtHt, ETA, COW". The vessel has a continuous upper deck without forecastle, a raked stem with bulbous bow, a transom stern, a semi-balanced rudder and a fixed pitch propeller directly driven by a B&W 7S60MC engine with MCR output of 19,460 PS at 105 rpm. Design fatigue life of 30 years was applied for the longitudinal stiffener's end corrections to transverse webs/bulkheads in cargo area according to the requirement of LR FDA level II and all main longitudinal material in cargo area were suitably scarfed fore and after to ensure that all loads are transferred effectively.
The vessel is capable of carrying and handing three (3) grade of crude oil simultaneously with double valve segregation and ballast piping system in the water ballast tank consist of glass reinforced plastic (GRP). The cargo and ballast system is controlled by the conventional central control console at separate cargo control room. Electric power generating plants is consist of three(3) diesel generators and one( 1) emergency generator. Exhaust gas emission from the main engine and aux.
engine complied with the IMO NOx limit.
Ship Name Almarona Ship Type LPG Ship Owner Qatar Shipping Ship Builder STX Shipbuilding STX Shipbuilding officially broke into the LPG Tanker market with the deliver of Almarona, the first of two Vessels to Qatar Shipping, in May. This new optimized LPG Tanker has three pairs of cargo tanks and each cargo tank has two deepwell cargo pumps with the capacity to discharge the cargo in approximately 13 hours based on 98 percent of tank volume and density of 0.97 ton/cu. m., and cargo pump (6 sets x 350 cu. m./hr.) and ballast pump (2 sets x 600 cu.
m./hr.) are fitted.
Almarona is designed primarily to carry the fully refrigerated liquefied gases into the tanks that are designed for a maximum density of 0.97 t/cu. m., a maximum vapor pressure of 0.25 bar and lowest temperature of -48oC.
The STX-MAN B&W 6S50MC (MK6) installed in engine room developing 12,900 bhp full power at 127 rpm is intended to burn fuel of 380 cSt at 50oC.
This engine, which is well matched with STX designed propeller, produced a sea trial speed of 17.04 knots, 0.5 knots higher than guaranteed.
Free and forced vibration analyses were performed using a 3-D finite element model to investigate all the possible vibrations of the vessel. And the global vibration measurement during the sea trial was done in accordance to the stepwise RPM sweeping method as recommended in ISO 4867.
The electrical supply derived from three sets of main diesel generator produces 900 kW at 900 rpm each and one oil-fired composite boiler supplies steam. The wheelhouse is equipped with a console incorporating navigation, control and alarm system. Cargo loading is monitored to ensure the ship's condition is within strength and stability criteria limits.
Accommodation is provided for a complement of 18 officers and six crew, plus six Suez crew in the aft superstructure with one set of gravity type lifeboat handled by fixed electric motor driven lifeboat winch.
Ship Name Bilbao Knutsen Ship Type LNG Ship Owner Knutsen OAS/Repsol YPF Ship Builder Izar Sestao Izar Sestao delivered Bilbao Knutsen to Knutsen OAS, which will operate it for Repsol YPF. The ship has an LNG capacity of 138,000 cu. m. and it is the second ship with these characteristics built by the yard, following the FOC Inigo Tapias. The burgeoning gas carrier segment is a key market for Izar, which has ample technical and industrial capacity in Sestao and Puerto Real. There are two more LNGs under construction at Izar's Puerto Real shipyard. Bilbao Knutsen was launched in September 2002. The ship underwent sea trials in November and the gas trials in December, which consisted on the cooling, loading and unloading of the tanks. For this purpose 5,000 cu. m. of LNG from Bahia de Bizcaia were used.
Ship Name Ship Type Ship Owner Ship Builder CSCLEUROPE Container Vessel SEASPAN Samsung Heavy Industries Ship Name Monte Cervantes Ship Type Container Ship Ship Owner Hamburg-Slid Ship Builder DSME Monte Cervantes is a containership constructed by DSME, Okpo Shipyard for Hamburg-Sud under the survey of Germanisher Lloyd.
The vessel has a fully welded upper deck with forecastle, aft sunken deck, a raked stem with bulbous bow, a transom stern with open water type stern frame, a semi-balanced rudder and a fixed pitch propeller directly driven by a slow speed diesel engine.
The vessel has been built generally as double skinned construction in way of cargo holds and arranged with 7 cargo holds. The number of containers with 14 tons is 4,000 TEU at the scantling draft. The Vessel has been designed and built to meet the Classification Notations of : 100 A5 E, "Container Ship", IW, +MC E, AUT, RCP 1085/25, "SOLAS II-2, Reg. 19.
The cargo holds are equipped with cell guides and support structure for the carriage of 40 ft ISO containers, 14 rows and 8 tiers of 9.5 ft. high containers in general. All the stringers and container platforms in cargo area has been designed based on a container height of 9.5 ft. The cell guide structure and strength have been designed to permit flexible stowage of containers of different height (8 ft 6 inch and 9 ft 6 inch) in every composition.
Loading of 20 ft containers up to 7 tiers above inner bottom has been considered in the 40 ft cell guide.
A total 1,365 electric receptacles for refrigerated containers (665 in holds and 700 on deck) has been arranged. One (1) access gastight steel door has been fitted on longitudinal bulkhead at transverse box girder in way of each reefer bay. Total stack load on each hatch cover is 120 metric tons for 40ft and 100 metric tons for 20ft containers. For block stowage, total stack load on each hatch cover shall be 68.5 metric tons.
Electric power generating plant is consist of four(4) diesel generators and one( 1) emergency generator.
Ship Name Minerva Lisa Ship Type Crude Oil Tanker Ship Owner Minerva Marine Ship Builder Samsung Heavy Industries Minerva Lisa is the fourth vessel of Minerva 105,000 DWT Crude Oil Tanker series. The vessel is built according to ABS Ice Rule and granted the qualification of Ice 1A for Hull and Ice 1C for Propulsion by ABS.
Ship Name High Endeavour Ship Type Oil/Chem Tanker Ship Owner D'Amico Societa Di Navigazione SPA Ship Builder STX Shipbuilding STX Shipbuilding developed an advanced 47K tanker with nine cargo segregations for the purpose of handling diverse cargoes, and delivered High Endeavour to the d'Amico Soc. Di Navigazione S.P.A in Italy in September.
The design is single-decked with forecastle, and features a double hull. This contains a cargo space divided into seven pairs of tanks, and the center and transverse bulkheads on stools are corrugated, and no structural obstacles inside of cargo tank. With side stiffening included in the double hull space, and deck beams arranged externally on top of the cambered deck, the tanks present a flush internal surface.
Two slop tanks, residual tank and a heavy fuel bunker are positioned between the cargo tanks and the engine room, and the side and bottom in the double hull are given over to water ballast.
High Endeavour is designed primarily to carry crude oil, oil products and IMO Type II & III chemicals. More than 330 commodities, including sodium hydroxide solution, can be loaded in cargo tanks which are coated with 300 microns of phenolic epoxy.
The piping system is designed for nine cargo segregations, with ten cargo holds connected with a Frank Mohn (Framo) hydraulic motor driven, submerged pump rated at 600 cu. m./hr. Four cargo tanks and two slop tanks are provided and served by six 300 cu. m./hr. pumps.
Water ballast capacity is 24,050 cu. m., carried in tanks coated with a light colored tar free epoxy, and handled by two Frank Mohn 750 cu. m./hr. hydraulic pumps.
And each ballast tank has overflow line for Ballast Exchange which is operated by auto remote control valve system.
An STX MAN B&W 6S50MC-C Mk 7 main engine is fitted, developing 12,900 bhp full power at 127 rpm and running at an NCR (85% MCR) of 10,960 bhp x 120.3 rpm to drive STX designed FP propeller for a service speed of 15 knots, allowing a 15% sea margin.
A Kawasaki 950 kW bow thruster and Becker rudder are fitted and are designed to give the vessel excellent maneuverability with MANOVR notation.
Three sets of MAN B&W Holeby diesel-driven alternators powered by STX built diesel engines supply the electrical power. The steam is generated by an 18,000 kg/hr. Kangrim oil-fired boiler, and a 1,200 kg/hr. composite boiler. Control can be effected from either engine control room or wheelhouse using a STX/HKM bridge control system. Accommodation is provided in the after deckhouse for 11 officers and 14 crew, with six additional berths for a Suez Canal riding crew, served with two sets of gravity type lifeboat handled by fixed electric motor driven lifeboat winch.
Ship Name Ship Type Ship Owners Shipbuilder Polar Viking LPG Hydroship AS Hyundai Heavy Industries Co., Ltd.
Polar Viking is a 60,000 cu. m. LPG carrier, a fully-refrigerated type with a cargo space divided into four individual holds to suit four prismatic cargo tanks was delivered in October 2004 to Hydroship AS, Norway by Hyundai shipyard. The 60,000cu. m. LPG carrier vessel has an overall length of 672 ft.
(204.9 m), width of 105.6 ft. (32.2 m) and depth of 68.2 ft. (20.8 m) with a design draft of 35.4 ft. (10.8 m). The vessels is powered by a B&W 5S60MCC main engine with a NCR output of 11,900 bhp at 94.6 rpm, enabling it to sail at a service speed of 16 knots with 15% sea margin. Electrical supply is derived from three diesel driven alternators of 1,200 kW, plus an emergency unit of 130 kW. Polar Viking has a cargo space divided into four cargo holds. And each hold accommodates a free-standing and saddle supported prismatic cargo tank, designed for a maximum vapor pressure of 0.25 bars g. and a lowest temperature -48. Cargo tanks are insulated with 120mm thick rigid polyurethane foam clad with 0.5 mm aluzink steel sheeting.
The LPG carrier is able to carry two cargoes simultaneously, one of which may be refrigerated. Cargoes which can be carried include anhydrous ammonia, butadiene, butane (ISO and normal), butylene, 1,3-propane, commercial propane (max 3.0 mole % ethane in the liquid phase) and propylene.
A reliquefaction plant of the carrier can handle two compatible cargo grades simultaneously and major equipments such as four oil free, two stage cargo compressors and motors are located on main deck level in sheltered spaces.
One cargo heater (combined with condenser) and inert gas generator is provided.
Three 1.200 kW diesel generators, one auxiliary boiler (3,0(X) kg/hr) and one exhaust gas economized 1,500 kg/hr) are provided.
Polar Viking, is capable of carrying other products, provided that their toxicity, aggressiveness, pressure, temperature and specific gravity are within the limits of the design.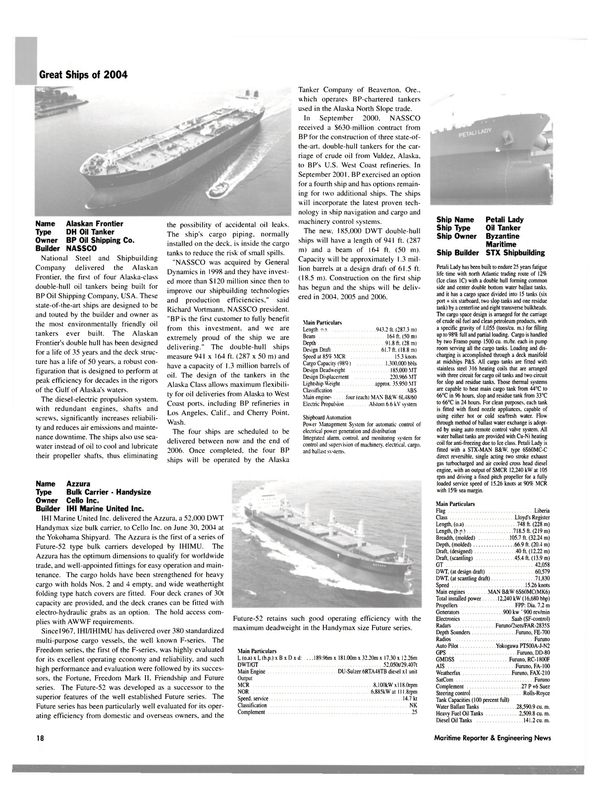 Read Great Ships of 2004 in Pdf, Flash or Html5 edition of December 2004 Maritime Reporter
Other stories from December 2004 issue
Content