Golar Viking, A 140,000 cu. m. Membrane LNG Carrier
Hyundai Heavy Industries Co.. Ltd. (HHI) will deliver a 140,000 cu. m. LNG carrier to Golar LNG of Norway in December 2004. Golar Viking is 918 x 141 x 85 ft. (280 x 43 x 36 m) with a designed draft of 37.4 ft. (11.4 m). Equipped with four Mark membrane cargo tanks, the ship is of flush decker without forecastle and has a lowered mooring deck, transom stern and single screw propeller driven by a steam turbine. Golar Viking has a flat deck configuration. It gives easy access from the Central Control Room (C.C.R) situated just below wheelhouse, to the compressor room and to the trunk deck for easy survey, inspection & maintenance of the cargo piping and the electric cable. A shore manifold is provided on each side of the upper deck between Nos. 2 and 3 tanks. A compressor room is arranged on the starboard side on the upper deck above four tanks. Tank insulation is of GTT Mark system which has a 270 mm thick to satisfy the low boil off rate of 0.15 °/c by volume of the total cargo per day.
Cargo loading of the ship is performed by shore pump facilities after cargo tank is cooled down reach to the proper temperature previously. Generated vapor during loading is returned to shore by using high duty compressors on board. During loaded voyage, generated boil off gas is heated up and delivered to the main boilers as fuel gas by low duty compressors and boil off gas heater.
The cargo is discharged by electric motor driven submerged cargo pumps provided on the bottom of each cargo tank having capacity of 1,700 cu. m./hr. and supplement gas is received from shore or onboard LNG vaporizer in emergency during discharging operation to maintain cargo tank pressure.
The ship is provided with a emergency cargo pump for emergency cargo discharge, in case of both two cargo pumps in a tank fail at a same time. During ballasted voyage, small amount of cargo heel will be left in the cargo tank for maintaining a cold condition with cool down of cargo tank.
Besides, a Central Control Room (C.C.R) which is arranged in the accommodation deck allows the centralized control of loading, discharging, ballasting, deballasting and continuous monitoring and control of the cargo handling system. Main propulsion machinery of the ship consists of a marine steam turbine driving a single propeller through double reduction gear and two(2) sets of main boilers of the gas/oil dual burning type. The engine room machinery is remotely controlled from the wheelhouse and C.C.R. Unmanned operation of the main engine is available during sea going.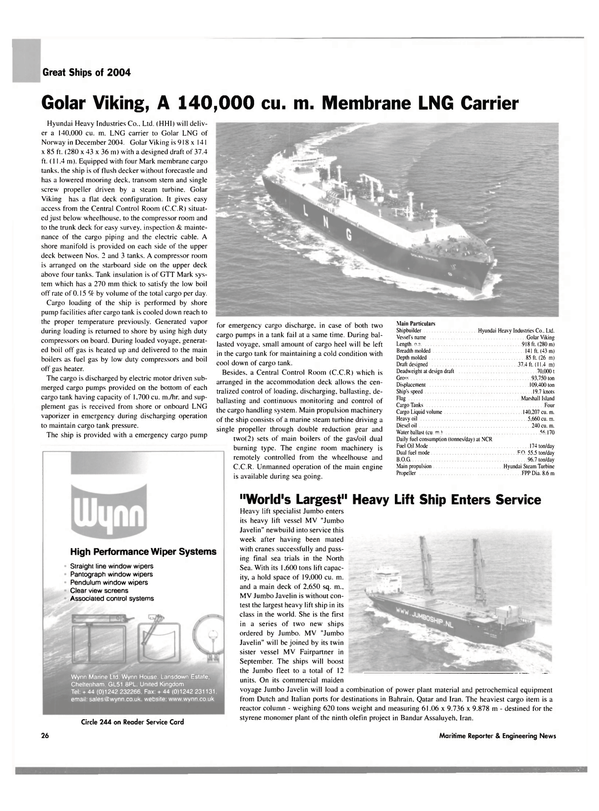 Read Golar Viking, A 140,000 cu. m. Membrane LNG Carrier in Pdf, Flash or Html5 edition of December 2004 Maritime Reporter
Other stories from December 2004 issue
Content