Spanish Maritime Industry Prospects
By Joseph R. Fonseca
With a coastline of 4,964 km and a vast majority of the country's population living along the coast, Spain's economy has a direct bearing on its ocean related activities. The importance of sun and sand tourism, of the energy sector – for which oil and gas are supplied by sea – and the ever-increasing role of sea trade are the key economic factors.
Being largely surrounded by water, Spain is heavily dependent on maritime transport and international trade as was evidenced in the middle ages when the closure of Constantinople by the Ottoman Turks led to voyages of discovery for new sea routes for trade.
Today, more than four-fifths of the imports and not less than two-thirds of exports pass through its ports. Spain is regarded as a large merchant marine, as well as one of the world's most important fishing fleets.
General traffic is very heavily concentrated in relatively few of Spain's many ports, most notably in Algeciras (province of Cádiz), Barcelona, Bilbao, Las Palmas, Santa Cruz de Tenerife, Tarragona, and Valencia. Most of the fishing fleet is concentrated mainly in Galicia and the Basque Country.
Currently, the network of primary ports in Spain is state-run, managed by a public body which coordinates and regulates the system having considerable operational autonomy.
No one port stands out above the others as Spain's 'great' port. Only in terms of Free Zone storage can any 'one' be considered to have a major share of business.
Ports are, more than ever before, seen as operational centers capable of generating technological exchange and fostering new industrial localization and extensive development potential.

Shipping & Fishing
Shipping in Spain is hassle free as the country is well-connected by road, rail and air besides the vast waterways. Spain has the advantage of its geographically strategic location that links it very convenient to other countries of the world especially those in Africa and Europe. A highly vibrant ferry service is functional connecting the various ports of the country as well as ports of other countries. Because of its very dynamic coastline with a number of highly proactive ports, shipping in Spain has now made relocation easy.
More than 145 Spanish shipping companies operate from Spain mostly from Canary Island, Madrid, Barcelona, Vigo, Bilbao, Cadiz, Valencia, Corunna Gijon and Algeciras. (The Compañía Transatlántica Española is known as one of the first giant shipping companies that was established 1849.)
The Spanish fishing fleet is made up of almost 14,400 vessels. It is one of the biggest in the European Union in terms of tonnage. Half the fleet, both in terms of numbers of vessels and tonnage is registered in Galician ports. Around 1,100 vessels are registered in the Canary Islands.
Spain's long, narrow continental shelf is rich in fisheries resources. Spain's jurisdictional waters viz. the country's Economic Exclusion Zone, are its National Fishing Grounds. The bulk of the Spanish fleet fishes in four fishing zones: the Cantabrian Sea-Northwest, Gulf of Cadiz, the Canary Islands and the Mediterranean.
Despite the rich fishing waters - according to the FAO, Spain is Europe's second biggest consumer of fish products (40.5 kilos per person / year, behind Portugal's 59.8 kilos) and the world's third biggest importer behind Japan and the United States. It has become clear over the years that production in national fishing grounds was insufficient and fisheries have therefore been developed beyond Spain's territorial waters and in more distant parts.

Ship Building
Even as commercial shipbuilding is now firmly dominated by Asia, the Spanish shipbuilding sector is a leader in design and construction (see the August 2015 cover story of Maritime Reporter & Engineering News on Astican & Astander shipyards). The industry has invested €260 million in R&D activities, which represents 10% of its total annual revenue. There are 24 new construction facilities and 11 repair and transformation facilities in Spain, which directly employ nearly 8,000 people. Indirect jobs generated by the sector employ in excess of 38,000 persons, meaning, there are five people working for every one person employed by a shipyard. The repair shipyards have attracted new cruise, passenger, ferry and gas shipping clients, while maintaining their traditional specialization in large fishing, oceanographic, research and military vessels. In 2010, sales in this subsector stood at €250 million.
Earlier in 2003, Spanish shipbuilding held the fourth position in the EU in terms of new builds completed. Spanish shipyards specialize in large fishing and factory vessels and research vessels, delivering advanced and specialized ships with a high value added components, as well as some of the most accomplished ship repair and conversion facilities in the world.

Potential for Development
The mild climate during the whole year and the extensive sandy beaches of the Mediterranean and Atlantic Ocean, as well as of its two archipelagoes (the Balearic Islands and the Canary Islands respectively), have been attracting tourists from Northern Europe for decades. Plans are underway to invest heavily in this sector in order to take advantage of the tourist boom which saw 60.6 million tourists from overseas in 2013.
As a result of its large coast line another sector that is fast catching up is wind energy production. Spain is the world's second largest producer of wind power (11,600 MW), 5.5 % of the Spanish electricity consumption in 2004 came from wind energy. For example, in Tarifa (Andalusia) over 5,000 wind turbines have been installed within 10 km of the coastline. The Spanish government has recently adopted measures to speed up and promote the installation of offshore wind farms, to harness the potential Spanish coast offers.
Yachting marinas too have proliferated along the Spanish coast. The growing demand for berths and moorings has led to a major increase in the number of marinas along several parts of the coastline. Spain's marinas boast a high occupancy rate (more than 80%) and they make a significant contribution to the economies of coastal communities, providing 3,124 direct jobs and 23,409 indirect ones.


Spain Facts


Population: 48,146,134
(July 2015 est./29th in the World)
Coastline: 4,964 km
Waterways: 1,000 km

Maritime Claims
Territorial sea: 12 nm
Contiguous zone: 24 nm
Exclusive economic zone: 200 nm (applies only to the Atlantic Ocean)

Area:
Total: 505,370 sq km
Land: 498,980 sq km
Water: 6,390 sq km
Note: there are two autonomous cities - Ceuta and Melilla - and 17 autonomous communities including Balearic Islands and Canary Islands, and three small Spanish possessions off the coast of Morocco - Islas Chafarinas, Penon de Alhucemas, and Penon de Velez de la Gomera

Merchant Marine
Total: 132
By type: bulk carrier 7, cargo 19, chemical tanker 8, container 5, liquefied gas 12, passenger/cargo 43, petroleum tanker 18, refrigerated cargo 4, roll on/roll off 9, vehicle carrier 7

Foreign-owned: 27 (Canada 4, Germany 4, Italy 1, Mexico 1, Norway 10, Russia 6, Switzerland 1)

Registered in other countries: 103 (Angola 1, Argentina 3, Bahamas 6, Brazil 12, Cabo Verde 1, Cyprus 6, Ireland 1, Malta 8, Morocco 9, Panama 30, Peru 1, Portugal 18, Uruguay 5, Venezuela 1, unknown 1) (2010)

Ports & Terminals
Major seaport(s): Algeciras, Barcelona, Bilbao, Cartagena, Huelva, Tarragona, Valencia (all in Spain); Las Palmas, Santa Cruz de Tenerife (in the Canary Islands)

Container port(s) (TEUs): Algeciras (3,608,301), Barcelona (2,033,747), Valencia (4,327,371); Las Palmas (1,287,389)

LNG terminal(s) (import): Barcelona, Bilbao, Cartagena, Huelva, Mugardos, Sagunto

Source: The World Factbook
2013-14. Washington, DC:
Central Intelligence Agency, 2013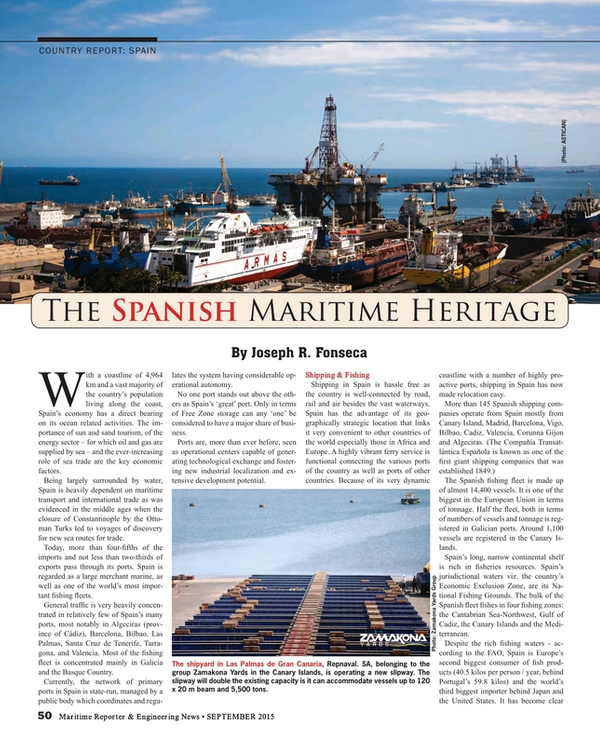 Read Spanish Maritime Industry Prospects in Pdf, Flash or Html5 edition of September 2015 Maritime Reporter
Other stories from September 2015 issue
Content