FPSO Guide to Life Extension
By William Stoichevski
There are new-builds, and there are conversions. In lean times, there's also "life-extension" for FPSOs increasingly seen as the best hope of developing oilfields too pricy as platform projects.
Life extension is about making first-time money, cutting costs or continuing to earn when a field or floater enters a new stage. It's also about safety. Life extension involves major, multiyear considerations for operators and FPSO contractors, and for all approaches to longer life, history is the great decider.
"Inspect, never expect," urges Ketil Hox, Teekay Petrojarl's FPSO start-up manager for the North Sea. The chemical engineer with two decades of Kvaerner (Aker Solutions) process experience oversees production units as they become producers. A major area of concern for Hox is also "safe late-life", which in the language of the NORSOK, the Norwegian contract standard, means managing "barriers" to disaster. Good safety strictures, good equipment, good people and a sea-safe vessel are all "barriers".

Backing up Hox is Shell's Penguins FPSO lead, Ali Anaturk, a respected industry voice. He explains how safety barriers might be compromised from the get-go if start-up happens to involve a late-life FPSO or someone's field life-extension project. Three decades of experience on four continents — at Bonga, the new-build FPSO Bonga South West, Penguins and others — has taught him that danger lurks in all life-extension propositions. He's put that experience into print, writing voluminously about FPSO design, hydrodynamics and offshore structures. When he speaks, slowly at first and under intense nearby lighting, it's about the unnerving evidence he's seen from the burdensome legal standpoint of an operator examining a life-extension candidate.

With the average life of the world FPSO fleet between 15 and 20 years, "Some are fast approaching their design life," Anaturk says. Of the 164 FPSOs in the world as of January 2015, he says most are "owner-operated, custom-built is the tendency for large volumes, (while) leased, life-extended, deep-water and getting old are also the trend".

Classification societies require appearances in dry dock for some, but "ad-hoc solutions are being found" for others that might be permanently moored or tethered and or even looked at for the first time as "docks" by some, as in discussions in Indonesia, according to a source. Moreover, class only provides guidance for the hull, not topsides, and class rules and shipbuilding norms have guided FPSO design, just as uncertainty on rules and late-life standards begin to arise. He says that reliance on class early on might in late-life be providing a false sense of security. Though FPSOs might be aging, there jacketed cousins the oil platforms are older. It's a nice point of sales for the vessels option. Anaturk says there's a similar number of shallow-water FPSOs in service now as there were when the oil price last was at today's levels, back in 2005. Most new FPSOs have been "deep-water-only", yet they, too, are only as ubiquitous as they were in 2005. So there's been some FPSO attrition.

Of the world numbers, no disconnectable FPSOs is over 20, and that's a good thing, since they could take six months to two years to disconnect and overhaul for a new project. "Disconnectible" vessels are dry docked at five years, so these vessels alone are today's life-extension and modifications market.

Seaborne Norne
That life-extension market is divided by philosophies on savings and value over the question of whether to repair, modify and overhaul in dry dock or at sea. The latter is a Norwegian favorite, it turns out.
Stately Norwegian operator Statoil announced this winter that the world's most northerly placed ship-shaped production vessel, the Norne FPSO in the Norwegian Sea, could live another 15 years on hull life-extension work and process modifications for increased oil recovery amid the varying, high-pressure, high-temperature and hydrate-prone well stream of local hydrocarbon finds.

The Norne FPSO was to shut down this year but after an excellent 18-year data collection program, studies at Polarkonsult in Harstad, northwest Norway, and at Aker Solutions carried out at sea show the hull can still stand up to punishing waves as high as 10 meters until 2036.

"The studies conclude by showing the hull structure is robust and that the great likelihood is that the lifetime can be extended," says Statoil Norne boss Kristin Westvik.

"We can do the necessary modifications without taking the production ship to land for a long period." The vessel serves an astonishing 15 subsea templates.

Asset Integrity
Studies are part of life-extension and not unique to the North Sea area. Most FPSO contractors agree years of cataloging maintenance helps decide whether life-extension is possible. A cursory look just won't do, regardless of where in the world the vessel might be from.

"The North Sea have their share of marine fatigue issues, too," Anaturk says, pointing to a long list of possible stoppers to life-extension. In his A-to-Z of dangers, anodes attached to hinder corrosion can be lost when a newly refurbished FSPO or candidate is towed to location. The resulting rust leads to eventual structural failure. Coatings failures at riser supports are now believed to be more common than thought, and failure where phase-carrying riser is festooned to a hull can be catastrophic. Corrosion at coating gaps in general can affect large areas that then become "the first to go". "Anodes are not good enough when coatings fail," Anaturk says, adding, "The areas can be quite large. Fatigue cracks are common in all ship-shaped hulls save, perhaps, the Sevan-designed "cylindrical" FPSOs and are caused by the endless flexing of a long structure atop the waves. "Uncertainties in fatigue," Anaturk calls it, a nod to his buyer side need for certainty.

Green and white water on deck due to storms creates structural erosion and impact damage, and so the trend is to install custom bulwarks to bows and decks. Sea chests housing moving parts and tools are prone to water leaks: firewater systems are housed in these enclosures at the stern, and Anaturk advises they be avoided in vessel designs, since "it's not double hull in these equipment holds," and they cause "uncontrolled weight increases" when they fill with water.

Other marine-only issues facing operators and contractors considering life-extension projects include "marine life" in ballast tanks and on external caissons. Class approves hull, but not topsides or mooring or risers in production. This class insufficiency might be behind the Norne decision to study, inspect and overhaul at sea despite the omnipresence of class in Norway.

Atypical for class are issues like external riser damage and corrosion in mooring suction piles. Anchor cracks … "They're not really inspected for fatigue," says Anaturk. His other life-extension pointers include making sure offloading buoys get modern floating hoses. "It's the most vulnerable part of the FPSO," he says, and it's highest on his chart of costly consequences. Topsides and hull corrosion, too, come in at the top of the dangerous items list. Finally, he recommends decoupling schedules for flow lines and FPSO start-up or first oil might have to wait several months, as is understood to have happened at Bonga.

Repair or Replace
Top of the "expensive" list of fixable items are the rotating equipment pressure declines that often seen just as life-extension is being contemplated. Cavitation, which is damage caused by the formation and implosion of vapor in pump systems, can also cause disruption. David Arnold of Weir Services has been called in at times to repair or remove a turbine rotor only to find that the turbine blades alone were damaged, a specialty repair for Weir crews. His workshops ID the material or part — both of which might no longer be in production — then reverse engineer using the scanned data of a laser "pen" scanner. For owners or contractors facing turbine problems in power, injectors, compressors or pumps, speedy repair could in itself mean a life extended. He warns that the savings that might be found in repairs alone for life-extension shouldn't be the only parameters used. "If you change service provider on cost alone you'll be taking a great chance," says Arnold.

Optimum Life
Marco Beenen, Senior Vice President for BW Offshore's West Africa Fleet, is a proponent of life-extension taken to sea. "Most units have significant remaining technical life," says Beenen, a veteran of four FPSO life-extensions: Petrolea Nautipa, now 14 years beyond contract; Espoir Ivoirien (14 years); Sendje Berge (seven years) and the Abo (13 years).

"FPSO replacement is rarely a viable option for the client," says Beenen, pointing to a BW record he says speaks of extra contract value. "You can come up with your own numbers, but the BW view is that life-extension can reach 20 to 30 years," he says, adding that some have been BW Offshore "signature modifications" that last two to five years, as on some models afloat in the Gulf of Mexico, Brazil, the North Sea, New Zealand and West Africa.

Beenen reveals the company bought several 1970s (single-hull) tankers and converted them into FPSOs with smaller, isolated total holds to measure up to today's double hull safety.
"Tankers built in '76 are actually in fantastic condition. They show signs of having been built better than some modern tankers," he says.

Beenen says, "in-situ modifications are often the best choice" for the client, and he points to one West African example where life-extension was made possible by life-saving repairs. A metal-eating bacteria peculiar to Africa had infected a bulkhead in the Berge Helena and had eaten away steel plating. For a cost of $500 million, 300 tons of replacement steel was ordered to rebuild the weakened hull, and lightly damaged areas were sandblasted. Though performed at sea, the Berge Helena life-extension showed the merit of BW's approach of continuing production while a project team is assembled to head offshore. "At this stage, (the life extension) becomes a project," and in the ensuing repairs and modifications, existing vessel and production crews stay clear and perform no extra duties. Despite the apparent production win-fall of this type of life-extending operation, it has its critics, with some advocating staying in the yard for life-extension modifications, or "where the competence is", in case something goes wrong. Beenen disagrees: "This is offshore construction work. The execution is different (than in operations). It could involve six months of prepping and front-loading. After that, it's a project and not part of the fleet."

For the Sendje Berge, one of BW Offshore's five life-extended vessels, a renewal survey in 2009 paved the way for a four-year extension. In the extra time, it produced 100 million barrels, so it was expensive to stop for access to tanks and for new four-person cabins, HVAC, new lifeboats, sewage, galley, a refurbished main boiler, a new emergency generator and central production controls. The Sendje Berge offshore project schedule continued offloading for eight days, while BW's client tied in new wells (RW).

Data Collection
While work done at the yard can be "$100 million to $200 million" (much of it project management and parts), three to four years of repairs can bring "six to 10 years more production".

Although, the benefits for the operator might be felt five-years on, "Too often one-year options are awarded in succession (instead)," he says. This limits life-extension potential and business value, when assets appreciate due to work done.

With most FPSOs at 90 percent of their design or field life, candidates for life-extension are growing, as new oilfield value is pinned to modifications for new well stream, new production phases, new tie-ins, tail-end production or increased oil recovery (IRO, Norne).

If project specs can be made to mate with the average FPSO, if asset-integrity regimes can be made to start with a database of vessel history (including incident reports and breakdowns) then safe life-extension can be made safe late-life and commissioning of the type Mr. Hox overseas in the North Sea.

"It's all data-gathering. It's the basis of life-extension," says Anaturk, and Beenan agrees. While the consensus among these men is that FPSOs in 2015, 2016 will mostly be leased due to reduced CAPEX for operators, it is easy to see life-extension gaining in popularity. The price of very large crude carriers, or VLCCs, is "sky-rocketing" and topsides average 30,000 tons. Then there's the preponderance of deep-water-only new FPSOs whose numbers haven't grown. Openings exist for more deep-water work and for life-extension in the world's more marginal mid-water oilfields. For signs of strength, Anaturk points to the strong lease market for low-volume vessels.

"(The FPSO market) will survive," he says, adding, "Sorry. I'm not that pessimistic, really."
(As published in the September 2015 edition of Maritime Reporter & Engineering News - http://magazines.marinelink.com/Magazines/MaritimeReporter)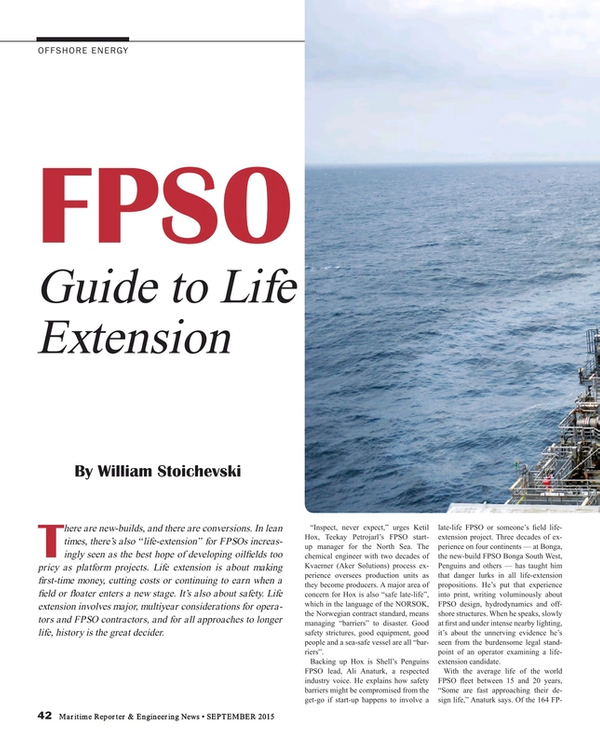 Read FPSO Guide to Life Extension in Pdf, Flash or Html5 edition of September 2015 Maritime Reporter
Other stories from September 2015 issue
Content