Company Profile: Offshore Inland
Posted by Irina Tabakina
Longer Docks; Deeper Water in Pensacola
With Offshore Inland Marine & Oilfield Services Inc (OIMO), a leader in topside and riding crew repair services, experiencing strong growth before the drilling market softened, the company knew its days in Mobile, Ala., were numbered, as it had outgrown its five acre facility and fabrication shop. But it didn't have to go far, earlier this year moving 60 miles east to Pensacola, FL, finding the backing of a strong maritime community with a wealth of technical talent, not to mention vastly improved facilities.
Offshore Inland made the strategic decision at the end of 2014 and into the beginning of 2015 to transition it corporate office to Pensacola, where the improved fabrication shops, deep water vessel access and the required property allowed it to take on larger projects than it could in Mobile.
Offshore Inland's shipyard in Pensacola is located within the Port of Pensacola affording it the opportunity to berth vessels alongside its five deep water berths. All bulkheads are concrete and the berths combined give the company more than 2500 linear feet of dock space coupled with more than 33 ft. of water depth, with adequate cranes to perform a multitude of lifts for quick mobilizations and demobilizations.
While the offshore market has taken a significant hit in tandem with the move, OIMO sees a bright future in its new facilities. "It goes without saying, it has been a challenging time for all of us, but we have worked very hard to ensure that we were as prepared as possible for the downturn and remain dynamic to the ever changing market," said Nick Fuller, Director of Business Development.
The market for the last 12 months has been turbulent for many companies, competitors and clients alike. The beginning of the year remained steady for Offshore Inland with a backlog of projects.
The remainder of the year has been much more challenging with client budgets and drilling activities slowing in the GoM. However, OIMO reports that it has remained fiscally strong and a preferred supplier to its clients. "We were very proactive to be the business partner our clients expect us to be and offered them unsolicited commercial solutions to ease their challenges as well," said Fuller. "We have been successful in providing a quality service that has made us a preferred supplier to our clients which has afforded us an opportunity to continue to providing our services during this prolonged downturn."

The Coming Year
Offshore Inland positioned itself within the markets that it serves to be the go-to repair company for marine vessels and offshore contractors, making investments in management and personnel, facilities and equipment to make strides in efficiencies, deliverables, client communication, safety and quality. That said, in a down market it has its new facility and a lot of property that needs to be active with vessels undergoing repairs, conversions, upgrades, mobilizations and fabrication.
With the downturn in the drilling market, Offshore Inland has focused on its existing clients and taken the necessary steps to reach into markets that we have been limited in by our capacities in our previous locations. For example, it has registered success with its subsea clients for subsea fabrication, staging and mobilizations.
While the direction and speed of recovery of the drilling market is anyone's guess, OIMO continues to see its clients engaged for operational work that needs to be completed as well as upgrades and maintenance. Often with challenge comes opportunity, and OIMO is banking on its improved position to pay off handsomely when the market inevitably rebounds.
"Offshore Inland will continue to grow its subsea fabrication, rig/ship repair & maintenance, general fabrication, and mobilization businesses by providing our clients with high quality, timely, and competitive solutions.
Although we all face a challenging market situation in both the offshore and marine sectors, we plan to capitalize on our recent successes with key customers while exploring new markets and opportunities," said Jack Berglund, Senior Vice President, Commercial.

Recent Jobs
Offshore Inland has completed an array of projects over the last 12 months, including this one which effectively illustrate the company's capabilities. Offshore Inland was awarded and completed an extensive topside maintenance period for one clients at its Pensacola facility, and time was off the essence.
At the kick-off meeting key milestones and schedules were set, and among the tasks:

• Modification and fabrication of Flag sheave, which included reinforcement requirements, grating removed for piping installation and re-install of grating;
• Mooring Interference modifications; all sheaves were relocated by removing the sheave from the mounting assemblies, demolishing of the existing bases, fabrication of new re-enforced bases, and re-install of the sheaves;
• Fuel meter installations;
• Chain Locker modifications, which required enlarging both the Port and Starboard chain lockers, abrasively blasted and primed with zinc rich primer, and finally installation; Additional requirements for completion were: removed and refit anchors and chains, relocated electrical cables, fluorescent lights and J-Boxes, relocation of bitter end connections and manholes for the chain lockers. OIMO de-mucked chain and mud box prior to installation. Stinger Vacuum hose and electrical replacement;
• Stinger roller box removal and replacement of Stinger roll boxes to include replacement of the electronic load pins. NDE was performed on all load pin keepers once load cells were removed. OIMO also performed Eddy Current testing on all critically fatigued areas;
• Roller design change and machining;
• Gas Detection equipment electrical assistance for the installation of their gas detection system;
• Boom Stop repairs, OIMO replaced damaged steel by use of scaffolding during a very small window of crane availability.
(As published in the September 2015 edition of Maritime Reporter & Engineering News - http://magazines.marinelink.com/Magazines/MaritimeReporter)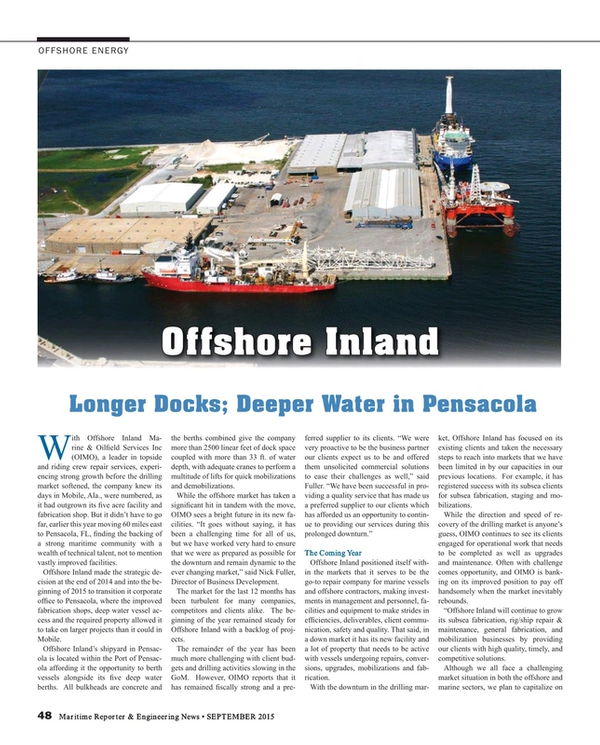 Read Company Profile: Offshore Inland in Pdf, Flash or Html5 edition of September 2015 Maritime Reporter
Other stories from September 2015 issue
Content