KVH Debuts mini-VSAT Broadband 2.0
By Tom Mulligan
At London International Shipping Week held in September, KVH Industries, Inc. introduced the second generation of its mini-VSAT Broadband solution for the maritime market, providing a combination of data delivered at high speeds and at low price points, with vessel operational and crew entertainment/informational content, tools, and support, optimizing broadband effectiveness in serving the needs of seafarers. Tom Mulligan reports.
Based in Middletown, RI, KVH Industries is a provider of in-motion satellite TV and communications systems, designing, manufacturing, and supplying mobile satellite antennas for applications on vessels, vehicles, and aircraft. The company provides news, music, and entertainment content to a range of industries including the maritime, retail, and leisure sectors, with its UK-based subsidiary Videotel providing training films, computer-based training and e-Learning content.

Expanded Service: Flexibility & Quality Content
KVH's expanded VSAT service, mini-VSAT Broadband 2.0, encompasses rugged, reliable antennas and other hardware, flexible airtime options, extensive operations and entertainment content, innovative content delivery, and comprehensive support from a single global provider. "The future competitiveness of the maritime industry will be affected by how rapidly shipping operators take advantage of big data," said Martin Kits van Heyningen, CEO, KVH. "It's important to adopt a big data mindset: data is becoming a resource in its own right. The maritime industry has been slow to adopt big data even though the industry faces many challenges for which data capture and analysis can provide answers, from meeting an increasing number of maritime regulations to improving the fuel efficiency of vessels underway. The maritime industry has spent the past 20 years trying to limit the amount of data going on and off vessels, while the rest of the world has been doing the exact opposite in adopting big data."

Computer analysis of big data greatly exceeds human capacity in providing information that can make a maritime operation more efficient: real-time analysis of such data as engine monitoring and fuel consumption combined with operational data provided through satellite communication, for example weather data, enables the optimization of a voyage for financial performance, not just for time and distance.

The maritime industry is also looking to satellite communications and broadband services to improve quality of life for seafarers through the provision of informational and entertainment programming which users can access in their off-duty periods. This combination of demand for big data for operational purposes and the need for an efficient onboard broadband entertainment service is driving developments in onboard VSAT-based broadband services.

"Other satellite communications providers respond to increasing broadband demand by simply increasing airtime rates. We knew there was a better solution," said Van Heyningen. "We provide maritime customers with affordable, usage-based plans at the data speeds they need to take advantage of new cloud-based applications for improving operational efficiency and we give them the tools they need for bandwidth management by user and vessel.

"Competitive market factors make it clear that the maritime industry needs to change how it thinks about connectivity and its impact on competitiveness and profitability," he said. "KVH's mini-VSAT Broadband 2.0 helps maritime enterprises meet their complex operational requirements, while providing affordable communications and engaging content for their onboard personnel."

Meeting Maritime Requirements
Brent Bruun, KVH's Executive Vice President, Mobile Broadband, said that KVH has been and continues to be an innovative technology company focused on mobile products and services addressing large markets and that its products have always been designed around maritime market requirements. The product history includes the Sailcomp digital compass introduced in 1982; the TracVision TV-at-sea system introduced in 1994; and more recently, fast and affordable mobile communications systems, including mini-VSAT Broadband, which was introduced in 2007.

"The mini-VSAT Broadband service provides an end-to-end global communications solution, with the capability of leveraging readily available commercial satellites to expand network capacity," said Bruun. "It is designed to meet current maritime industry trends, where we need to change how we think about connectivity and content delivery, as data access is now a necessity to attract the best seafarers. We are entering a big data era for operational efficiency."

"It's a digital world, even at sea"
Mike Mitsock, KVH's Vice President, Marketing, added: "It's a digital world, even at sea," and asked whether the maritime industry has what it needs to succeed. He emphasized the newly introduced mini-VSAT Broadband 2.0 system is a complete global maritime communications solution, offering the connectivity maritime operators need, providing global onboard connectivity; hardware and network management; licensed content; and affordable content delivery underpinned by a comprehensive service and support program.

Mitsock said the mini-VSAT Broadband 2.0 system is connecting ships faster and more affordably through open and metered plans that deliver data at the network's highest speeds, typically as fast as 4 Mbps: "This makes it 40% less expensive to get the same amount of data at 50% higher speeds, and in some cases, at a 15 times faster speed at one-third the cost." KVH offers a number of fixed-rate speed-based plans with clear monthly data allotments to suit each user's requirements. A second key feature of the new system is myKVH, a secure, personalized management portal that allows the user to track vessel status and location, as well as data use. This enables the allocation of customized operational and crew data use for every individual onboard or by user profile. Daily or monthly allocations can be assigned, and appropriate alerts by email and/or SMS text sent to users when 50, 80 and 100% of their allocations have been used.

In addition, the KVH OneCare customer support program provides an array of service offerings that includes application engineering, with standard proven solutions, network planning and integration, and custom work as required; solution deployment, with equipment installation, testing and service commissioning, and initial user training; and ongoing operating support, with technical assistance, preventative maintenance, and extended warranty options.
"Content onboard is a business necessity"
"Content onboard is a business necessity, not a 'nice-to-have'," said Nigel Cleave, CEO of KVH's subsidiary Videotel, "and KVH has a comprehensive portfolio of operational and entertainment content for optimizing safety and efficiency, keeping the crew happy, and improving crew recruitment and retention. For example, IP-MobileCast: Operations Content provides critical data for operations, with large data files delivered automatically, reliably, and affordably. Charts include electronic chart updates and weather data are provided in the detail required for voyage optimization and training packages provide safety training onboard covering both the latest legislation and operational practices, an important requirement nowadays as the quality of crew and training standards have been identified as risks to the safety of shipping. KVH delivers this content through a variety of means, including as e-training and through multicasting, and is partnering with industry leaders to optimize this delivery."
In addition to operations content delivery, IP-MobileCast entertainment content delivers a very wide range of entertainment, including news, sports, movies, TV episodes, and music content, stored on a KVH onboard server for immediate access. This gives the ability to stream different programming to multiple devices at the same time at no additional cost, the content being accessible on TVs, crew member tablets, smartphones or laptops.

Content Delivery Technology
The mini-VSAT Broadband 2.0 system makes use of KVH's TracPhone V-IP series satellite communications antenna hardware, which comprises terminals that transmit the data on and off the vessel at sea; there are three choices, from smallest to largest: TracPhone V3-IP, TracPhone V7-IP, and TracPhone V11-IP. mini-VSAT Broadband connectivity is provided through KVH's maritime VSAT network, a C/Ku-band satellite network with 26 beams and 19 satellites providing global coverage. The network was launched in 2007 and KVH has continued to expand it: it now features MPLS and global static IPs for the highest possible data security.

Content delivery is based on IP-MobileCast technology, in which multicasting delivers content without affecting vessel data consumption or performance. According to Robert Hopkins, Jr., Director of IP-MobileCast Services at KVH, there is a shortage of bandwidth at sea, meaning that today large data files such as digital charts and movies are still predominantly delivered physically. Other data such as weather is mainly delivered in low resolution, which is satisfactory for determining the position of, for example, cold fronts, but not sufficiently detailed to enable proper voyage planning for fuel consumption optimization purposes. Maritime satellite service providers cannot support streaming video, and roughly half of a commercial vessel's data usage is wasted by the crew on fruitless Internet browsing . Hopkins said the challenge is how to deliver needed content via satellite affordably, without degrading the operations network.
Through the use of multicasting and an onboard server, one transmission sends the file to all licensed vessels, which is cached on the server for immediate access, overcoming the reduced efficiency of unicast delivery, in which a file is transmitted to each user on each receiving vessel, the number of transmissions equaling the number of users. Thus KVH's content delivery strategy, based on IP-MobileCast, enables up to 500 GB/month of entertainment and operational content to be provided, typically in the ratio of 80% entertainment to 20% operational information.

"IP-MobileCast doesn't harm or compete with a vessel's Internet access or VoIP services," said Hopkins. "Beam capacity is sized for peak loads, leaving about half the network capacity unused, and multicast data are transmitted in unused bandwidth, at a lower priority than standard IP traffic. The use of multicasting is therefore highly efficient in that it does not use any of the data allotment of the mini-VSAT Broadband system's airtime plan."


(As published in the October2015 edition of Maritime Reporter & Engineering News - http://magazines.marinelink.com/Magazines/MaritimeReporter)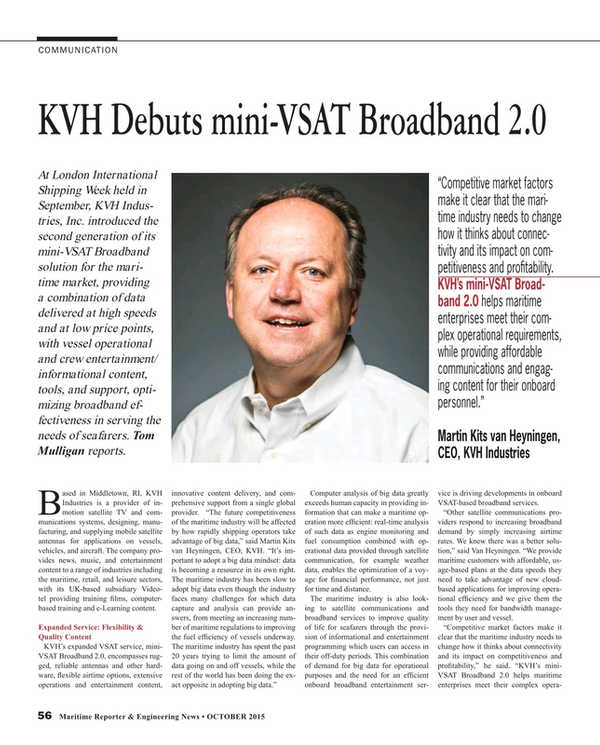 Read KVH Debuts mini-VSAT Broadband 2.0 in Pdf, Flash or Html5 edition of October 2015 Maritime Reporter
Other stories from October 2015 issue
Content