SCANIA Expands its Engine Range for Marine Applications
By Peter Pospiech
Scania, a tradition-rich Swedish industrial company will celebrate in 2016 its 125-year in existence. Very early on in 1902, the first engines for marine applications were produced. In fact, the market was considered so promising that the company's new factory, which was built in 1907, was described at the planning stage as "intended particularly for the manufacture of automobiles and boats."

Scania, since 2014 a 100% daughter company of VW, is a manufacturer of trucks, buses, marine and industrial engines and a true propulsion pioneer. Today the company employs approximately 42,000 employees with an annual turnover of $11 billion.

SCANIA Marine Engine Program
The marine diesel engines of Scanua are installed in a variety of vessels, including inland navigation vessels, coaster and sea-going ships, as well as passenger and authority ships, including life boats and trawlers. Today's product range for main and auxiliary drives – with a speed range between 1200 and 2300 rpm – includes:
a 9-liter engine at 162 kW,
a 13-liter engine with up to 551 kW, and
a 16.4- liter engine with 735 kW (1,000 HP).

Meet the DI16 076M Engine
The company has just added the 16.4 liter V8 engine, internal type designation: DI16 076M, into its marine range. Typical customers are, according to Scania, "coast guard, patrol vessels, military defense forces, police and other naval authorities using high speed vessels."
The new engine delivers an impressive maximum power output of 846 kW (1,150 hp) at 2,300 rpm and is suitable for both propeller and waterjet applications. The power rating is divided into two: patrol craft short and patrol craft long.

According to Scania's power definition "patrol craft short" stays for: Intended for intermittent use where rated power is available 1 hour in 12 hours period. Between full load operations engine rpm must be reduced at least 10 percent from maximum obtained rpm.

"Patrol craft long" is defined as: Intended for intermittent use where rated power is available 1 hour in 6 hours period. Between full load operations engine rpm must be reduced at least 10 percent from maximum obtained rpm. Accumulated total service time maximum of 2,000 hrs/year.
Of particular interest for shipping companies and shipyards is the fact that the physical size (footprint) of the complete installation has been decreased, which means that former Scania V8's can be easily exchanged.

The turbocharged and after-cooled engine is available as 8-cylinder, in V-90 degrees configuration, only. With 130 mm bore and 154 mm stroke it features a displacement of 2.04 liters per cylinder. The mean piston speed is of 11.8 m/s. With the total displacement of 16.32 liters the engine is capable of developing an output of 846 kW (1.150 HP) at 2.300 rpm. With this power increase of 11.5 percent, compared to the former engine, Joel Granath, Vice President Engines, said: "We are now taking one step further away from the competition."

With these values a power per cylinder of 105.75 kW has been reached, which corresponds to a mean effective pressure of 27.52 bar.

The torque rating of up to 4,150 Nm is particularly high for this output class. This ensures ample performance even at low revs, while facilitating running at favorable revs in all conditions, including high sea and high load.

Individual cylinder heads with four valves per cylinder promotes repairability and fuel economy. Specific fuel consumption is according to Scania at its best point of 199 g/kWh and the specific oil consumption is 0.15 percent from fuel consumption. The new DI 16 076M fulfills the emission standards IMO II, EU Stage IIIA and US Tier 2, Scania said.

The engine is equipped with a Scania developed Engine Management System, EMS, in order to ensure the control of all aspects related to engine performance. The 16.4 liter new engine features the company's own developed and in-house manufactured common-rail XPI fuel-injection system, which is already used since 2007 in SCANIA's engines for trucks and industrial applications.

"The XPI system injects more fuel into the cylinders in a shorter time, providing more power," said Svante Lejon, senior technical adviser within the company's R&D division. "However, this also places higher demands on both the filtration system and the cleanliness of the fuel, as the system is more sensitive to particles."

According to Scania, vital for marine installations is that the engine is compact, has easy-to-fit auxiliaries and is designed for easy servicing. The companies V8-engines traditionally meet all of these requirements thanks to the compact vee-design, which reduces the overall length. Ancillaries can be efficiently accommodated inside the 'footprint' of the engine.

Scania's-Saver ring, placed at the top of each cylinder liner, reduces carbon deposits on the edge of the piston crown and reduces cylinder liner wear. The strength optimized cylinder block contains wet cylinder liners that can easily be exchanged. Pistons are made of steel.

In spite of higher performance and tighter emission levels, Scania has been able to raise maintenance and oil-change intervals to 500 hours. Series production of the new XPI common-rail engine is scheduled for the beginning of 2016.

Swedish Sea Rescue Society, SSRS, relies on SCANIA Engines
Compact, maneuverable, powerful and therefore fast – that is the boat "Björn Christer" – one of a total of three boats in the 20 m-class, which are the biggest class of modern, very fast rescue boats. Built in 2005 by shipyard "Swede Ship Composite" based in Hunnebostrand, the SAR-Boat featured from the very beginning two of Scania's V8 DI 16M engines with outputs of 681 kW (900 hp) each. The vessel is designed to be self-righting. Propulsion is accomplished by two KaMeWa Rolls-Royce FF-jets 550. Hull is made of weaves of E-glass, layered on Jotun Vinylester. The 30-ton displacement boat has a draft of only 0.90 m, which allows for operation in shallow waters like the Stockholm Archipelago. In June 2015 the boats drive units was repowered by two SCANIA DI16 076M with rated outputs of 846 kW each, increasing the speed from 30 to 39 knots. Skipper Helge Skärlen said during a test drive in the archipelago that Björn Christer covers the southern part of the archipelago, but it is also able to operate in the entire Baltic Sea for 10 hours before refueling.

Watercat M18 AMC Combat Support Service Vessel (CSSV)
The latest vessel developed by Marine Alutech is the Watercat M18 Armored Modular Craft (AMC). It's a new landing craft, which is designed to fulfill all modern requirements for future combat support vessels. It has been recently announced that Marine Alutech will deliver 12 of these Watercat M18 AMC multipurpose high-speed landing crafts to the Finnish Navy during 2014-2016. The vessels are powered by two Scania DI16 076M engines producing 846 kW each at 2,300 rpm. The boats feature two Rolls-Royce 40A3 waterjets, producing a top-speed of 50 knots. The Watercat M18 AMC is suitable for troop transportation, medical and evacuation tasks, landing operations, patrolling and escort tasks, as well as combat and battle support scenarios. The vessel has been specially designed for archipelagic, coastal and offshore conditions with an effective heating and air-conditioning system allowing heat and extreme cold, arid or humid climates.

(As published in the October 2015 edition of Maritime Reporter & Engineering News - http://magazines.marinelink.com/Magazines/MaritimeReporter)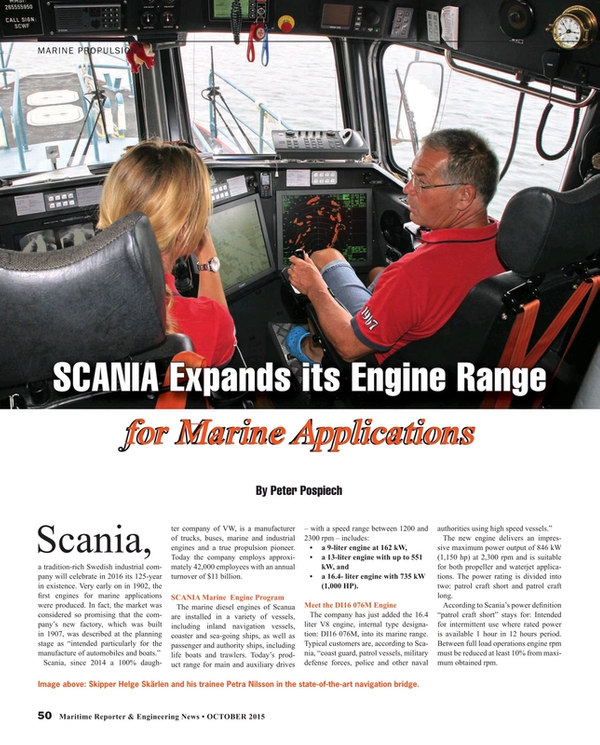 Read SCANIA Expands its Engine Range for Marine Applications in Pdf, Flash or Html5 edition of October 2015 Maritime Reporter
Other stories from October 2015 issue
Content