Hard Problems Demand Soft(ware) Solutions
Posted by Irina Tabakina
Make no mistake, the commercial maritime industry will always revolve around heavy duty machinery and mega-machines designed to weather some of the toughest operating conditions on earth. But in recent years a proliferation of Software Solutions has evolved to help the machines operate more efficiently and cost effectively. MR editors report on latest developments in maritime specific Software Solutions.

Design
Kværner Verdal AS selected AVEVA Bocad Steel and AVEVA Bocad Offshore for use at its design and fabrication yard in Verdal, Norway, as Kværner required a specialized structural steel design solution that provided out-of-the box functionality and integration. In AVEVA Bocad Offshore, Kværner has a software created for the design, detailing and fabrication of all forms of offshore steel structures. When integrated with Kværner's AVEVA PDMS deployment, these structural steel solutions provide a complete 3D engineering solution. AVEVA Bocad can directly write data for the production parts into AVEVA Marine's manufacturing database. AVEVA Hull Detailed Design also writes into this database for plate and profile parts to be sent to production, so data coming from both AVEVA Bocad and AVEVA Hull Detailed Design can follow the same path; parts can be nested together for a given block for instance and later on sent to production. By doing so, the shipyard can optimize its production handling by gathering parts described by both systems in the same production stream.
Herbert-ABS Software Solutions LLC introduced the Advanced Sequencer Module for CargoMax loading computers, a tool designed to allow for rapid development of time-based sequences, such as oil loading or discharging, ballast water exchange, long-term FPSO production and off-loading planning, or bulk pile loading and bottom discharge sequences. The Advanced Sequencer Module accounts for pump rates, tank groups, resource availability, and linking start and stop times to quickly generate a sequence. Individual conditions can be generated for any time interval, and graphical and tabular results are presented to show important results, including any alarmed values. The Advanced Sequencer Module can be linked to other tools available within CargoMax. For example, an Oil Tanker using the Load/Discharge Rate tool to monitor a discharge operation and calculate rates, can automatically generate a sequence in the Advanced Sequencer, to quickly ensure that the current operation will not run into unsafe conditions in the future. An exciting aspect of the Advanced Sequencer Tool is the Automatic Ballast Generator. This allows an operator of an FPSO or FLNG to plan the long-term production and offloading sequence for the vessel, and at the touch of the button, generate a corresponding ballast plan that keeps the vessel within safe operating limits and target drafts and trims.
Designed For Sea from Dassault Systèmes is designed to enable electrical systems engineers to define, simulate, analyze, and validate the design of integrated electrical systems for the entire vessel. Based on Dassault Systèmes' 3DEXPERIENCE platform, Designed For Sea is a solution designed to help naval architects, discipline engineers, designers, shipyards and their suppliers to define, simulate, analyze and validate a ship or platform design while adhering to owners' requirements, industry regulations and class standards. With it engineering teams can create, evaluate, and validate design options in real time through advanced 3D simulation and analysis early in the process. The 3DEXPERIENCE platform is designed to provide a unique, collaborative environment that efficiently captures engineering know-how, company rules and standards for reuse at any time and from anywhere in new projects, hence reducing design cycle time. Designers can find design principles, components or sub-systems that fulfill a certain design requirement using the platform's integrated search-based application that searches through structured and unstructured information.
Nupas-Cadmatic signed a contract for the delivery of 3D design and information management software to Drydock World Dubai (DDWD), making it the largest single deal in Nupas-Cadmatic's history and a breakthrough for Nupas-Cadmatic in the offshore industry. Nupas-Cadmatic's delivery includes the design system licenses, system installation, user training as well as support services for over 150 simultaneous users of the software. One of the most significant projects on which Nupas-Cadmatic solutions will be used is the BorWin3 platform that will serve in the North Sea. The platform transfers about 900 MW electricity from an offshore wind farm to Germany. The platform will be completed in 2019.
AVEVA E3D Insight is a mobile app that is designed to streamline the reviewing and approval of design content. Based on technology already available in Plant industries AVEVA will soon release a new version of AVEVA E3D Insight that is fit for use in the shipbuilding industry. The latest version of AVEVA E3D Insight has extended capabilities which will now enable shipyards, marine EPCs and ship owners to visualize, inspect, comment upon and approve ship designs wherever they are in the world in a seamless and timely manner bringing added value in many cases where collaboration is a key factor to quality and performance. Advances include:
• Design review and approve within the design environment
• Design check and production feedback from the workshops
• External reviewers giving comments and approval (ship-owner, class societies)
• Live connection to the design database means that decisions are made against the best known state of information.
• The ability to collate and keep track of design decisions supports compliance by ensuring transparency and traceability of the decision process.
With the release of ShipConstructor 2016 R1.1, SSI said it provides enhancement for the offshore rig construction market, particularly with regards to weld management. ShipConstructor 2016 R1.1 is particularly geared towards early adopters of ShipConstructor's latest productivity-enhancing capabilities; the predominant portion of new features are focused on ShipConstructor Subscription Advantage Pack clients. SSI continues to enhance ShipConstructor's WeldManagment product improving the ability to more efficiently model several common situations in rig building such as welding two sides of the same part to create structural pipes. UDA strings for weld objects and other innovative features have also been incorporated into an updated and modernized Weld Manager Palette interface. SSI said with this update Subscription Advantage clients will now be able to get a technical preview of a new Pipe Modeling Tool Palette which enables a more streamlined workflow for efficient pipe modeling.
Shipflow 6 comes with a new module for computing ship motions in waves and the Shipflow RANS solver is up to 10 times faster than its predecessor. Shipflow Motions is a new flow solver for computing ship motions in waves. It is a time accurate fully nonlinear boundary element method which can be used to compute ship motions and added resistance in regular and irregular waves as well as wave resistance, sinkage and trim in calm water. Typical results are time series and response amplitude operators. The developers believe that the method will be a useful tool for ship designers with higher accuracy than traditional potential flow methods while at the same time being faster than the available RANS methods.
NavCad is a ship resistance prediction and propulsion analysis tool for naval architects and marine engineers. The 2015 release features a Premium addition that includes a host of new analysis capabilities. The new Prismatic Wave Drag module, a wave-theory prediction for residuary resistance, is a powerful feature in this new edition, and this is HydroComp's first calculation methodology that can be used in place of a typical parametric prediction.
The Prismatic Wave Drag (PWD) module greatly expands the scope of NavCad and allows for a more first-principles connection between the hull-shape and the wave drag. Instead of simply describing the hull with parameters like length on waterline, displacement, and longitudinal center of buoyancy, the computational model uses a distribution of the hull's geometric properties to describe the shape of the hull form. This distribution is described by evaluating "stations" along the length of the hull, where each station has a sectional area, beam on waterline, and a vertical center of area (VCA). The entered data can also be used to calculate sensitive parameters like half entrance angle and the stern shape factor (for Holtrop and other similar prediction methodologies).

Operation
ABB and MeteoGroup recently won an order to outfit 140 container vessels with software to optimize routes. The companies will equip 140 containerships from Maersk Line with advisory software to optimize routes, boost maritime safety and protect precious cargo based on factors including the hull design and the weather. ABB combines its Octopus motion-monitoring, forecasting and decision-support software, with MeteoGroup's SPOS Seekeeping plug-in. Once fitted on Maersk Line ships, it is designed to enable captains to define on-board loading conditions, and more accurately determine areas of the ocean where their ship's motion is likely to exceed threshold values. Routes can then be optimized automatically to skirt adverse conditions, ensuring cargo arrives safely and on-time at its destination port. ABB's Octopus advisory suite includes a 3D hydrodynamic database for each individual hull type. This means ABB's software, together with MeteoGroup's plug-in, is designed to produce accurate calculations about how a ship will respond to dynamic weather and ocean conditions.
Turkish ship management company DITAS Marine Operations and Tanker Management Co. chose DNV GL's ECO Insight fleet performance management solution to improve the performance of its 10 tankers. "We were looking for a solution that is easy to implement and to use," said Koray Yaş, Ditas' Technical & New Building Manager. "Less than four weeks after the kick-off workshop we have commenced the fleet roll-out already."
The performance management portal ECO Insight is designed to deliver a comprehensive and easily accessible way to manage the performance of a fleet, including voyage, hull & propeller, engine & systems performance. It enhances fleet reports with industry data such as Automatic Identification System (AIS), weather, or fuel, and provides benchmarking capabilities. Advanced engineering methods, for example hull fouling predictions based on CFD, are also packaged into the portal. The portal comes with an optional on-board vessel reporting system called Navigator Insight. It ensures high quality data collection on board through smart plausibility checks against specific vessel particulars.
Wah Kwong Ship Management (HK) Limited will adopt DNV GL's ShipManager integrated fleet management software suite. Wah Kwong provides maritime transport in the bulk carrier, tanker and LPG segments, operating a current fleet of 26 vessels, with nine more newbuilds on the way. It recently decided to implement ShipManager software from DNV GL, with the aim to simplify and optimize ship management by allowing extensive fleet-wide data collection and analysis. "We aim to continually improve efficiency and safety and strive to be 'best in class' when it comes to operating our fleet," said Tim Huxley, CEO Wah Kwong Maritime Transport Holdings.
"By streamlining our processes across all ship management functions, we will relieve the documentation burden, particularly for those at sea, while better monitoring and improved data quality will assist in all key decisions we make." But Huxley realizes that ultimately the success of the investment in ShipManger depends on the staff and crew, noting that ease of use was a driving force in selecting the best system to implement.
Braemar Engineering reported that its new Second Failure Module dynamic positioning DP software was installed on a vessel, and Kyle Eddings, Manager DP and Offshore Projects at Braemar Engineering reported that the first Second Failure Module is now undergoing Beta Testing. The Second Failure Module is a software tool developed by Braemar Engineering designed to allow a more in-depth understanding of the Dynamic Positioning (DP) System, enabling crew members and operators to study second level failures and understand more fully the effects they will have on the power plant and DP capability. The overriding goal is to mitigate these risks in advance. The software purportedly helpful for planning prolonged DP operations, where critical preventive maintenance requires a piece of equipment to be down for a period of time. Additionally the Second Failure Module acts as a highly valuable training tool, enabling DP and Engineering Staff to study the first and second failure effects on their equipment and learn how best to mitigate those risks.
As ever stringent emissions rules come into force regionally and globally, some vessel owners struggle with the best, most efficient means to manage. For those mulling a dual fuel solution, Krill Systems offers a solution: Krill Bunkers DBPM-1. Krill Bunkers DBPM-1 incorporates OIML/MID approved (Coriolis) mass-measuring meters to minimize inherent inaccuracies found in two and three phase Heavy Fuel Oil (HFO) transfers. In both lines, flow rate, temperature and density are displayed in real time both digitally and graphically and a 'Bunkers in Progress' display area shows the total volume of bunkers delivered, ticket numbers, start and stop times and an area where additional notes can be entered. Tickets can be printed as soon as bunkering is completed. Bunker history, showing all relevant information, including aeration percentage, is always stored and displayed for all bunkering events. Back-flow oil is measured as a negative and therefore reflected as bunkers not having been delivered. Design flexibility inherent in all Krill solutions allows for a high degree of customization of the basic system to meet specific client requirements. And using Microsoft SQL server database technology, Krill records all Bunker loading data, with 2-second resolution, for onboard display.
Eniram Limited released Eniram Performance 3.0, an upgrade specific to the cruise vessel market. Eniram Performance is designed as a robust decision-support tool that offers real-time operational guidance to optimize a vessel's overall energy management in order to save fuel.
The system is designed to predict required energy and fuel consumption taking into consideration a wide range of variables such as wind and currents for each specific voyage.
Of particular importance is the Key Performance Indicator (KPI) screen that works like an electronic scorecard, showing traffic light values against commonly-agreed targets. The KPI screen starts with a high-level KPI, namely the total fuel consumption on the vessel which is then broken down to specific energy consumers like propulsion and service power. Service Power is, for instance, further split down to Hotel, Machinery and HVAC.
Icon Research recently launched a new DK-20 Diesel Doctor instrument and version 6 engine analysis software, built to be more portable, rugged, easy to use and accurate with new features such as a touch-screen and built-in test. The Diesel Doctor allows users to see how engines are performing and to take action to ensure reliable, efficient operation while avoiding the unexpected. The new version 6 software is a complete rewrite and is compatible with Windows XP, Windows 7 and Windows 8. Although it has the same general feel of the previous generations, the Diagnostic Reporter has been improved such that engine analysis reports can be viewed instantaneously. The ability to compare and analyze propeller curves and shop/sea trial data is now also possible. Existing DK-2 based systems can be upgraded to work with the new version 6 software.

Nauticus Machinery to New Market
For the first time the DNV GL's Nauticus Machinery software designed for the shipping industry is being used for recreational size marine engines, Mercury Marine has chosen the software for analysis and validation of inboard and sterndrive engines, including transmission and driveline configurations. Nauticus Machinery's Torsional Vibration tool is an application for the analysis of torsional vibration. Torsional vibration can cause fatigue in engine components, leading eventually to possible breakage of shafts or other machinery parts. With the aid of the software, engineers can prevent this damage by optimizing the design. They can also perform analyses on configurations that have been affected by fatigue, which enables understanding of the underlying causes. Mercury Marine produces outboard, inboard and sterndrive engines; gasoline or diesel inboards and sterndrives power everything from small boats with 115 hp engines to large recreational yachts with 430 hp engines.
(As published in the October 2015 edition of Maritime Reporter & Engineering News - http://magazines.marinelink.com/Magazines/MaritimeReporter)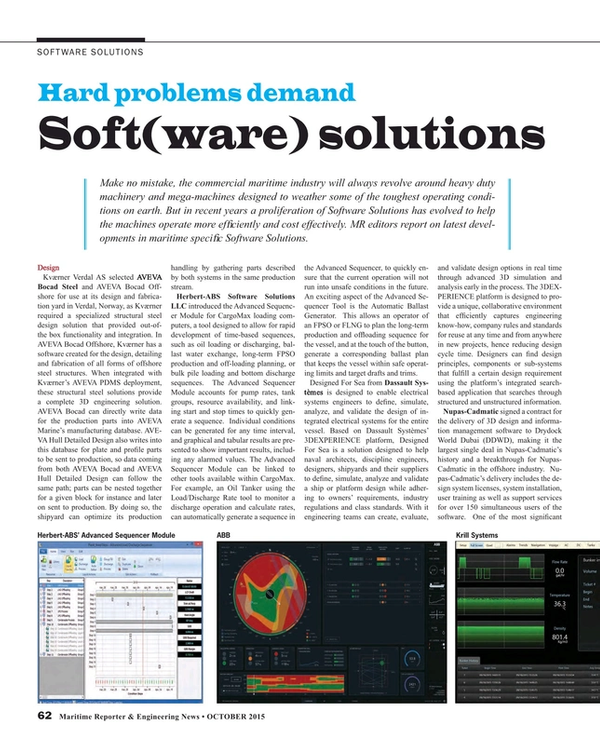 Read Hard Problems Demand Soft(ware) Solutions in Pdf, Flash or Html5 edition of October 2015 Maritime Reporter
Other stories from October 2015 issue
Content