Shipbuilding in Spain: Astican & Astander
By Greg Trauthwein
Pair of privately owned Spanish yards ready to assist Owners with IMO regulations

New rules are always a driver for ship refit, and this truly is a transcendent time in maritime history, as rules regarding Ballast Water Management Systems and new emissions regulations are conspiring to create a lot of work for shipyards.
As IMO has set a global limit for Sulfur in fuel oil used on board ships of 0.50% m/m (mass by mass) from 1 January 2020, Astander and Astican, the two busiest privately owned ship repair & conversion shipyards in Spain, have owner's needs clear and started performing a plan to carry out this conversions in a quality, time and cost-conscious, and flexible manner.
Astander has carried out five scrubber retrofit project, involving a total of 23 scrubbers installed, all of them for the French company Brittany Ferries.
Open loop in line scrubbers to vessels such as M/V Normandie (2014), M/V Cap Finistere (2015) and M/V Barfleur (2015), in which seven in-line separate scrubbers were installed per ferry; one for each of the four main engines and three for the auxiliary engines. The conversion projects also included the fabrication of a new pump room to provide water to the scrubbers. This meant that a void space had be converted into a machinery room, with the required modifications, like installation of new ventilation, fire detection systems, automatic doors, etc.
Same as with the open loop systems, hybrid loop, off line scrubbers, were installed in M/V Mont St Michel (2015) and M/V Armorique (2016). These two vessels, powered by four or two four-stroke MaK engines, had one single off-line scrubber designed to treat the exhaust gases of the main and auxiliary engines.
The conversion projects also included the fabrication of two pump rooms to provide water to the scrubbers and other systems, a dilution tank, hydrocyclons, a sludge tank, a magnesia tank; all to collect and treat the outlet water when operating as closed loop.
At this moment, all vessels are in operation, with the new systems installed, making Brittany Ferries one the leading ferry companies with a modernized and environmental friendly fleet equipped with new systems to reduce the emissions.
Now that the IMO Ballast Water Management Convention has entered into force, more ship owners are looking into the installation of ballast water treatment systems. Retrofit requirements that once seemed far off are now rapidly approaching – and this leaves less time to prepare.
In this sense, Astican has performed two installations on LPG for the Alfa Laval system, and 4 installations in cable layers for the Hydemarine system. To properly perform these installations, Astican Ship Managers received training from Alfa Laval and Optimarine, helping to increase the quality of the installation and reduces costs to the owner.
The yard has also cooperation agreement with Cathelco for the installation of BWTS.
Consultancy by Technical office in Las Palmas for Engineering services is also available: 3D Laser Scanning on-board, Basic Concept Design, Feasibility Study, Detailed Installation and Final Engineering Study.
3D scanning of a vessel in advance of a project is becoming an increasingly valuable tool for shipyards to prepare for a ship.
By having the 3D scan, the piping routing was clearly defined and isometrics available so by the time the ship arrived, we had all pipes prefabricated. The equipment was installed, with all piping and electrical connections, in 12 days.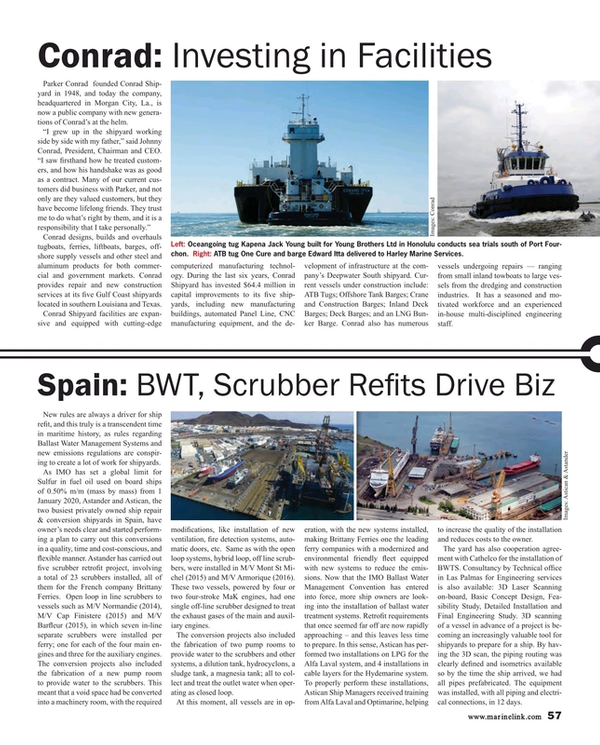 Read Shipbuilding in Spain: Astican & Astander in Pdf, Flash or Html5 edition of August 2018 Maritime Reporter
Other stories from August 2018 issue
Content