Shipbuilding: "We had shipyard for dinner …"
By Greg Trauthwein
The Duclos family is iconic in boatbuilding circles, as the Somerset, Mass.-based Gladding-Hearn, Duclos Corporation, has built a strong heritage in the pilot boat and fast ferry sectors, and in total more than 425 vessels have been delivered since it was founded in 1955. Today a trio of second-generation siblings run the yard, brothers and co-presidents John and Peter Duclos with sister Carol Hegarty serving as CFO. Maritime Reporter & Engineering News visited the yard recently and found the yard bustling with newbuild activity.

Meet the Family
It is said that you can't pick your family but you can pick your friends. While the axiom likely holds true for a majority of the population, it appears that the shipyard sibling trio of John, Peter and Carol have gotten the best of both worlds, sharing a business connection and strong personal bond. The trio and their families all live in Westport, Mass., on Buzzards Bay, the fifth generation of family living in the town. "The biggest lesson our parents taught us (to succeed in this business) is you have to get along," said John, the oldest of the siblings and in charge of production, a graduate of the U.S. Merchant Marine Academy with a degree in marine engineering and a Masters in Naval Architecture and Marine Engineering from the University of Michigan. "If you get along, you can solve problems. We're close as a family, we're together outside of the shipyard, but we try not to talk shop outside of the yard."
"My parents have an interesting relationship that I admire," said Peter, "My parents rely on each other, they help each other, they are one unit. My father in his prime was amazing to watch, he had so much enthusiasm and charisma, and that's all he had when he took over the company … plus years of experience." Peter is the Director of Business Development with a degree in Mechanical Engineering from UMass Dartmouth and a "Masters in Catamaran" courtesy of his world tour of shipyards when the company started building high-speed passenger catamarans as an Incat Designs licensee in 1987; a tour to find 'best practices' and bring them home to the shipyard for the fledgling business line. "When I graduated from college I got delivered with the first high speed ferry that we ever built in 1987, the Mackinaw Express."
Carol is the CFO but she, as do here brothers, wears many hats, juggling finances with human resources and regulatory compliance, too. She has a Masters in Finance and worked in the banking industry for nearly a decade before she got the call from her mother, who was slowing down and needed her daughter and her financial acumen inside the family business. "My mother was amazing, and one of many things I've taken from her is the personal connection she made with people, whether it was an employee, a vendor or a customer. I try to do that, too, because I saw the loyalty that it created."
The personal connections at Gladding-Hearn are only a part of the story, but a critical base to understand how this small Northeast U.S. boat builder has flourished while others have failed; an essential ingredient that extends beyond the Duclos clan to their employees and customers alike.
It started in 1955 when George Duclos, chairman, at age 22 co-founded the yard with Pret Gladding and Richard Hearn. Nearly 30 years in 1983 George bought out his partners, but before he pulled the trigger on the deal he called his eldest son John, who was working at Bath Iron Works.
"My father called and said that the partners wanted to retire, and that he was trying to make a deal for the shipyard," said John. "He said 'if we do that, you'll have to come home.'" The call was expected as they had talked for years about the opportunity to run their own business, and according to John "the stars aligned and it worked out." Peter and Carol were still in school at the time, so in 1983 John joined his parents at the shipyard, located on seven acres on the deepwater Taunton River in Somerset, Mass.
While each of the siblings had their own path back to the family business, all started at the shipyard in their high school and college years part-time, and all started with the same humbling task: "We all cleaned the office," said Carol.
Today they form a formidable shipbuilding management team, well-educated and experienced with individual skill sets that mesh well, rooted in humble beginnings that guide business and relationships as they serve a cadre of loyal repeat customers while always scouting new opportunities.

The Business
Since 1955, Gladding-Hearn has been synonymous with pilot boats, having built more launches operating in the U.S. than any other shipyard. Along the way, the company has consistently invested in technology, facilities and partnerships, an investment strategy that has armed the yard with an enviable technology base and skill set that is often found only in much larger yards. Key developments in its history include:
In 1977, the shipyard delivered America's first Z-drive tractor tug.
In 1978, it joined forces with designer C. Raymond Hunt to build the first launch with a deep-V hull, now an industry standard.
It became an Incat Crowther licensee in 1987, becoming the second shipyard in the country to build high-speed passenger catamarans.
"Today we build in steel and aluminum, and 30 to 165 ft. is our practical range," said Peter. "Typically we don't build anything with outboard engines, but as those boats are getting bigger and bigger, we may."
To date the company has built 88 pilot boats – and in 2014 it built the first pilot boat application of Volvo Penta's IPS drives in the U.S. – as well as 42 high-speed catamaran ferries since it started building them 30 years ago. The portfolio is rounded out with tugboats, research vessels and a long list of patrol and pilot boat projects for various international customers, including Bermuda, the Bahamas and the Colombian navy. "We don't say no to anything, we'll consider just about anything," said Peter.
Eying new opportunities falls under Peter's guise, and today he sees potential in offshore wind. "We've been looking at the offshore wind service vessel sector, and while we don't have an industry yet, it will happen," said Peter. "If it happens in the way that the Department of Energy wants it to happen, it will be huge and there will be enough work for many yards."
In some respects, the process of running an efficient boatbuilding business remains the same as it did in 1955. "Mr. Gladding wrote 'Appreciation of a Small Shipyard,' – a SNAME Paper – in the early '60s, and some of the principles and business systems that they developed when they started this company in 1955 are still in place today. There are different tools, but the philosophies remain the same," said John.
But in other respects, the business is completely different.
"The expectations of the customer, of the industry in general, are so much higher," said Peter. "The vessels and the level of detail are so much more complex." And while the advent of technology, particularly CAD and 3D modeling, has advanced the design process, the boats that Gladding-Hearn build are still an engineered product which require skilled and experienced designers and trades. "We live in a time that you can buy anything you want on your phone, but we're not selling a product, we're selling a custom-engineered solution," said Peter. "No matter how many phones or computers you have, you can only think so fast. There is no 'catamaran' button or 'pilot boat' button on my computer, it has to be designed. You still have to think; you still have to get information on what the customer wants, and you have to understand what the customer needs."
While computerized tools and 30 years of experience certainly help, there are no exacts in boatbuilding, which remains both an art and a science, as Peter admits "There are some projects that you'll get midway and say 'why did we take this one?' But our philosophy is to stick it out, deliver the boat and hope to keep a customer. Some of our worst projects have become our best customers," said Peter, noting that nearly 90% of the boatyard's work comes from repeat customers.

Investing in the Yard
Investing any boatbuilding enterprise is a 24/7/365 endeavor, as keeping the plant in shape and adding new technologies is a valuable tool in maintaining efficiency and profitability.
"First, you have to have good, devoted people, that's where it starts," said John. "But you have to keep the plant healthy, and that is a continuous investment and a challenge."
"About 10 years ago we got in on the ground floor of small shipyard grants from the Maritime Administration, we got lucky and we qualified, allowing us to invest in infrastructure," said Carol. Investment in fresh infrastructure is abundant and readily visible across the facility, with new piers, cranes, forklifts, welding machines and plasma cutting machines, as well as the behind-the-scene items such as new electrical service and the latest CAD design tools. "That MarAd program has been very helpful for many yards to improve infrastructure," said John, and while Gladding-Hearn did not apply this year, they have some plans for 2019.
Investment doesn't stop with hardware, and the trio agrees that keeping and maintaining a loyal and competent workforce is the number one challenge. "Training, at all levels is a big challenge: from safety, to environmental compliance, to skills training," said Carol. To that end the company recently embarked on a two-year program seeded by funds from a Massachusetts workforce training grant "that will touch everyone in this company, including us," said Carol, who recently took courses with her brothers on LEAN Management and Six Sigma. For the program Gladding-Hearn partnered with Bristol Community College, who co-wrote the grant and provide the professors and trainers on-site at Gladding-Hearn.
Despite the myriad challenges, John, Peter and Carol find their work rewarding, providing a steady presence in the community for more than 60 years and gainful employment for an extended family of about 110 current employees. "If you want to make $1 million dollars in boatbuilding start with $2 million!," said Peter, laughing. "It's a hard business. The key is getting and keeping the right team, and keeping that team moving in the right direction. Coordination, timing, cooperation and communication are all key. We're in the communications business."
Ultimately, the Gladding-Hearn trio falls back on the lessons learned from generations before: "There's always opportunities to build boats and make customers happy, and that will never go out of style," said John. "That's how this company was founded; that's how it's run today."

2018 Deliveries
 The Alabama Pilot, Inc. in Mobile, Ala., received a new Chesapeake Class pilot boat from Gladding-Hearn Shipbuilding, Duclos Corporation. The boat measures 53.5 x 17.6 with a 4.75 ft. draft. The all-aluminum pilot boat features the signature C. Raymond Hunt-designed Deep-V hull and is powered by twin Caterpillar C-18 diesel engines, each delivering 671Bhp at 2100 rpm and a top speed of 27 knots. A Humphree interceptor trim-tab control system was installed at the transom. Diesel capacity is 800 gallons, which shipyard officials say, provides a range of at least 400 miles at an economical speed of about 20 knots. The engines turn 5-blade NiBrAl propellers via Twin Disc MGX-5135A Quickshift gears. The launch is equipped with a 9kW Northern Lights EPA Tier 3-compliant genset.

Glory, the second Incat Crowther designed 27m catamaran ferry built by Gladding Hearn for MBTA of Boston has been delivered following on from sister ship Champion. When Champion was launched late last year, she was the 500th Incat Crowther designed vessel to enter service; Glory takes that number to 529. The design is optimized for bow loading, with double-width gates and doors. The bow design integrates with existing shore based infrastructure and the wheelhouse is designed to meet strict visibility requirements, allowing the captain to clearly see the foredeck. Among the challenges of a modern commuter operation is the ever-increasing demand for passenger amenities. Champion and Glory deliver in this area with full disability regulation ADA compliance (including 4 wheelchair spaces and accessible bathroom), concession stand, luggage racks, bicycle storage for 10, a ticket counter, the requisite trash receptacles and of course, WiFi. Glory's entire superstructure is isolated by resilient mounts, to reduce noise and vibration in the cabin, allowing the vessel to exceed the contractual requirements. Glory is powered by a pair of Caterpillar C32 Acert engines, driving Hamilton HM571 water jets, for a service speed of 26 knots and a top speed of 30 knots.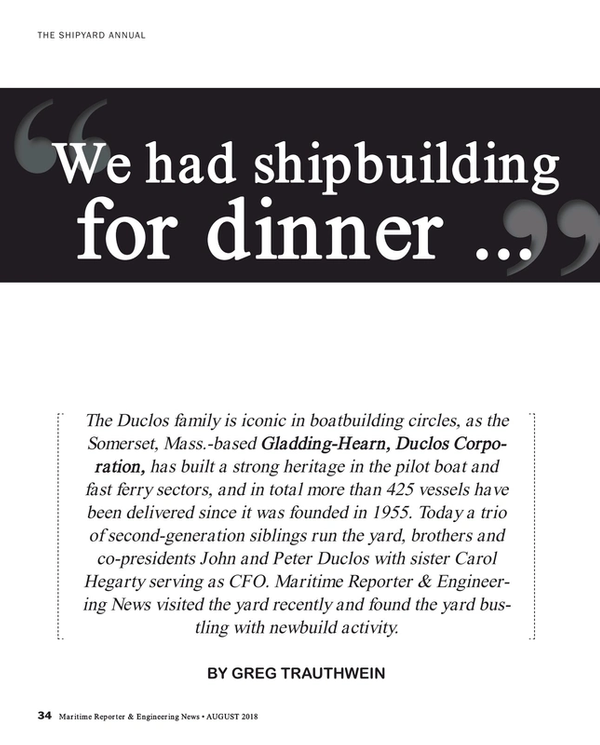 Read Shipbuilding: "We had shipyard for dinner …" in Pdf, Flash or Html5 edition of August 2018 Maritime Reporter
Other stories from August 2018 issue
Content