Allianz Global Shipping Review 2014
Posted by Nicole Ventimiglia
This annual review of trends and developments in shipping losses and safety looks back at 2013 in terms of shipping losses (of over 100 gross tons) by location, type of vessel and cause and also examines future challenges and key risks. Tim Donney, Global Head of Marine Risk Consulting, told MarPro, "While the long-term downward trend in shipping losses is encouraging, there is more work to be done to improve the overall safety of these vessels as well as their cargo, crew and passengers, especially in Asian waters. As an insurer we are always concerned about recognized issues such as training and safety management. Human error is not something we can ignore and lack of skilled workforce is still an issue, but we also need to be alert for new risks as the industry continues to develop."

Good news and bad news: The 94 large ships lost worldwide in 2013 represent a 20% year-on-year reduction in losses and the total annual loss dropped below 100 for only the second time in 12 years. Total worldwide shipping losses having declined by 45% since 2003 (174). At the same time, so-called 'Mega ships,' the Arctic, new fuels and piracy continue to present new challenges and risks.

Regions & Types: More than a third of 2013's total losses were concentrated in two maritime regions. South China, Indo China, Indonesia and the Philippines was the region with the most losses (18), closely followed by Japan, Korea and North China (17). The most common cause of losses in 2013, and for the last 12 years, was foundering (sinking or submerging) [69], accounting for almost three quarters of all losses, with bad weather a significant driver. More than a third of the vessels lost were cargo ships (32) with fishery and bulk carriers the only other vessel types to record double-digit losses. This year's figures illustrate that the maritime industry has continued to improve its safety record although the quality of operations varies significantly in different regions, underscoring the need for universal regulations on ship safety.

Passengers & Freight: More than two years after the Costa Concordia disaster, improving passenger ship safety continues to be a priority with a particular focus on services in Asia, where quality standards can be an issue. Meanwhile, the total loss of two bulk carriers in 2013 – Harita Bauxite and Trans Summer – highlights the importance of proper cargo handling and stowage.

Size Matters: An increasingly difficult operating climate for ship operators has resulted in larger ship sizes to capitalize on economies of scale and the use of alternative fuels. Last year marked the arrival of the largest container vessel ever, over 400 meters long with capacity in excess of 18,000 teu. Such scenarios present new risks and challenges, particularly around crew safety and training. As much as 80% of marine casualties are due to human error and lack of skilled workforce is still an issue. The claims arising out of maritime emergencies of "mega ships" can be huge, especially if an accident was to block entrance to a port.

Arctic waters: and data shows the average number of shipping casualties has increased to 45 per year between 2009 and 2013 from only seven during 2002-2007. Damage to machinery caused a third of these incidents, reflecting the harsher operating environment. A tenfold increase in the number of vessels using the Northern Sea route during recent years has been recorded.

Piracy: Piracy attacks declined by over 10% during 2013, but some hotspots saw their share increase. Indonesia has seen a 700 percent increase in attacks since 2009 and differences in piracy models continue to create challenges.

Domestic Pollution: With the 25th anniversary of the Exxon Valdez oil spill come and gone, oil pollution prevention is still a significant concern in the U.S. New regulations requiring owners of vessels over 400 gross tons to submit an oil spill response plan to the U.S. Coast Guard have been passed. Use of liquefied natural gas to power ships is expected to dramatically increase by 2020. There are safety concerns as ports that have never previously handled LNG providing bunkering will start to do so.


(As published in the 2Q 2014 edition of Maritime Professional - www.maritimeprofessional.com)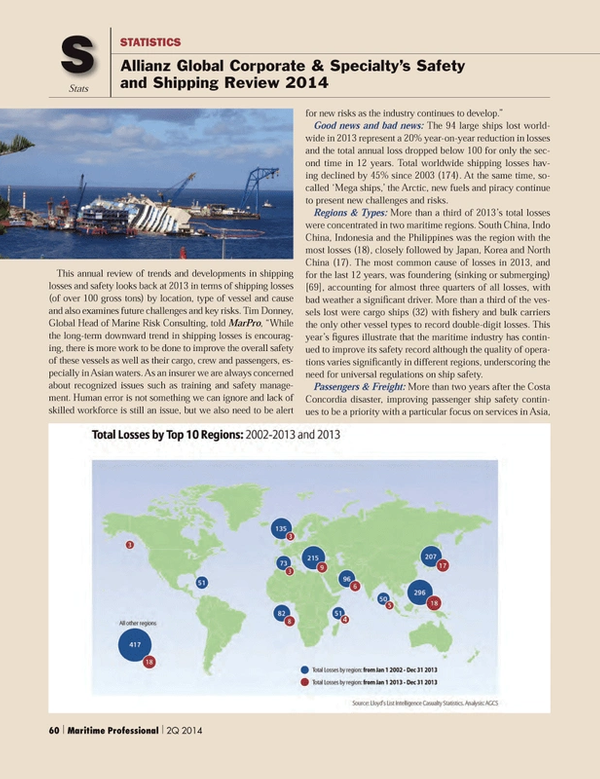 Read Allianz Global Shipping Review 2014 in Pdf, Flash or Html5 edition of Q2 2014 Maritime Logistics Professional
Other stories from Q2 2014 issue
Content