Decisions at the Pump - Regular, Super or Sustainability
By Robert Kunkel
Sitting in our Mercedes Benz at a major truck stop, I pressed up against the window of the passenger seat to watch my wife fill the tank at the gas pump. I am not allowed to drive her car, much less anything else having to do with its operation. She opened the cap, pulled out the bunker hose and wrestled with it to determine why it didn't fit in the spout. She turned, scratched her head and realized we were parked in front of a diesel pump. The result was not a swift move to the next pump serving "regular" or "super." Rather, it was a concerned discussion with her technical supervisor.

"Can we use diesel?" she asked.
"No – Your Mercedes only takes Super," her technical manager replied.
She asked again: "You're sure? No diesel?"
"Positive. And trust me: disastrous results if you do."
"What a pain in the neck. The diesel is cheaper today!," she moaned. And then, "I have to move to another pump?"
"Yes and consider yourself lucky the proper fuel is available within a short distance." I told her. "Consider yourself lucky I don't hitch a ride with one of the truckers that can use diesel and let you walk!" was her final comment as she returned the nozzle to the pump.

Decisions, Decisions
With the automotive industry moving quickly into Hybrid choices and slightly less into natural gas, the fact that we choose only between gasoline or diesel makes the decision somewhat easier than dealing with charging stations or compressed gas hoses hanging next to the pump. For consumers at the wheel, it's a cost and commercial decision. On the other hand, for shipping, it is now a matter of regulation and that has made the commercial decisions more difficult. Today, the conversation between husband and wife could easily take place between charterer and owner when facing the decision to burn low sulfur marine diesel oil or low sulfur heavy fuel with scrubber technologies, convert to natural gas alternatives or move into hybrid engines. Is the question conversion cost, propulsion cost or the use of more expensive distillates? And who pays for those costs during the decision process?
It is not an easy choice and the risk of making the wrong decision is an expensive one. The International Maritime Organization (IMO) adopted regulations in October of 2009 under Marpol's Annex VI requiring significant reductions in sulfur contained in the heavy fuel oils. The limit declines to 0.1 % on January 1, 2015 in the Emission Control Areas (ECAs). Nitrogen Oxide reductions take place in 2020 with the ECAs demanding a 74% reduction in NOx for any keels laid after January 1st, 2016. If an owner is planning a new construction project in 2014 with deliveries that range from 2016 to 2018, keel laying dates aside, the decision to satisfy both regulatory levels is at hand. Yet from our recent experience handling new construction at shipyards located in Korea, China and the United States, we see few owners making that full and complete decision of what fuel they will burn in the near future. Most have continued on with propulsion systems capable of burning heavy fuels while attempting to make room for a future scrubber installation and others have become "half pregnant" by installing duel fuel engines – without the fuel.
The simplest method of addressing current SOx emissions is to reduce the sulfur content in the fuel you purchase. The regulations at this point go beyond the ECA zone limitations and IMO Marpol Annex VI also obliges a reduction of the fuel sulfur limit from the current 3.5% to 0.5% by 2020 at sea; a reduction that can allow continued use of a low sulfur heavy fuel oil. That ship using low sulfur heavy fuel in turn would switch to low sulfur diesel oil or gas oil when entering the ECA. Despite those regulations being in place, we see the IMO influenced by the refineries around the world to extend ECA designations and force a move away from heavy fuels as the diesel fuel used for land-based transport contains only 0.0010% sulfur and the refinery path is already in place.
The cost of refinery investments and blending modifications are high, making it more profitable to produce more low sulfur diesel instead of blending low sulfur HFO. We make this statement as many industry reports predicted a shortage of low sulfur distillates when the IMO regulations were first put into place are now reporting the refineries are more than capable of meeting the demand.
For those of you reading beyond the age of 40, let's remember the painstaking engineering efforts we went through to make our ship engines capable of burning 380cst heavy fuel and lower our fuel costs. Then dream about your new construction costs if you removed all of that machinery, tank space and equipment and burned only distillates again in your engines. As confusing as all these regulations are, that may be the best first step. It is a definitive step for any coastal vessel being built that will operate fully in an ECA environment and will most certainly affect decisions in the Jones Act fleet.

LNG Unraveled?
The logical answer a matter of just a few months ago was to replace that Heavy Fuel oil equipment with machinery capable of burning natural gas. The installation of dual fuel engines looked to be the next step in solving the emissions problem and it worked nicely with a base platform of low sulfur diesel oil. The "build it and they will come" theory was applied to the naysayers that claimed the infrastructure to support the alternative fuel was not available. Several major gas suppliers claimed they would be there to meet the demand. On March 26, 2014, a day after Shell's cancellation of a 300,000 ton (485,000-gallon-per-day) Alberta, Canada gas to liquid project, Shell also announced it would cancel its two 250,000 gallon per day LNG projects in Louisiana and Ontario, shocking both the U.S Gulf and the Great Lakes gas proponents. The company had previously planned to spend over one billion U.S. dollars on a natural gas infrastructure including fuel stations and a bunkering fleet. Shell simply stated the project had become too expensive. The provision of the needed bunkering infrastructure in the United States has taken two steps back with this news. The industry is waiting to see who will fill those shoes.
The use of natural gas can cut sulfur emissions by approximately 90 percent and also reduces nitrogen oxide, according to industry reports. Exhaust Gas recirculation will still be required to meet 2020 NOx reductions despite the use of natural gas as your primary fuel and there are still issues with methane slip. Nevertheless, many new construction projects and conversion projects are still looking at this fuel source. Others predict a rising demand with a marine consumer could drive natural gas fuel costs higher. While U.S. natural gas futures plunged 74 percent to $3.960 per million British thermal units from prices in 2005, futures are estimated at an average $4 in 2015 and $4.25 or higher in the longer term. As a comparison cost and a wish that the infrastructure is developed, LNG ship fuel would cost about $800 a ton in the U.S., $1,000 a ton in Europe and $1,200 in Asia, according to estimates provided by several New York-based shipbrokers. That compares to prices of $1,300 for an equivalent amount of low sulfur diesel and $950 for low sulfur heavy fuel oil utilized with scrubbers.
Watch these Industry decisions carefully in the coming months as no single application solves all of the issues the regulations have raised. The term "Hybrid" in the marine sectors will have a new definition, once someone discovers the Holy Grail or for that matter figures out how my wife's Mercedes can burn diesel oil and save me the walk home.


(As published in the 2Q 2014 edition of Maritime Professional - www.maritimeprofessional.com)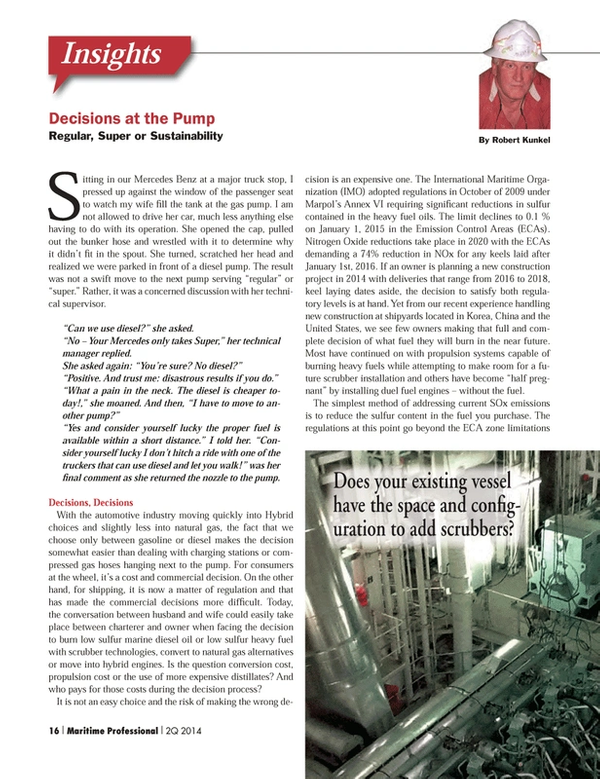 Read Decisions at the Pump - Regular, Super or Sustainability in Pdf, Flash or Html5 edition of Q2 2014 Maritime Logistics Professional
Other stories from Q2 2014 issue
Content