Bringing America's Waterways into the 21st Century
By Cmdr. Peter Niles, U.S. Coast Guard & Robert Trainor, U.S. Coast Guard
America's waterways are the economic engine that drives national prosperity. The federal effort in facilitating the safe and efficient operations of these waters must be an accelerant rather than a brake on this economic engine. To this end, the Coast Guard and our maritime partners must leverage existing and emerging technology to maximize mariner situational awareness while optimizing the balance between electronic and physical aids to navigation (ATON).
The Coast Guard's plan to bring the nation's waterways and in particular the United States Aids to Navigation System (USATONS) into the 21st century reflects the notion that the Marine Transportation System (MTS) is the economic engine of the nation and we must ensure it remains safe and efficient.

Shared Responsibilities: Common Goals
The Coast Guard, the U.S. Army Corps of Engineers (USACE), and the National Oceanic and Atmospheric Administration (NOAA) have a shared responsibility for maintaining navigation safety and disseminating marine information on the MTS. The Coast Guard establishes, maintains, and operates the U.S. Visual Aids to Navigation System (USATONS) component of the MTS and disseminates marine safety information. The USACE is responsible for establishing and maintaining navigable channels and critical navigation infrastructure (e.g., locks and dams), including dissemination of navigation information related to waterway infrastructure. They also provide hydrographic data for federal navigation projects and produce inland paper chart books and electronic navigation charts (IENCs). NOAA provides the National Spatial Reference System, nautical charts, tide, water level, and current information, hydrodynamic models, conducts and outsources hydrographic surveys for areas outside federal navigation projects, and provides weather information.
Each of these agencies has established as their cornerstone the continual improvement of the accuracy and timeliness of the information services provided to the mariner. Partnerships with MTS stakeholders have always been an integral component in the improvement process.

Navigation: an Evolving Landscape
At a recent meeting of maritime professionals, a Coast Guard senior manager casually inquired as to what mariners thought were the most significant changes on the waterways over the past 20 years. We thought the answer would be the introduction of GPS and other advances in electronic navigation technology. To the contrary, the overwhelming response was that today's ships are larger and beamier than 20 years ago, but the channel dimensions are the same, resulting in less maneuvering room and less margin for error. Overhead clearance, referred to at times as "air draft," also has become more critical when transiting under bridges and overhead obstructions – larger ships reducing draft for bottom clearance increases the vessel's air draft. Traffic volume has increased in some ports, particularly in larger ports and on the Mississippi River System. Much of this increased traffic involves hazardous cargo. The USATONS must keep pace with these changes and continue to keep our waterways safe for navigation by mitigating transit risks.
To meet these 21st century challenges, the Coast Guard, in consultation with our waterway partners and stakeholders, plans to enhance our current system with electronic aids to navigation (ATON), improve the maintenance and logistics support, and improve our risk analysis. This will increase the reliability, availability, and effectiveness of the USATONS by continuing to employ the latest technology, such as e-Navigation components and improved maintenance procedures and tools.
Electronic navigation — also known as e-Navigation — technology is advancing at a remarkable pace.
All kinds of data are readily available on today's bridge equipment on all size of vessels. By leveraging existing National Automatic Identification System (NAIS) infrastructure, the Coast Guard is able to disseminate the most critical marine safety information directly to the mariner through existing navigation tools, such as Electronic Chart Display and Information Systems (ECDIS) and AIS enhanced radar. There is also the possibility of web-based tools for less time-critical information.
Other types of NAIS delivered marine information include synthetic and virtual aids to navigation. A synthetic AIS ATON is information transmitted from a remote base station that coincides with a physical ATON. A virtual AIS ATON is information transmitted from a remote base station that does not coincide with a physical ATON.

Data Driven Risk Assessment
A critical element for readying our waterways for the 21st century is a comprehensive, data-driven waterway design and risk assessment tool that will properly evaluate and quantify the USATONS design. Applying Geographic Information System (GIS) data driver tools to waterway design processes will facilitate a holistic assessment of the waterway and its ATON system
As mentioned in a recent Irish e-Navigation article, "Local knowledge and experience built through time at sea cannot be replaced by desktop analysis no matter how modern and sophisticated the tools may be." That statement rings true, which is why the most critical component of the 21st century waterway initiative is mariner and waterway user input and recommendations.
Improving the design of the existing USATONS will allow the Coast Guard, again in consultation with waterway stakeholders, to better identify high, medium, and low risk transit areas and evaluate the current ATON mix. For example, in some cases the role of sea buoys — those red and white vertically-striped buoys — has changed since they were first established to assist mariners making landfall. Today, the primary value provided by many of these buoys is as a reference point to check in with Vessel Traffic Services or to meet the pilot vessel. We need to examine if there is a more effective way to provide this service without an $85,000 buoy.
The Coast Guard is aware that not all waterway users are equipped with the latest technology, so we'll have to continue accounting for the wide range of waterway user groups in any given waterway. To meet that end, we're engaged in clearly defining levels of service to effectively manage waterway users' USATONS expectations. Certain waterway and USATONS design parameters will target user groups with specific navigation capabilities. For example, a major deep water maintained channel that facilitates SOLAS (Safety of Life at Sea) class vessels would have an aid to navigation system configured to complement their carriage requirements. Waterway users who do not fall under the SOLAS carriage requirements would still be able to transit the waterway in the example and would be encouraged to obtain some fairly inexpensive technology suitable for their sized vessel.

Hearing Stakeholders: loud & clear
The U.S. Maritime Transportation System is critical to our nation's economy and as the USATONS is a vital component of the MTS, we must continue striving to build a more reliable, available, and efficient aids to navigation system. In keeping with our long -standing relationships with commercial and recreational waterway users, the USCG, USACE, and NOAA invite you to join in a series of listening sessions and help shape the 21st century American waterways.
These listening sessions will be focus on data informational services required by mariners for safe navigation and how we, the federal government joined in single effort, can provide that information and infrastructure. Listening sessions will be held in various ports and will be hosted by a panel representing each of these federal agencies. There will also be a website portal where interested individuals can post recommendations.
The Coast Guard and all regulatory stakeholders, as always, remain in awe of the skills exhibited by the professional mariners who ply the nation's waterways. Working together, we'll successfully develop and implement a better, safer, and more reliable aid to navigation system for America's 21st century waterways.

(As published in the 2Q 2014 edition of Maritime Professional - www.maritimeprofessional.com)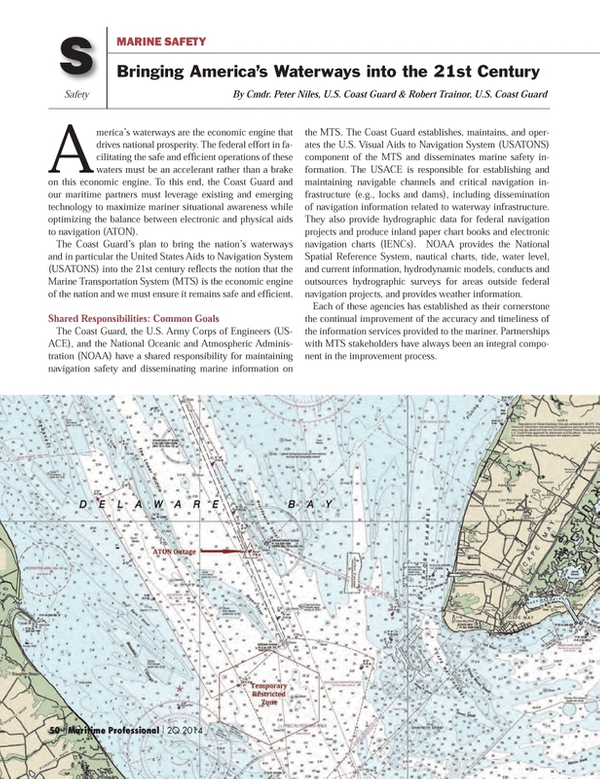 Read Bringing America's Waterways into the 21st Century in Pdf, Flash or Html5 edition of Q2 2014 Maritime Logistics Professional
Other stories from Q2 2014 issue
Content